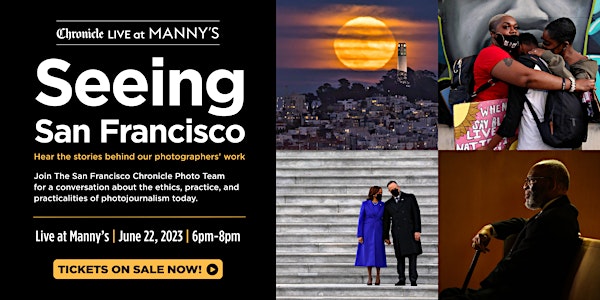 Chronicle Live at Manny's: How Photojournalists See San Francisco
Chronicle photojournalists share how they cover the city, from celebrating Black hair to documenting protest movements & the fentanyl crisis
Date and time
Starts on Thursday, June 22 · 6pm PDT
Location
Manny's 3092 16th Street San Francisco, CA 94103
Refund Policy
Contact the organizer to request a refund.
About this event
Every day, SF Chronicle staff photographers are tasked with documenting San Francisco.
Cameras in hand, they venture out to cover breaking news, illuminate the hidden corners of our metropolis and explore the people and issues that define our city in all its beauty, desperation and resilience.
Over the past several years, Chronicle photojournalists have depicted the ravages of the fentanyl crisis, covered the realities of climate change and captured the wisdom of Black elders.
Now, they're sharing how they do the work.
On June 22nd at 6 p.m., join The San Francisco Chronicle Photo Team, including 2023 Pulitzer Prize finalists Gabrielle Lurie and Stephen Lam, live at Manny's for a presentation and conversation about the ethics, practice and practicalities of photojournalism today.
In our next Chronicle Live at Manny's, Chronicle photographers will share the stories behind some of their favorite images and take you inside the process of making them, from finding unique angles to earning subjects' trust.
Get your tickets!
You'll hear from:
Nicole Frugé: The San Francisco Chronicle's Director of Visuals, Frugé leads one of the most diverse metro photo staffs in the nation. Frugé was named the Jim Gordon Photo Editor of the Year in 2019, Photo Editor of the Year in 2018 and the Chronicle's photo editors were twice named the Picture Editing Team of the Year by the National Press Photographers Association's Best of Photojournalism contest. Before photo editing, she spent 10 years working as a staff photographer for newspapers in Texas and Florida.
Gabrielle Lurie: Raised in Washington D.C, Gabrielle Lurie picked up a camera at 17 years old. She moved to New York City where she continued to photograph and study art history at New York University. Her work has appeared in The New York Times, Wall Street Journal, LA Times and The Guardian, and she is the three-time winner of Pictures of the Year International's Local Photographer of the Year and a two-time Pulitzer Prize finalist.
Stephen Lam: A native of Hong Kong, Stephen Lam left his studies in mechanical engineering to pursue photojournalism as a fun college elective. A former Chronicle intern, Lam was an editorial and commercial photographer in the Bay Area and his versatility has led him to collaborate with a vast range of clients including Reuters, Der Spiegel, Viator and L'Oréal before joining the Chronicle. Stephen is fluent in Cantonese and English. He is a 2023 Pulitzer Prize finalist.
Yoshi James: Yalonda M. James is an award-winning staff photojournalist and video producer at The San Francisco Chronicle. Her storytelling passion lies in documenting social justice issues and amplifying voices whose stories are seldom heard. James was a 2008 Pulitzer Prize finalist with her team from The Charlotte Observer for a project called, "Sold a Nightmare." She is also the director of short documentary films, "The BLM (Black Lives Matter) Bridge Protest: One Year Later" and "Singing for KING."
The Chronicle Photo Team is an award-winning group of photographers, video journalists and editors and one of the most diverse photojournalism staffs in the country. See their images and hear the stories behind their work June 22nd at 6 p.m. at Manny's in the Mission.
Chronicle Live at Manny's is a monthly series of conversations featuring Chronicle journalists discussing the most pressing issues in the Bay Area and having a little fun along the way.