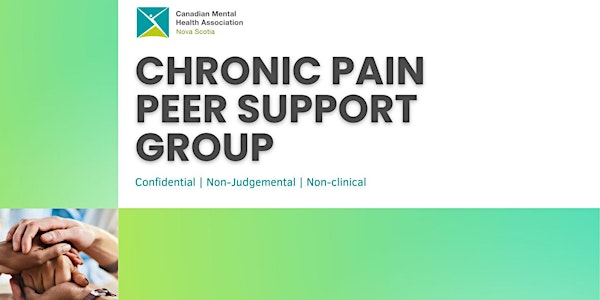 Multiple dates
Chronic Pain Peer Support Group
Peer support group for Nova Scotians who live with chronic pain.
Date and time
March 15 · 11:30am - May 3 · 12:30pm PDT
About this event
**PLEASE NOTE: You only need to register once. When you register, you will receive an email with the Zoom link. Please save that link, as it will be used for all the meetings.**
Living with chronic pain can be stressful, isolating and increase or lead to feelings of depression and anxiety.
Peer support groups offer compassion, understanding and validation by encouraging participants to share their experiences and draw comfort from being with others with lived experience.
If you live with chronic pain, you don't have to struggle alone.
Our Chronic Pain Peer Support group is a safe place to connect, learn and share insight with others who know how it feels to live with chronic pain.
DETAILS
The Chronic Pain Peer Support Group meets Wednesdays on Zoom from 3:30 - 4:30 p.m. starting March 15, 2023 and runs until May 3, 2023.
This group is:
Confidential
Non-Judgemental
Non-clinical
Co-facilitated by CMHA NS staff and a person with lived experience with chronic pain.
Questions?
Contact Keith Anderson, CMHA NS Peer Support Lead at keith.anderson@novascotia.cmha.ca
The Chronic Pain Peer Support Group is proudly supported by The Mental Health Foundation of Nova Scotia.
Frequently asked questions
Do I have to register for each meeting?
How many weeks does this group go for?
Who do I contact if I have questions?
What are some examples of chronic pain?
About the organizer
The Canadian Mental Health Association Nova Scotia Division supports the resilience, recovery and well-being of people living with a mental illness and those experiencing mental health challenges across the province of Nova Scotia.
We are a federated charity, which means we are a collective of organizations bound together by a brand and mission.
Our programs are free to access and available to anyone living in Nova Scotia. At the community level our branches support the resilience and well-being of Nova Scotians through social programs, education and advocacy based on the needs of the community.
To learn more about CMHA NS Division visit our website at www.novascotia.cmha.ca