Medical cannabis leading experts discuss the successful application of treating chronic pain with cannabis and the research behind it.
About this Event
Chronic pain generally refers to intractable pain that exists for three or more months and does not resolve in response to treatment. It's estimated that chronic pain affects 20% of the world's population. In 2017, a landmark U.S. report concluded that there is substantial evidence that cannabis is an effective treatment for chronic pain in adults. Chronic pain is the number one reason licensed medical cannabis providers recommend cannabis to their patients.
Join us on November 16 for a live roundtable hosted by CannabizMD Founder/CEO Jacquie Cohen Roth as she moderates a discussion with three leading medical cannabis experts: Stephen Dahmer, M.D.; Dr. Linda Klumpers, PhD and Dr. Jokubas Ziburkus, PhD . We'll hear from each of them on their respective research focused on cannabis as a viable treatment option for chronic pain and clinical practice evidence using medical cannabis to treat patients suffering from chronic pain.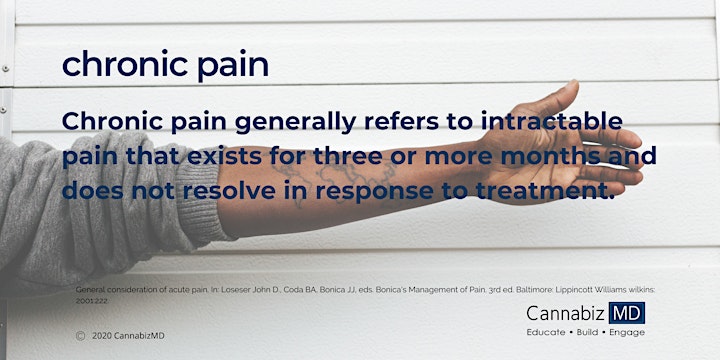 Chronic Pain and Medical Cannabis Topics of Discussion
Medical Cannabis and Opioids
Chronic Pain and Stress
Treating Abdominal Pain
Terpenes for Chronic Pain
Novel Administration Methods
Older Adults: The Fastest Growing Cannabis Patient Population
Panel Members:
Dr. Linda Klumpers, PhD: Founder of Cannify and co-founder of Verdient Science, Dr. Klumpers has been studying cannabinoids in humans for 14 years. As a cannabis research scientist based in Colorado, her work focuses on the clinical pharmacology of cannabinoids. She has over 24 peer-reviewed publications and was recently funded by the Dutch government on a study focused on chronic pain and cannabis. She is an adjunct faculty at the University of Vermont. Dr. Klumpers is also a 2018 recipient of the ElSohly Award.
Dr. Klumpers received an MSc in Medical Biology-Neurobiology, Cognitive neuroscience from the University of Amsterdam; Clinical Pharmacologist CF3 Centre for Human Drug Research, Leiden University Medical Center and PhD, Clinical Pharmacy at Universiteit Leiden.
Dr. Jokubas Ziburkus ("Dr. Z"): CEO/Co-Founder Adendox is a neuroscientist, researcher, inventor, and entrepreneur with over 20 peer-reviewed publications and book chapters, and numerous popular literature publications. Dr. Z is an Associate Professor at the University of Houston where his research is focused on cannabinoid actions in the brain and novel treatments for neurological disorders, with the emphasis on epilepsy. He is a recipient of the Global Lithuanian Leader Award for intellectual capital dissemination and the University of Houston's Teaching Excellence Award.
Dr. Z is a recognized public speaker with a widely watched Tedx Talk entitled, "There is something you should know about epilepsy and cannabis. Dr. Z has a proven track record of international leadership and strategic planning, and serves on several prestigious boards, including Dravet Syndrome Foundation's Scientific and Medical Advisory Board.
Dr. Z completed his PhD at Louisiana State University Health Sciences Center and completed his postdoctoral fellowships at the Johns Hopkins University, George Mason University, and Pennsylvania State University.
Stephen Dahmer, MD: is a board-certified family doctor whose passion for health and healing has taken him around the globe. A fellow of the Arizona Center for Integrative Medicine, for over a decade he has studied the relationships between plants and people and has served as the Chief Medical Officer at Vireo Health since 2015.
He leads medical research partnerships that inform the development of new, pharmaceutical-grade products with evidence-based outcomes for patients.
Dr. Dahmer received both his undergraduate degree and his Doctor of Medicine (MD) from the University of Wisconsin-Madison.