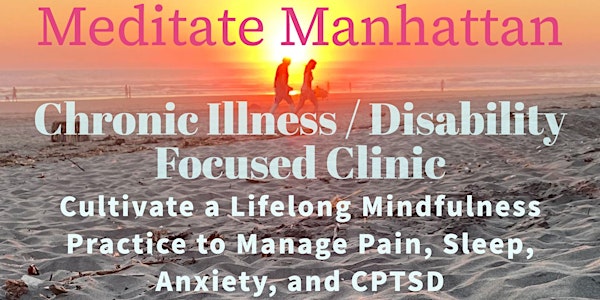 Chronic Illness / Disability Focused Clinic
Develop a sustainable practice to manage chronic pain, enhance sleep quality, decrease anxiety, and work towards healing CPTSD.
Refund Policy
Contact the organizer to request a refund.
Eventbrite's fee is nonrefundable.
About this event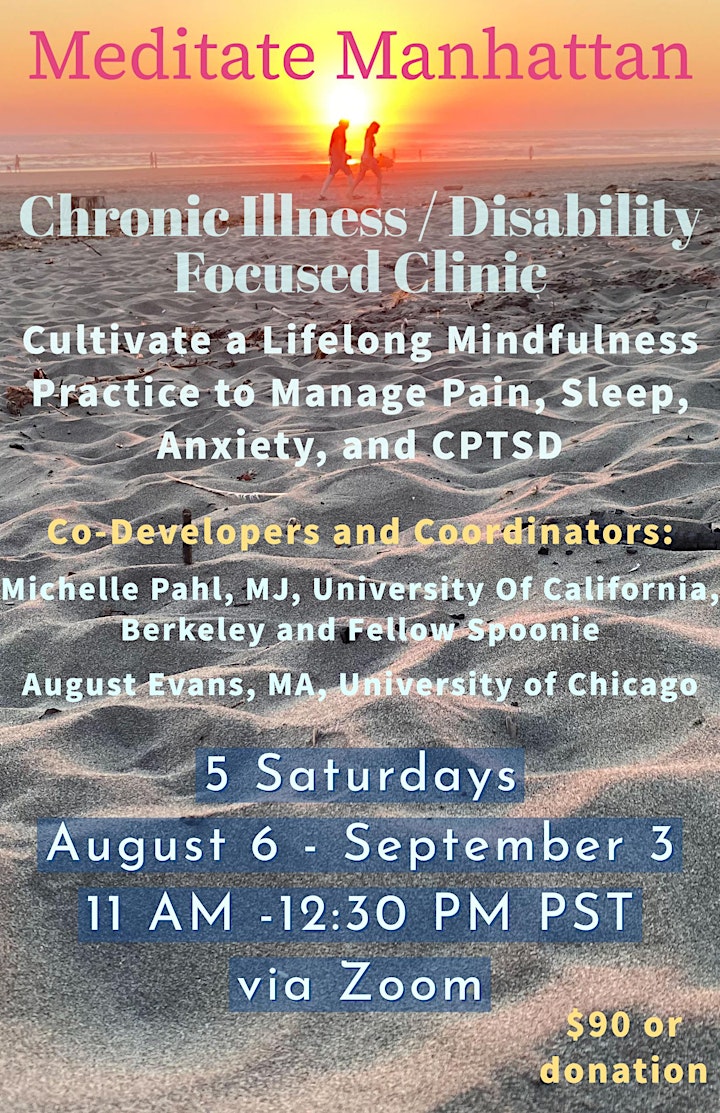 *Purchasing a ticket for August 6 provides access to ALL courses.
The total for all 5 courses is $90 or donation.
Please contact meditatemanhattan@gmail.com for a reduced rate and/or to join the course only on specific dates.
___________________________
Please join fellow Spoonie Michelle Pahl (MJ, University of California, Berkeley) and August Evans (MA, University of Chicago) of Meditate Manhattan for a five-week journey through Mindfulness Meditation that will bring you immediate peace, restoration, resilience, and inner freedom. Each class session will include one hour of discussion and a half-hour of guided meditation.
This course takes place over Zoom.
Course Outcomes:
You will be guided in your ability to manipulate breathing techniques and create a better understanding of your chronic pain and/or disability through stillness. These and other tools will give you the ability to overcome mental and physical obstacles, creating a more measured and equanimous (calm and composed) approach to life. Via the fine-tuning of your mind through these practices, you will experience a profound shift in your decision-making abilities and skills in managing and coping with pain, conflict, stress, and the unavoidable challenges of having a chronic disease or disability. Research we will study also points to the connection between meditation and improvement in physical maladies such as heart disease, high blood pressure, digestion, and auto-immune disorders, among others.
Syllabus
Week 1 - 8/6 - Mindfulness
Introductions / Intentions for Being Here
Emerging Science of Mindfulness
Introduction to sitting meditation
Week 2 - 8/13 - Mindfulness, cont.
Stress reactions versus stress responses
"The Freshness Inside your Chest": Introduction to three styles of Pranayama
Introduction to anatta ("no-self")
Week 3 - 8/20 - Body Scan Meditation
Introduction to rigpa (non-dual awareness)
Introduction to Anapana meditation
Introduction to the concept of Annica
Introduction to the body scan: hands and feet
Week 4 - 8/27 - Body Scan Meditation, cont.
Resilience and Self-Esteem
Introduction to the notion of the Sankara
Introduction to the concept of the "possibility space"
Introduction to the full body scan
Week 5 - 9/3 - Cultivating a Lifelong Practice
Working with Difficult Emotions / Cultivating Positive Emotions
Reconfiguring our Intentions: Meditation with a Purpose
______________________________________________________________________
*Purchasing a ticket for August 6 provides access to ALL courses