Location
Caelum Gallery
516 West 26th Street
Room 315
New York, NY 10001
Description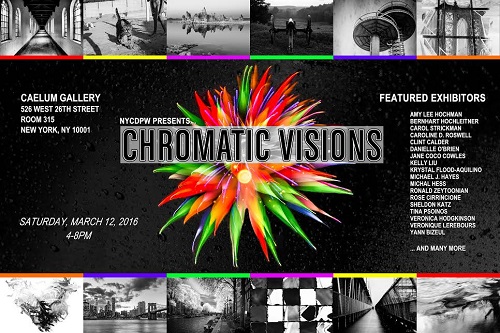 CHROMATIC VISIONS: The Exhibition
EXHIBITION & RECEPTION
Saturday, March 12, 2016
4-8pm
CAELUM GALLERY
516 West 26th Street, Room 315
New York, NY 10001
(917) 475-1694
CURATOR
Dawn M. Wayand
SPONSORS
NYC Digital Photography Workshops
Adorama
NYCDPW, a prominent digital photography education group in New York City, is proud to present Chromatic Visions at the Caelum Gallery on Saturday, March 12, 2016 from 4-8pm. This fabulous exhibition will feature the works of more than 18 exceptional up-and-coming artists and photographers such as Yann Bizeul, Clint Calder, Rose Cirrincione, Jane CoCo Cowles, Krystal Flood-Aquilino, Michael J. Hayes, Michal Hess, Bernhart Hochleitner, Amy Lee Hochman, Veronica Hodgkinson, Sheldon Katz, Veronique Lerebours, Kelly Liu, Danielle O'Brien, Tina Psoinos, Caroline D. Roswell, Carol Strickman and Ronald Zeytoonian and more. Complimentary nibbles, wine (and other non-alcoholic beverages) will be served up alongside a night of visual temptation and live jazzy grooves by the Jeff Fowler Group. All work on display is for sale. Cash, check or credit card is accepted.
There are two ticket types. There is a Free Admission Ticket (Art Enthusiast) or you may choose a Discretionary Donation Ticket (VIP Art Enthusiast) for our charity pick: Art Start.

Art Start is an organization that nurtures the voices, hearts and minds of New York City's underserved youth through consistent creative workshops inside homeless shelters, alternative to incarceration programs, and partnering youth agencies. $1, $5, $10... Any amount helps.
For more information on showing at this exhibition or to help promote this event, please contact the curator for the show, Dawn M. Wayand, by email at dawn@nycdpw.com or by phone at (727) 641-9570.