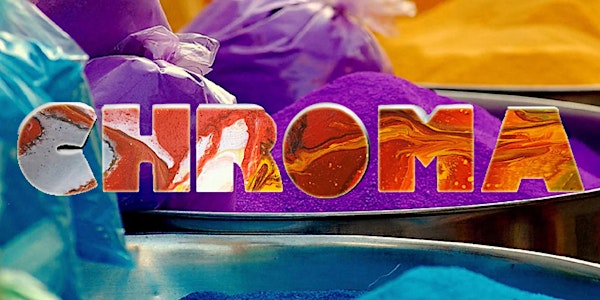 CHROMA Art Opening Reception
By Art Impact® International, Inc.
Date and time
Friday, November 8, 2019 · 5:30 - 8pm EST
Location
Pepco Edison Place Gallery 702 8th Street Northwest Washington, DC 20068
Refund Policy
Contact the organizer to request a refund.
Eventbrite's fee is nonrefundable.
Description
CHROMA ART RECEPTION AND ARTIST TALK
Art Impact® International's Exhibition "CHROMA" will open on November 8, 2019. The artwork is being exhibited from Nov. 8th through December 19th, 2019. It features approximately 51 Artists from the DMV area and beyond. Enjoy over 101 works of art.
You, your family and friends are invited to enjoy our Opening Reception with Artist Talks, refreshments, good company and good times. Register to obtain your ticket letting us know you will attend, Thursday, November 7, 2019 (5:30 PM to 8:00 PM.) Tickets are free, but we don't mind any donation you can contribute to this wonderful event honoring the various facets of our lives.

Curated by Carolyn Goodridge.
The Artists: Younes Ansari, Amanda J. Armstrong, Dolores Bumbrey, Missy Buetow, Helen Joyce Burroughs, Joel Chalen, Brenda Chandler, Alfred DeCurtis, Lisa Draper, Hugo Gatica, Oenone Hammersley, Chet Highsmith, Cheryl Deene Hurd, Rondall James, Joe Jody, Kathleen Johnson, Netra Bahadur Khattri, Marilyn Lowney Johnson, M. Jane Johnson, Bill Jones, Carine Koweiter, Sonye Locksmith, Marilyn Lowney Johnson, Darcy Lynn, Nancy McIntyre, Yeji Moon, Lois Moore-Blackwell, Rashad Ali Muhammad, Ilina Mustafina, Renée D. Nelson, Natasha Nicole, Luis Peralta Del Valle, Stephen Perrone, Katherine Grace Piera, Jessica Powell, Marina Rabanovic, Felicia L. Reed, Cary Michael Robinson, Lucas J. Rougeux, Nancy Sanders, Ernani Silva, Natalie Sobo, Roberta E. Speight, Erin Starr, Darren Thompson, Jr., Diane Tuckman, Vojko Rizvanovic Voss, Winifred B. Wallace, Evy Wilkins, Ju Yun, Olga Zbarskaya, Emberly Joi Zellars
You can view all the artist videos on our YouTube Chroma Artist Playlist
CHROMA lettering background art by Nancy McIntyre, Fire and Ice, (detail) acrylic
About the organizer
Art Impact® International emboldens an enriched world community through support of its multi-cultural, multi-national artists.  By cultivating your creative work we make this a brighter world.  More art, less violence.  More creativity in the present moment, more life, less depression.  Our purpose as an organization is to encourage, promote and empower an artist to be the artist, having a polished and brilliant prominence.  You, through your art, give voice to the creative communication across the globe and contribute to the creative economy.  We want to encourage, market, and promote artists and their artwork so they will create even greater works on an ongoing basis.  Art Impact™ wants artists to feel free to be creative, authentic and productive so they may continue to inspire others. 

Art Impact® International is currently connected with over 4000 artists in twenty-five countries, including  Brazil, Canada, China, Egypt, Greece, Guyana, Jamaica, India, Italy, Malaysia, Mexico, Morocco, New Zealand, Nigeria, Pakistan, Serbia, South Africa, St. Lucia, Switzerland, Thailand, Togo, Trinidad & Tobago, and Crow Nation, USA.   We look forward to working with artists from around the world this year and many years to come.