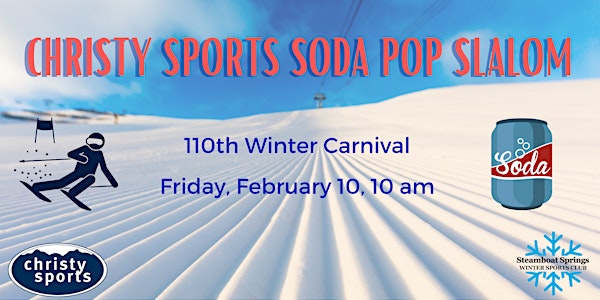 Christy Sports Soda Pop Slalom-110th Winter Carnival
The Soda Pop Slalom is for children of all ages! Little Kid Race- 10 & under (10am-1pm), Big Kid Race-11-14(11am-1pm)
When and where
Location
Howelsen Hill Ski Area Howelsen Parkway Steamboat Springs, CO 80487
About this event
YOU MAY ONLY SIGN UP FOR ONE TIME SLOT! Please choose ONE RACE per child, we have limited spots. Your child can race on both courses, but you may only sign up for one course per child.
This is a fun race with a starter, announcer, and a soda pop reward for all participants! This race is open to skiers and snowboarders! We will offer a duals race course on the magic carpet for little kids from 10am-1pm and on the Face for big kids from 11am-1pm! This fun, non-timed course allows kids of all ages to race their friends and family.
You may only register for ONE time slot per child. IF you register your child for multiple slots, we will delete the later slot(s).
You may arrive and race ANYTIME during your 1-hour time slot.
YOU MUST FILL OUT A REGISTRATION FORM, AND A WAIVER in two parts. THE WAIVER DOES NOT REGISTER YOU FOR THE EVENT, and registration does not act as your waiver. ATHLETES CURRENTLY ENROLLED IN A SSWSC WINTER PROGRAM DO NOT NEED TO FILL OUT A WAIVER!