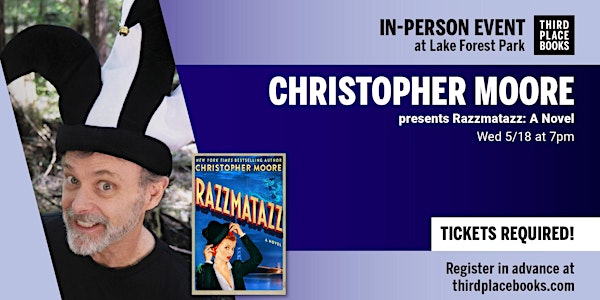 Christopher Moore presents Razzmatazz: A Novel
Strap yourselves in for a bit of the old razzmatazz, ladies and gentlemen. It's Christopher Moore time.
When and where
Location
Third Place Books 17171 Bothell Way Northeast #A101 Lake Forest Park, WA 98155
Refund Policy
Contact the organizer to request a refund.
About this event
Third Place Books is pleased to welcome the singular, darkly humorous Christopher Moore—author of Lamb, Fool, A Dirty Job, You Suck, and more—to the stage at Lake Forest Park! Moore will be discussing his latest novel Razzmatazz, a follow up to the instant New York Times bestseller Noir. Tickets are required in advance. All tickets come with a copy of Razzmatazz, signed by the author.
Additional copies of Razzmatazz will be available for purchase at the venue. This event will include a public signing and time for audience Q&A. Sustain our author series by purchasing a copy of the featured book!
Click here for more about our COVID-19 policies for in-person events.
Having trouble registering? See Eventbrite's troubleshooting FAQ here.
Tickets:
Tickets are required in advance. All tickets come with a copy of the featured book, Razzmatazz! If you are unable to attend the event, your book will be placed on hold at our Lake Forest Park store. Customers may request to transfer their book to our Ravenna or Seward Park stores once ticket sales have closed.
About Razzmatazz. . .
Repeat New York Times bestselling author Christopher Moore returns to the mean streets of San Francisco in this outrageous follow-up to his madcap novel Noir.
San Francisco, 1947. Bartender Sammy "Two Toes" Tiffin and the rest of the Cookie's Coffee Irregulars—a ragtag bunch of working mugs last seen in Noir—are on the hustle: they're trying to open a driving school for Chinatown residents; shanghai an abusive Swedish stevedore; get Mable, the local madam, and her girls to a Christmas party at the State Hospital without alerting the overzealous head of the S.F.P.D. vice squad; all while Sammy's girlfriend, Stilton (a.k.a. the Cheese), and her "Wendy the Welder" gal pals are using their wartime shipbuilding skills on a secret project that might be attracting the attention of some government Men in Black. And, oh yeah, someone is murdering the city's drag kings and club owner Jimmy Vasco is sure she's next on the list and wants Sammy to find the killer.
Meanwhile, Eddie "Moo Shoes" Shu has been summoned by his Uncle Ho to help save his opium den from Squid Kid Tang, a vicious gangster who is determined to retrieve a priceless relic: an ancient statue of the powerful Rain Dragon that Ho stole from one of the fighting tongs forty years earlier. And if Eddie blows it, he just might call down the wrath of that powerful magical creature on all of Fog City.
Strap yourselves in for a bit of the old razzmatazz, ladies and gentlemen. It's Christopher Moore time.
Christopher Moore is the author of seventeen previous novels, including Shakespeare for Squirrels, Noir, Secondhand Souls, Sacré Bleu, Fool, and Lamb. He lives in San Francisco, California. (Photo credit: Charlee Moore)
About Third Place Books
Founded in 1998 in Lake Forest Park, Washington, Third Place Books is dedicated to the creation of a community around books and the ideas inside them. With locations in Lake Forest Park and Seattle's Ravenna and Seward Park neighborhoods, Third Place Books is proud to serve the entire Seattle metro area. Learn more about their event series at thirdplacebooks.com/events.