Description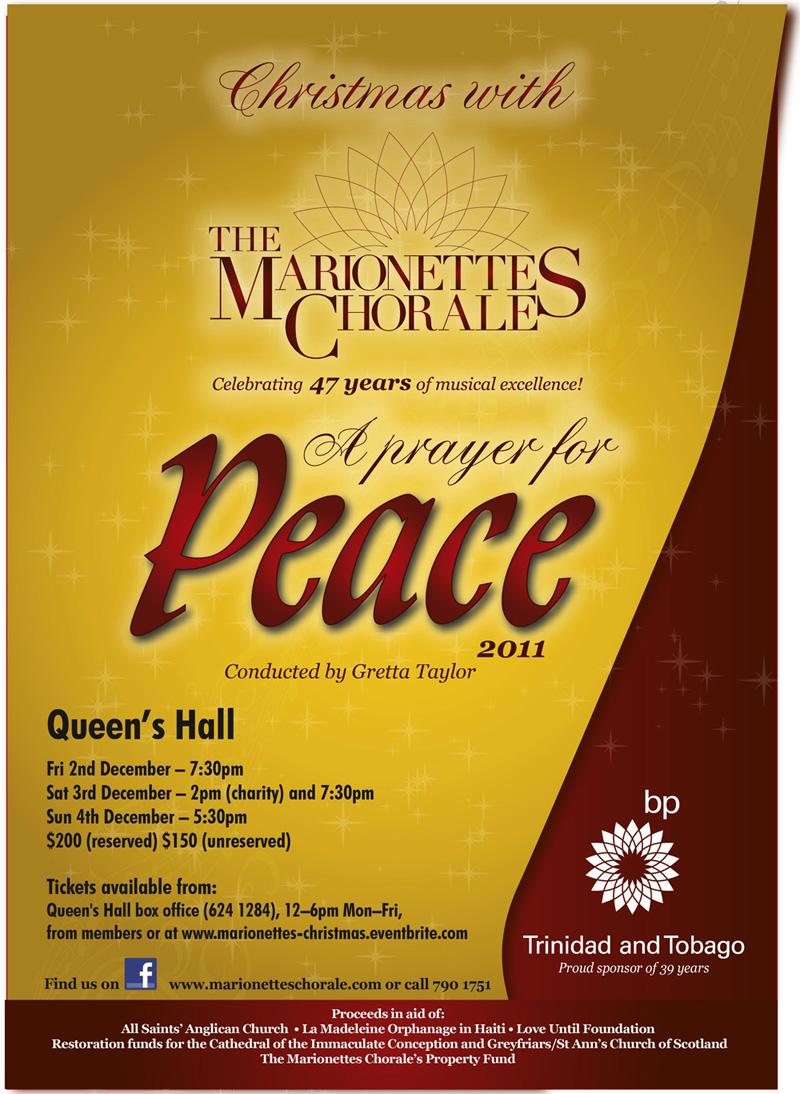 Fresh off their acclaimed staging of Bizet's Carmen last July, the Marionettes return this holiday season with their eagerly anticipated Christmas concert. The Marionettes' loyal patrons have always said that "Christmas begins with the Marionettes". And this year, more than ever before, the Marionettes is working to usher in a spirit of peace, joy, forgiveness and thanksgiving this holiday season.
This is a concert series with a difference. Ten years ago, soon after the events of 11th September, 2001, the Marionettes presented a series of inter-faith community outreach concerts across the nation, called A Prayer for Peace. It was a time that cried out for peace, love, unity, forgiveness and hope, and the Marionettes visited communities all over the country spreading renewal and restoration through music. Now ten years later, at another time of local and international conflict and upheaval, the Marionettes and bpTT offer up A Prayer for Peace II.
As always, audiences can look forward to the Chorale, under the expert direction of conductor Gretta Taylor, weaving the Yuletide theme through a mix of classical, spiritual, gospel, popular Christmas favourites and parang, focusing more than ever on upliftment, healing, hope and peace. Partnering with the Marionettes on this tremendous production are longtime sponsors of 39 years, bpTT; and a decorated production team including Margaret Sheppard, Randy Halfhide, Celia Wells, Franklin Agarrat, and Leslie Clement.
The Christmas with the Marionettes: A Prayer for Peace II concert series runs the 2nd, 3rd, 4th of December. In collaboration with sponsors bpTT, the group will also present its traditional special matinee on Saturday 3rd December at Queen's Hall, a free performance for senior citizens and children from specially invited institutions across the island.
Over the last five years, the Marionettes has raised over TT$1 million for a wide range of charities through their gala opening nights. This year, in the absence of a gala and with so much work worth supporting locally and regionally, all proceeds from the entire concert series will benefit not one but five important charities:
· the LoveUntil Foundation's countless social outreach programmes that provide care for abandoned children, battered women, HIV positive patients, drug addicts, and many other people in need
· the fund for the restoration of a national monument, the Roman Catholic Cathedral for the Immaculate Conception
· the La Madeleine Orphanage in Haiti's rebuilding fund
· the All Saints Church renovation fund
· the Greyfriars/St. Ann's Church of Scotland rebuilding fund
· and the Marionettes' own Property Fund
Tickets are regularly priced at $200 (reserved) and $150 (open plan), with discounts for students. Tickets go on sale from 14th November from the Marionettes (email@marionetteschorale.com or (868) 790-1751); online at marionettes-christmas.eventbrite.com; and at the Queen's Hall Box Office (tel: 624-1284).
Shows at Queen's Hall are 7:30pm on Friday 2nd and Saturday 3rd, and 5:30pm on Sunday 4th December.

The Chorale's two holiday CDs ­– A Christmas Album (featuring the bpTT Renegades) and Sing Noel – will also be on sale during the concert, and the full albums and individual tracks are available online at iTunes, CDBaby.com, Amazon.com, and TrinidadTunes.com.
See the Marionettes' homepage (www.marionetteschorale.com) and Facebook page www.facebook.com/marionetteschorale.
# # # #
ABOUT THE MARIONETTES:
Founded in 1964, incorporated as a nonprofit in 2005, and sponsored by bpTT since 1972, the Marionettes Chorale (Hummingbird Medal Gold) is one of the Caribbean's most celebrated choirs, both at home and abroad. In 1995, the Youth Chorale was formed, comprised of boys and girls from over 30 schools throughout Trinidad & Tobago who regularly share the stage with their senior counterparts. Led since 1974 by conductor Gretta Taylor, assistant musical director Susan Dore and secretary and founder member Joanne Mendes, the choirs mount at least two major productions a year, showcasing a repertoire ranging from European Renaissance to Caribbean Folk and Calypso. Web: http://www.marionetteschorale.com