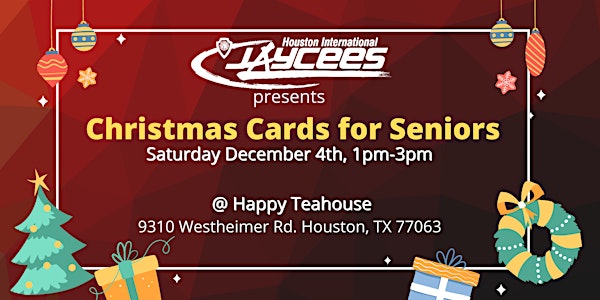 Christmas & Winter Holidays Cards for Seniors & Boba Tea Social
Come and join us for boba tea and more sweet treats social hour while making xmas & winter holidays for senior citizens!!!
When and where
Location
Happy Teahouse 9310 Westheimer Road Houston, TX 77063
About this event
Do you have extra blank cards from the Christmas or winter holidays lying around? Want to brighten someone else's day? Want to hang out and meet some great young professionals?
Come join the Houston International Jaycees at the Christmas & Winter Holidays for Seniors while hanging out at Happy Tea, where you can try different boba teas and other sweet treats!
They will be writing positive notes in holidays cards for senior citizens in assisted living homes. Many of these elders at these homes feel isolated and more lonely during the winter holidays since many of them are still have limited contact with family and friends due to the pandemic . These holiday greetings cards filled with kind words and thoughts will have positive impacts on these senior citizens' day!
Date: Saturday, December 4th from 12-2 PM
Location: Happy Tea & Cafe 9310 Westheimer Rd, Houston, TX 77063
There is plenty of parking in the front of the park.
Have no blank cards? Not sure what to write? No problem! There will be blank cards available to write. If you are not sure about coming to this event and want to still contribute to this event, any donations of blank cards or cards will good meanings will be expected and appreciated! The more cards there are, the more senior citizens will be reached!
If you like to create a bright spot in these patients' lives, join them for this great, unique volunteer event, and want to hang out with some cool people, come on down!! Everyone is welcome!! There are limited spots for this event, so reserved your spot quick!
Please contact: Sunny Ning- Secretary/Project Chair at jcihoustonintl@gmail.com for any questions or details.
Contact information will be provided an email prior to the event.
We will be following the current CDC's guidelines for COVID-19. All participants are required to show proof of COVID vaccination card or a photo of that required will not be required to wear masks. All others will be required to wear masks. Masks are highly recommended for those who proof of COVID vaccination. A COVID-19 Self-Health Check Survey will be sent out prior to the event.
The Houston International Jaycees are an award winning young professional organization that develops leadership through service to humanity. This organization won the 2020 Outstanding Chapter from the JCI USA and many more awards in 2020! Houston International Jaycee's goal is to help young professionals between the ages of 18 and 40 develop personal and leadership skills and give them the tools to build the bridges of success for themselves in the areas of business development, management skills, individual training, community service, and international connections.