Join us for a magical, outdoor adventure around the Rathmore neighbourhood area! Booking is essential so make sure you reserve your slot!
About this Event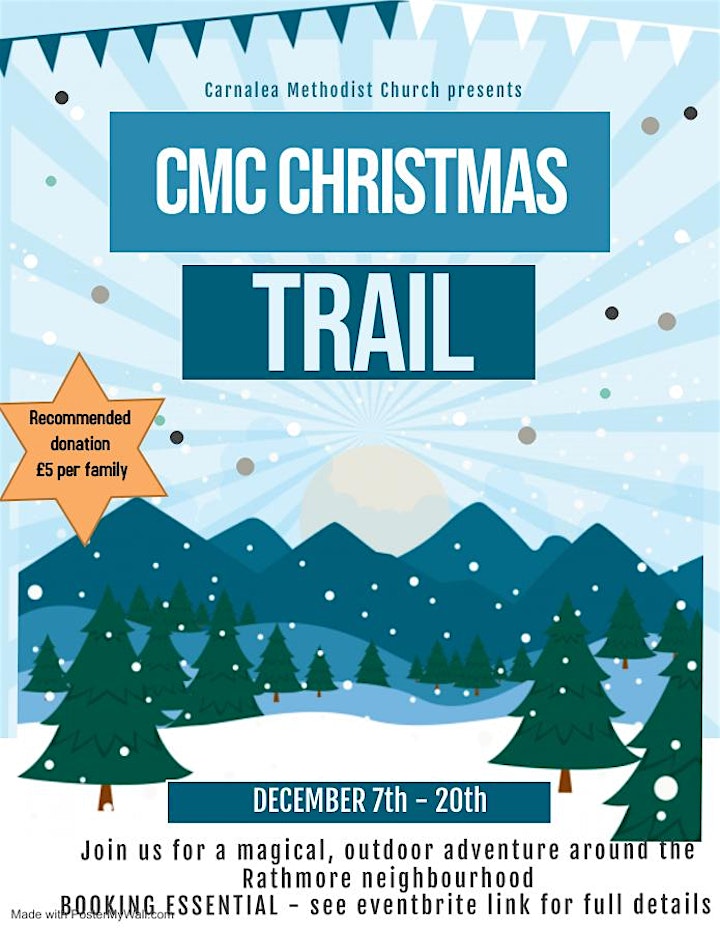 Come and join us for a magical outdoor adventure! We invite you and your bubble to come and experience the Christmas story like never before!
• Please book 1 ticket for your entire party (1 family or bubble)
• On arrival please park in the main car park at the rear of the building (unless disabled parking is required). Proceed through the pedestrian gate down the ramp to the open door to collect your map. If there is another group ahead of you please ensure social distancing and give them space to get started.
• We would appreciate if adults would wear a mask when approaching the table to collect their maps to keep our volunteers safe, they will do the same.
• We have no facilities to accept card payments so please bring your donation in cash. We recommend £5 per family, this will include a gift at the end for children. Money raised will be split between Church funds and our mission partners. We really appreciate your generosity.
• Once you have collected your map simply follow the directions to gather all the clues making up the code word needed to get your gift at the end. Be sure to enjoy all the beautiful holiday lights along the way.
• The route should take around 1 hour to complete but will completely depend on the pace of your group. Groups will be released at 5 minute intervals, if you do catch up with another group along the route please be respectful and practice social distancing whilst waiting to see a clue, or overtake. Excited little legs may take a little longer but we can all enjoy our experience together.
• What if it rains? It is December in Northern Ireland so we have a fair chance some nights may be wet, don't dismay the course is drivable also. If one member of your party collects a map as above you can still enjoy the lights and see the clues from the car. This is also an option for anyone who isn't able to walk the course.
• When you have completed the route, and have the all important code word, return to the Church to collect a gift for the kids. Again we would appreciate if adults would wear a mask when approaching the table, and ensure social distancing if there is a group ahead of you. Please be assured the gifts will have been purchased, wrapped and quarantined for more than 72 hours to ensure safety.
• Please return to your car via the outer pavement and vehicle gate as directed by our volunteers.
• Capacity for this event will be limited to allow everyone to enjoy themselves safely, please only arrive with the people indicated at the time of booking, as gifts will be arranged for each party. If you need to amend your booking please contact the organisers to do so.
• Please do not come to the event if you are experiencing any covid-19 symptoms, or have been advised to self-isolate.
• If you can no longer attend for any reason please let the organisers know as capacity is limited and your slot may be reallocated.
• Hand sanitiser will be available at both the map and gift tables.