Christmas Party with Highlight Concepts, Razzmatazz & A Step to Gold Performances, Heavy Hors d'oevres & General Dancing.
About this event
The Happiest Christmas Tree
When: Sunday, December 12th
Time: 5:00 pm to 8:00 pm
Details: Discounted $40 before Dec. 8th Or $45 after Dec 8th.
RSVP by December 8th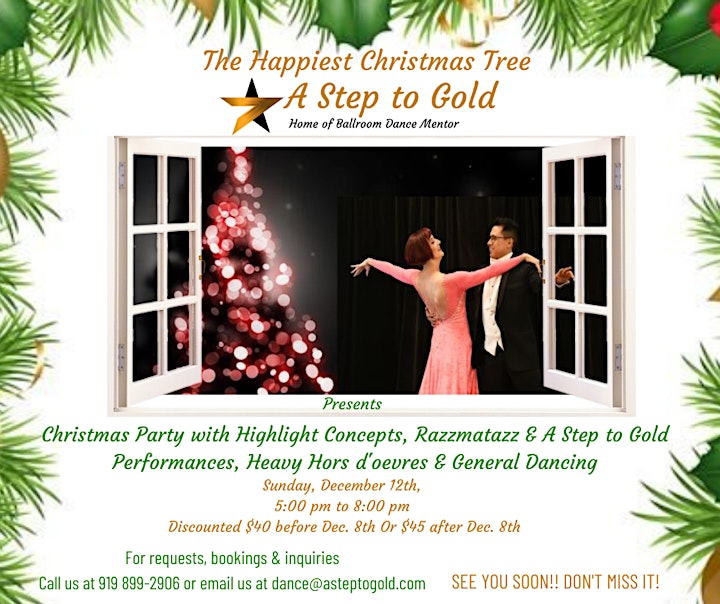 Organizer of Christmas Party with Highlight Concepts, Razzmatazz & A Step to Gold
2019 marked Melanie's 36th year as a professional ballroom dancer, certified ballroom dance teacher and the owner of A Step to Gold International Ballroom in Raleigh, NC. She is also the first in North Carolina to offer the Ballroom Teachers College taught all over the world.
Melanie credits her superb physical condition and health to the aerobic, low impact exercise she gets from teaching her classes.  Popular television shows like So You Think You Can Dance and Dancing With the Stars has focused public attention on dance as a form of entertainment and as a sport.  With more of her peer boomers looking for new challenges and new ways of staying active, social and fit, many are turning to ballroom and couples dancing.     
At a time when many baby boomers are retiring from their first career and looking for their next avocation, Melanie is recommitting to a life of dance.   Most of her clients are professionals between 45 and 65 years old with very busy lives and demanding careers. ' I am able to create a fun and supportive community for my students,' says Melanie.  'I learn about their lives and their dreams and I get to watch them grow.   My clients become like my family.  And who doesn't love being with family.' For more about Melanie...
http://www.boomnc.com/archives/transitions/dancing-for-life-studio-owner-keeps-her-rhythm/