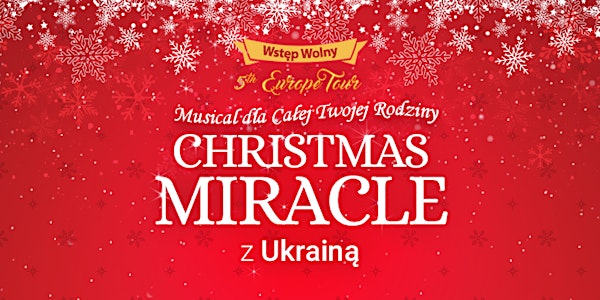 Christmas Miracle
Christmas Miracle to zapierające dech w piersiach wydarzenie muzyczne
When and where
Location
Białołęcki Ośrodek Kultury 66 Głębocka 03-287 Warszawa Poland
About this event
Cud Bożego Narodzenia! Czy kiedykolwiek poczułeś magię Świąt? Czy zastanawiałeś się, jakie jest prawdziwe znaczenie Bożego Narodzenia?
Wielu ludzi spędza święta Bożego Narodzenia nie znając ich prawdziwego znaczenia.
Prawdziwe Boże Narodzenie to nie 25 grudzień, ale dzień narodzin Jezusa Chrystusa w naszych sercach. To czas dzielenia się tą radością i wdzięcznością z rodziną i przyjaciółmi.
Z powodu bezprecedensowej pandemii, trasa "Christmas Miracle" została wstrzymana przez 3 lata, ale teraz zostanie wznowiona. Jego gospodarzem jest IYF, a organizatorem jest ICH HALTE DICH. Trasa rozpoczęła się w 2016 roku w 13 miastach w 9 krajach, a w 2019 roku występ odbył się w 40 miastach w 32 różnych krajach. W tym roku dar cudu Bożonarodzeniowego trafi do 45 miast w 32 krajach w całej Europie.
Szczególnie wielu Ukraińców jest rozsianych po całej Europie, otrzymując pomoc od różnych państw, podczas gdy przeżywają żałobę. Ukraińscy studenci, którzy mają takie same cele jak ICH HALTE DICH, zebrali się i latem rozpoczęli "Projekt Mriya". Polecieli do Korei Południowej i wzięli udział w "Światowym Festiwalu Tańca Kulturowego" i dzięki swojemu tradycyjnemu tańcowi zdobyli główną nagrodę. Zespół wrócił do siebie. Przygotowali niezapomniane przedstawienie, aby podziękować obywatelom Europy za ich miłość i troskę.
Spektakl składa się z 2 aktów. Akt I przedstawia narodziny Jezusa w obskurnym żłóbku w Betlejem. Będzie można się zastanowić nad tym czy Jezus, który przyszedł na ziemię 2000 lat temu, znajduje się również w naszych sercach. Akt II to historia rodziny Anny. Jest to akt, który poruszy przesłanie miłości rodzinnej, która umacnia każdego z nas.
Spektakl "Christmas Miracle" ze wspaniałymi poruszającymi historiami przyjdzie do Nas tej zimy.
Zapraszamy do udziału w tej wzruszającej chwili.
KONTAKT - POLAND@IYF.ORG
FACEBOOK - IYF POLAND
INSTAGRAM - IYFPOLAND