Christmas Lessons and Carols with the San Francisco Renaissance Voices
Come join us in celebrating the joy and the mystery of Advent with the San Francisco Renaissance Voices in a candlelight service.
About this event
Come join us in celebrating the joy and the mystery of Advent with the San Francisco Renaissance Voices and organist, Don Scott Carpenter, in a candlelight service of Advent and Christmas carols. You will have lots of opportunity to sing and enjoy both familiar and not so familiar carols. This is a fun event for the entire family. A free reception follows the service.
Date: Saturday December 18 2021, 4 p.m.
Free. Donations Requested. Limited seating.
Register online at Eventbrite. Priority for registered participants.
Venue: Episcopal Church of the Incarnation, 1750 29th Avenue, San Francisco, CA 94122.
Health and Safety
In accordance with health and safety guidelines from the City and County of San Francisco, a face covering is required for all concerts at Incarnation Episcopal church and must be worn at all times. Face masks must completely cover nose and mouth and have ear loops or similar to hold in place. Gaiters and bandanas are not acceptable.
In addition, proof of vaccination is required to attend the concert. Please bring a copy of your vaccination (either a paper copy or digital copy) for admittance into the venue. Children under 12 are exempted from the vaccination requirement. Please click here for full details.
San Francisco Renaissance Voices
San Francisco Renaissance Voices made their debut in 2004 with a "standing room only" performance of Victoria's Requiem and quickly became a favorite of San Francisco Bay Area Early Music audiences.
SFRV has consistently earned praise for their "gossamer sound … a sound something akin to spiritual levitation" as well as recognition for their imaginative programming and christened the Bay Area's "hipper than thou" Early Music ensemble by San Francisco Classical Voice and in 2010 SFWeekly chose SFRV as the "Best Classical Music" for their Best of San Francisco edition. SFRV is the San Francisco Bay Area's professional mixed-voice ensemble dedicated to performing and exploring the a cappella choral music of the Renaissance particularly lesser-known and rarely-performed works, as well as exploring music from this period outside of the traditional European canon.
SFRV's Opera Early & Ancient San Francisco mini-series seeks to present to audiences operatic and related works from the Medieval through Baroque periods and has included such works as the "technicolor" production of Hildegard von Bingen's Ordo Virtutum ("Hildegard's little-performed musical mantra rang out anew" – Los Angeles Times) and the west coast premiere of William Boyce's Solomon ("The performance was often exciting and even eye-opening … a performance other groups struggle to achieve on record" – San Francisco Classical Voice).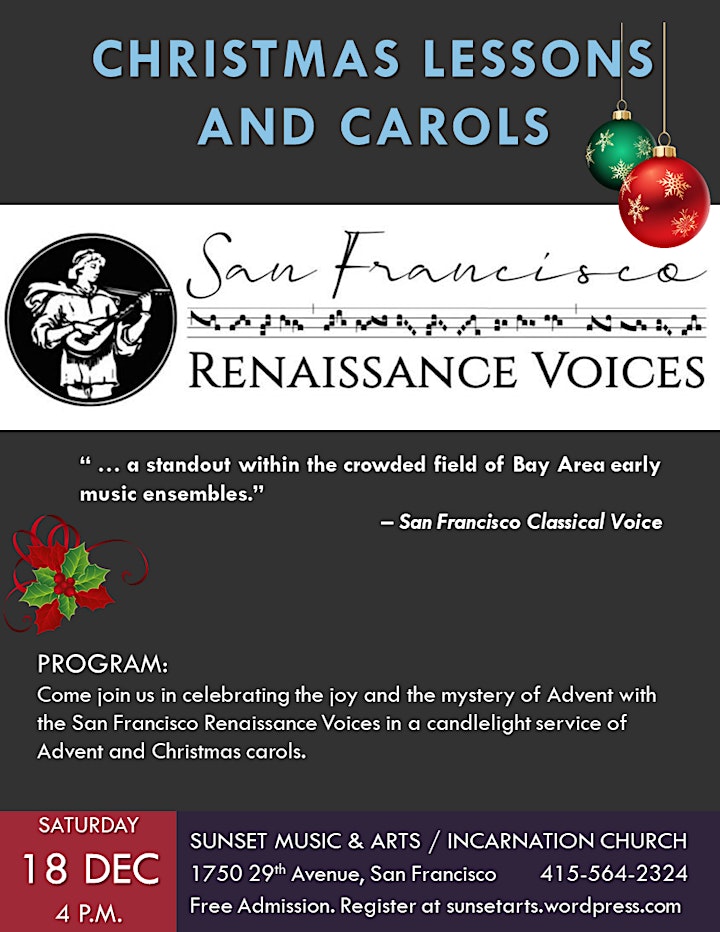 Organizer of Christmas Lessons and Carols with the San Francisco Renaissance Voices
The Episcopal Church of the Incarnation, San Francisco, is a welcoming, inclusive community where people come to be fed from the riches of God's love and grace. We live and share the Good News of Jesus Christ through worship, education, fellowship, pastoral care, and service to the world.
As a covenanted member of Oasis California, we commit ourselves to affirming lesbian, gay, bisexual, and transgender people and welcoming them into this Christian community.
The church is located in San Francisco's Sunset district, and worship services are normally offered in both English and Chinese. Our facility is wheelchair accessible, and assistive listening devices are available upon request.
We are a parish in the Diocese of California in the Episcopal Church, which, in turn, is a province of the worldwide Anglican Communion.
For more information visit http://www.incarnationsf.org/