Description
Norton Buffalo Hall •WEST•
and
Museum of Northern California Art (MONCA)



-Present-
Christmas Jug Band
Saturday, Dec. 14, 2019 - 7PM
Doors open at 6:30PM
Refreshments / Drinks Available
Tickets: $25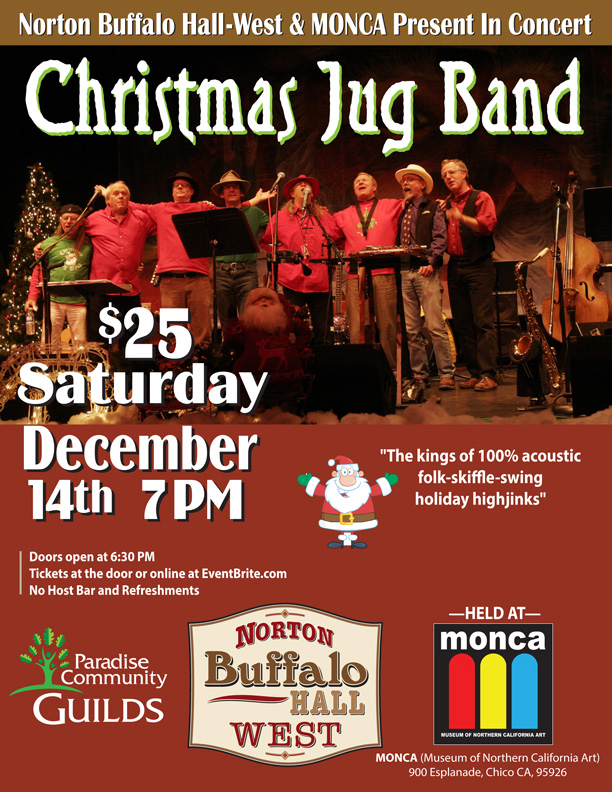 Quotes:
"Why do people need to suddenly act all holy and righteous during the Christmas season when they're usually not that way at all the rest of the year? If you want to laugh and dance your way into Dec. 25, Christmas Jug Band... is your golden ticket." — Dan Macintosh, Country Standard Time
"...this bunch of Bay Area merry pranksters [are a] wild ride of hokum powered by some of the all stars you've been digging in the background all these years, they aren't kidding about being a jug band if you've been so far unexposed. A gasser for anyone with a sense of humor...Killer stuff from the hippie/beatnik left field." — Chris Spector, Midwest Record
"I firmly believe that even Scrooge before his ghostly visits would have had to laugh along with The Christmas Jug Band. It's the perfect holiday record unless your friends are incredibly uptight. And why would you have friends like that? Get this CD and get ready to sing and dance along all the way to Christmas day." — Rhetta Akamatsu, blogcritics.org, Seattle PI
The Christmas Jug Band Story - A momentary lapse of sanity that became an annual holiday tradition spanning over 35 years.
A small group of pals living in Mill Valley, California, in the mid 70s with a penchant for Kentucky bourbon formed Monday Night Wild Turkey Jug Band. From Yellow Springs, Ohio, Gregory Leroy "Duke Dagreeze" Dewey (Mad River, County Joe & the Fish, Marty Balin), his brother - Nicholas Q (Not Joe) Dewey, and their partner in "The Reptile Brothers Band," Tim Eschliman (Commander Cody, Etta James) started the weekly Appalachian-style jug jams with the Deweys' roommate, Paul Wenninger (from Chicago, road manager for Van Morrison, Dan Hicks).
Spur-of-the-moment street corner appearances, instigated by Dan Hicks (Dan Hicks and the Hot Licks) around the same time also had a jug band instrumentation and included many of the same musicians. The Monday Night Wild Turkey sessions lasted only 10 weeks, but had many guests stopping by, including Hicks; L. D. Armstrong (Rowdy and the Rivets), Austin de Lone (Eggs Over Easy, Commander Cody), and other local musicians mostly from the Old Mill Tavern music scene.
The jug-jam sessions were about creating new tunes, new lyrics, or just new grooves with an acoustic, backwoods, jug sound. A harmonica, old arch top f-hole type guitars, a jaw harp, a washboard, a washtub bass and even coat-hangers banged on the edge of the old wooden kitchen table became the desired sounds of the group. To preserve the creative spontaneity, cover songs were generally forbidden and to maintain the funky, down-in-the-holler home-made instrument kind of sound, pianos, professional-sounding dread-naught sized guitars and any other instruments deemed "too-good-sounding" were discouraged. Carbon-date testing of left over Kentucky bourbon decanters from those sessions point to the year 1976.
In late 1977, Dan Hicks, host of the infamous "Monday Night Open Mike" sessions at the Old Mill Tavern, was needed for a recording gig in Los Angeles. His jug-headed cohorts, regular entrants to the Open Mike, covered for him and hosted the event on December 19, 1977. Billed as "The Three Wise Men +4 -1 Jug Band," this early cast of characters laid down their first holiday set of irreverent tunes. The owner of The Old Mill then suggested the band do a Christmas Eve gig. That show, which included Mr. Hicks, started the annual jug band performances.
Doors open for seating at 6:30PM. Delicious desserts and a no host bar will be available throughout the night.
For more info call 762-1490 / nortonbuffalohall@gmail.com
---
More Events:
02.14.2020 - Valentines Duets
Organizer of Christmas Jug Band @ MONCA - Norton Buffalo Hall •WEST•
Located at the Chico Guild Hall, 2775 Nord Ave in Chico.
Norton Buffalo Hall was the home of Paradise Community Guilds, an historic, non-profit, community-based service organization promoting the values of sustainability and stewardship.
Chico Community Guilds has graciously allowed us to honor our music events at Chico Guild Hall under the name "Norton Buffalo Hall WEST" while we pull together the resources to rebuild in Paradise.
Membership is open to all, and the public is generally welcome to attend all Guilds events.
Photos and other media support can be found at https://www.facebook.com/pcgevents/.