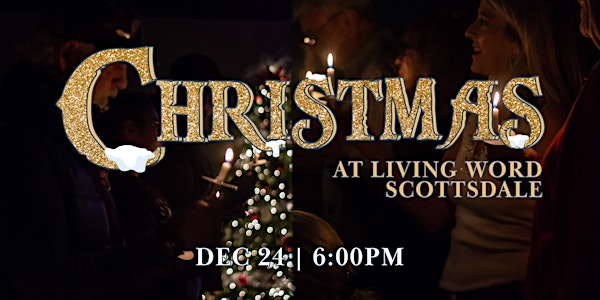 Christmas Candlelight Service 2022 | Scottsdale
Come celebrate with us as we gather and praise the miraculous birth of our Lord, a time of family, friends, music, and candlelight!
When and where
Location
Living Word Scottsdale 8551 East Anderson Drive #105 Scottsdale, AZ 85255
About this event
A FREE CHRISTMAS PRODUCTION
"The year was 1 AD.
The Wisemen will soon begin traveling across the nation, bearing gifts suited for a King. They won't find who they're looking for for many years, but still, the star in the sky guides them ever closer to Him.
Who are they looking for?
There's news that a child, the Son of God, was born unto Earth. Across the world, then and today, those who might stand against the Almighty God of Heaven and Earth tremble at the birth of this child, whose name is Emanuel, Jesus, the Christ.
WHAT TO EXPECT
A FULL ONE-HOUR Christmas Production and Candlelight Service like no other!
There will be a POWERFUL live music spectacular by Worship Effect; an internationally recognized band throughout the World!
A time of fellowship and prayer over the year to come with you and your family!
And most of all, a night of celebrating the birth of OUR KING!
SERVICE TIMES
SATURDAY, DECEMBER 24TH - 6:00PM - 7:00PM