Description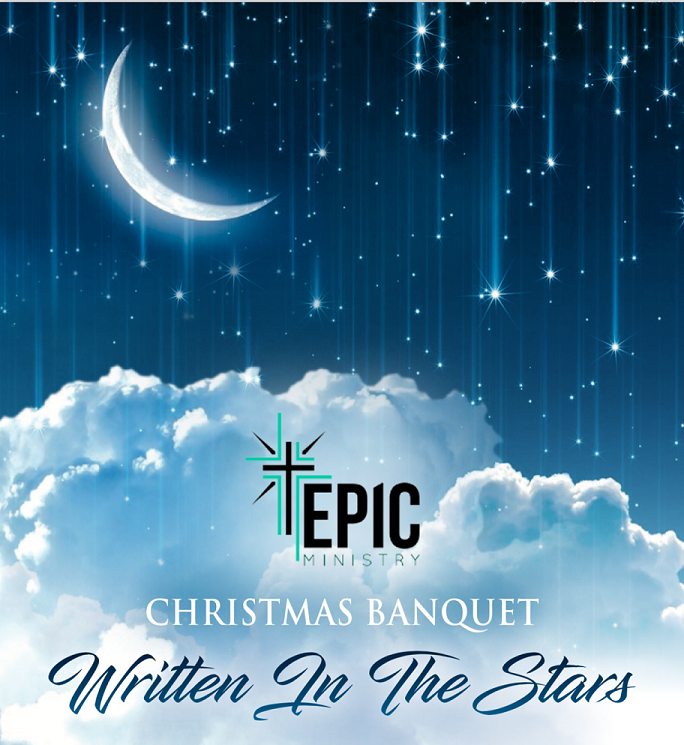 What can I expect at this Christmas Banquet?
The annual EPIC Ministry Christmas Banquet is a special event that brings us together as a community of Catholic young adults, family and friends to celebrate the season of Christmas and an opportunity for us to recap this past year in which God has greatly blessed our ministries.
Included in the ticket price is a buffet dinner, live entertainment, games and prizes, a photo booth, and special presentations.
What does the theme mean?
In a special way this year, we also commemorate the FIFTH ANNIVERSARY of the founding of our ministry! "Written in the Stars" recalls the promise made the patriarch Abraham that his descendents would be as numerous as the stars. This promise to Abraham established a noble heritage that continues today. We are part of that heritage, and EPIC Ministry has continued Abraham's legacy of faithfulness especially to young adults over the past five years, and our hope is to continue this legacy into the next five years and beyond. "Written in the Stars" also acknowledges the one Star that "wrote" or led the way for the magi to find the baby Jesus, reminding us of our call to continually search for Christ in our lives and to lead others to our Savior.
Is this event limited to only young adults (those 18-39 years old)?
NO. This is an open-event to families, friends, and supporters of our ministries. In other words, this special event open to everyone.
What are the ticket prices?
GENERAL [8 years & older] = $45.00 (online) / $55.00 (at the door)

CHILD [3-7 years] = $25.00 (online) / $30.00 (at the door)
INFANTS & TODDLERS (0-2 years) = no charge
Can I pay by cash or check?
YES. Contact us to reserve your tickets and make arrangements to pay by cash or check made payable to "EPIC Ministry".
Do I need to bring my printed ticket from Eventbrite to the event?
NO. If you register through Eventbrite, we will automatically add your name to the guestlist and you will simply need to check-in at the door.
What is EPIC Ministry?
E.P.I.C. stands for "Ever Present In Christ".
We are a peer ministry of young adults, ages 18-39, with a deep desire to know, love, and serve the Lord.
EPIC Ministry is rooted in the teachings of the Roman Catholic Church and shares its charism with the Congregation of the Sacred Hearts of Jesus and Mary (focusing on community and mission).
Our mission is simple: "To empower young adults to follow Christ by spiritual, social, and service paths."
Where can I contact the organizer with any questions?
Contact us via the EPIC Ministry website at www.epicministry.net for more information.