Spend a Very Happy Birthday with local singer-songwriter Christine Havrilla
About this event
SEATING INFORMATION:
Modified seating due to balcony construction (tables temporarily not available)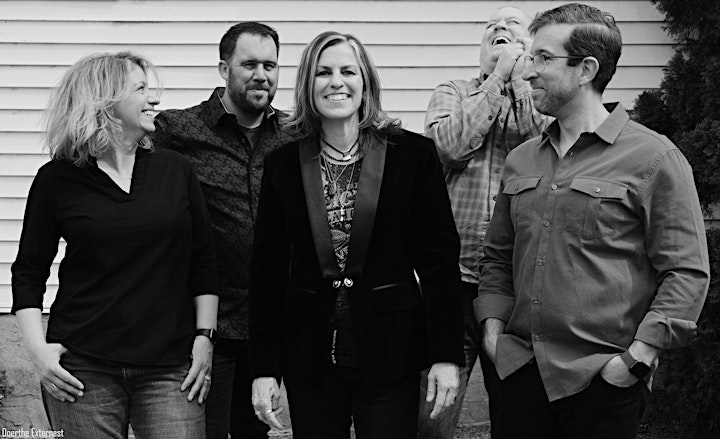 About Christine Havrilla
"Neofunkadlicfolkpoptwangrock"
Award-winning Philadelphia native Christine Havrilla brings her "well-built, catchy, smart tunes" (Upstage Magazine) to audiences everywhere, touring solo and also with the support of her band, Gypsy Fuzz. Christine utilizes the soft gritty texture of her vocals to express warmth and honesty listeners quickly embrace as well as her aggressive, raw, trash-style guitar playing and looping. The Journal of Roots Music listed Christine in the article named "Through the Lens: Women Leading the Way in Roots Music"(November 2021) What's Up Magazine exclaims, "Christine breaks out the gasoline and sets fire to the typical Roots/Folk genre with blazing guitars." Ed Kiggins of inD Round raves, "Christine is one of the hardest working women in music. With her child prodigy-come-of-age guitar virtuosity, a supremely passionate and emotive voice, and an arsenal of wonder-songs that have endeared her to a loving and devoted audience, she is in a class all of her own…we simply call her brilliant!" 2020 brought the difficulty of Covid and a cancer diagnosis, but, Christine pressed on with many virtual opportunities which included WHYY picking up the band's quarantine video of "Desire" for their House Concert Series 2020 while WXPN's The Key (August 2020) raved about the same video saying, "The song is a jagged rocker reminiscent of Sheryl Crow and Bonnie Raitt!" Christine was also featured on WDIY's Parlor Sessions, Sellersville Theatre's Soundbooth Sessions, Wawa's Welcome America 4th of July Event, and World Café Live's House Concerts to name a few. The Dover Post (2019) exclaims, "Christine Havrilla is a tough-as-nails front-woman with a serious habit of rocking a plethora of stages." Nor'easter Magazine states, "Christine Havrilla is a creative, talented powerhouse wrapped up in one complete package!" Mike "Jacobs" McKenna of Steel Notes Magazine says, "This ambitious Philly native manifests her talent in certain ways that allows her to create eclectic music which will grab your heart and leave a lasting memory." Named "One of the Top Ten Indie Artists" by The Advocate Magazine, The Washington Post writes, "(Havrilla's) songs are intelligent and moving, the arrangements are incisive and colorful, and, best of all, Havrilla consistently comes across as a confident and seasoned performer." Christine has also shared the stage with an eclectic list of artists like Brandi Carlile, Chely Wright, Jeffrey Gaines, America, Trigger Hippy, Jill Sobule, Janis Ian, Patty Larkin, Erin McKeown, Karla Bonoff, Christopher Cross, Susan Werner, Antigone Rising, Melissa Ferrick, Dave Mason, & Davy Knowels. Listed with Takamine Guitar's Worldwide Artists, Clayton Picks, and Telefunken Microphones, she was also a featured Artist for American Musical Supply's Singer/Songwriter Month, nominated for About.com's Reader's Choice Awards, and awarded the 2010 Garden State Film Festival's "Best Contemporary Country Song" for "Blinders". Christine's song "Daffodil" was listed as #40 in the Top 50 Songs by Delaware Artists Since the Dawn of Rock "n" Roll by Delaware Today Magazine (Nov 2021) plus her song "Hail" won the "2019 Homey Awards" for "Best Country/American Song! Michaela Majoun, former DJ from 88.5 WXPN, applauds her "terrific, big sound", while Philadelphia Magazine states, "She rocks!" Christine, a self-taught musician since the age of 5, performed at the Sundance Film Festival in 2020 and was featured in Curve Magazine in November 2020 to talk about connecting with fans during Covid. After three years of releasing "Live Sessions" (2015-2018) & celebrating the 20th Anniversary of the album "Some Other Thing" in 2018, the band released a 2019 studio album called "Sunless Escapade", recorded at Studio 1311 outside of Philadelphia, PA. Lyric Videos for 8 of Christine's songs were released in late 2020 and an acoustic re-mix single of "Thinking of You Lately" (1996) came out in January of 2021. Christine can be found writing, recording, experimenting, plus playing bass for Mama's Black Sheep and 3 Stories High.
www.ChristineHavrilla.com
Boxrilla Music ~ Booking@ChristineHavrilla.com ~ #610.331.5835
About the Milton Theatre
Official Website | Facebook | Twitter | Instagram
The historic Milton Theatre is a uniquely diverse venue where you will find the best local, regional, national, and international talent. Free municipal and on-street parking are available. Full bar and light food options available. This facility is fully accessible.