Description
Get ready to press reset and step into a secluded escape away from the bustle of city living at the 2nd Annual "Amazing Me, Amazing Life" weekend retreat tour with certified life coach - Christina Johnson. A three day transformational experience, Christina will personally help attendees discover their purpose, amplify their vision, cultivate self-love, self-care and take action on bringing their dreams to fruition in 2017. The multi-market tour will launch in Atlanta, Georgia at a private 5-star ranch estate. The intimate retreat features a fun sleepover-like atmosphere, life talks with guest speakers, mediation and therapy sessions, beauty pamper stations and one-on-one coaching with life coach Christina Johnson. The "'Amazing Me, Amazing Life" retreat Atlanta tour stop takes place April 21-23, 2017. Tickets are now available at
www.AmazingLifeRetreat.eventbrite.com
Christina Johnson (VH1 personality, celebrity interior designer, and life coach) has overcome a great deal of adversity including her battle with graves disease, domestic violence and struggling with self-esteem, Christina found passion and purpose to
launch
Life Coaching By Christina Johnson
, a program to empower women
to love themselves, forgive their past and to put themselves first. "
I'm on a mission to raise the standards for how we treat each other, how we treat ourselves, and how we treat the world we live in. Every time I look in the mirror I'll remind myself that I'm not alone, that I am enough, that my gift matters, and that my life's purpose is to help other women achieve this sense of being", states Christina Johnson.
The "Amazing Me, Amazing Life" retreat tour
is a live, three-day event designed to help guests transform from the inside out, uplevel their sense of self-confidence and strengthen their belief about what's possible for them through doing the tough work needed surrounded in a loving atmosphere.
"Loving yourself is the foundation to having great relationships and key to enjoying a happy life. I am committed to help women feel good about themselves, have peace with past choices, love themselves and most of all have fun," shares Christina.
To register for the "Amazing Me, Amazing Life" retreat, visit ChristinaSJohnson.com. Stay connected on social and follow @LifeCoachChristinaJohnson on Instagram for details and hashtag #AmazingLifeRetreat.
To book Christina Johnson for speaking engagements or appearances, send requests to PRdirector@TheGarnerCircle.com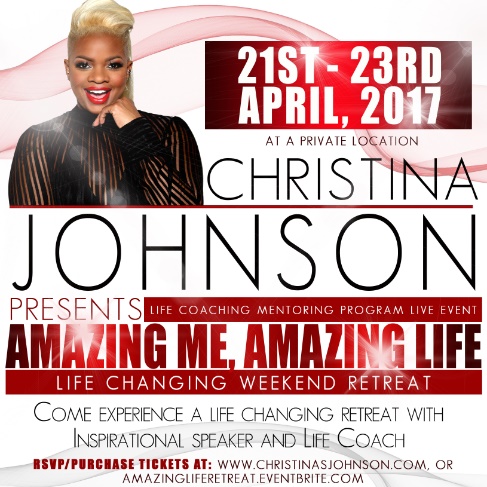 RETREAT NOTES:
- Accommodations will have shared beds.
- All tickets are non-refundable.