Description
Join us and raise awareness and $$$ for mental illness!
Saturday, December 9th
SWIM 820 YARDS / BIKE 4.23 MILES / WALK OR RUN 3.7 MILES
Only want to participate in one section? That's cool. Be ready at the approximate start time and location. Ice cream truck at the finish line.
To learn more about why this event is occurring, and to donate, please visit: https://gofundme.com/christiesstory
A trailer will be available to transport bikes to starting location at final stage of race*
______________________________________________________________________________________________________
The Start
8:30AM
Sacred Heart Prep
150 Valparaiso Ave.
Atherton, CA 94027
Summary: Check in at the tent and grab free water.

The Swim
Start Time: 8:30AM – 9:00AM
SHP Pool
150 Valparaiso Ave.
Atherton, CA 94027
820 yards
32 (25 yd.) single laps
Approx. 30-45 minutes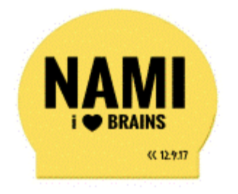 The Bike
Start time: 9:30AM – 10:00AM
SHP (150 Valparaiso Ave. à Stanford Dish, Junipero Serra Entrance)
4.23 miles
Approx. 30-45 minutes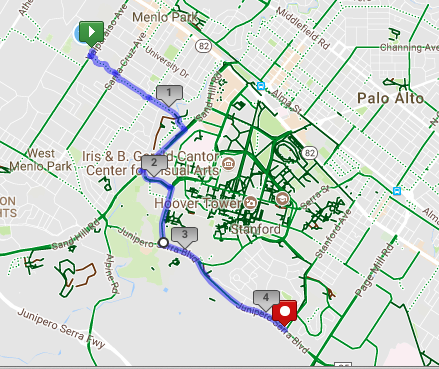 Summary: Leave SHP pool and cross Valparaiso to San Mateo Drive. Keep on San Mateo Drive, crossing Santa Cruz Ave. via crosswalk, then Middle Ave. via crosswalk, to continue towards the bike bridge. Cross the bike bridge and peddle on the path to Sand Hill Road, turning right (West) until the stoplight in front of the Oak Creek Apartment complex. Cross Sand Hill Road via Stock Farm Rd. Peddle until you hit Campus Drive, then make a Right. Continue to Junipero Serra Blvd., and gain speed for the final climb and coast to the start of the Stanford Dish.
Signs will be posted so you don't lose your way.

The Dish
Start time: 10:30 – 10:45AM
Entrance @ Juniperro Serra & Stanford Ave.
3.7 Miles
Approx. 1 hour & 15 minutes – Walk
Approx. 30 minutes – Run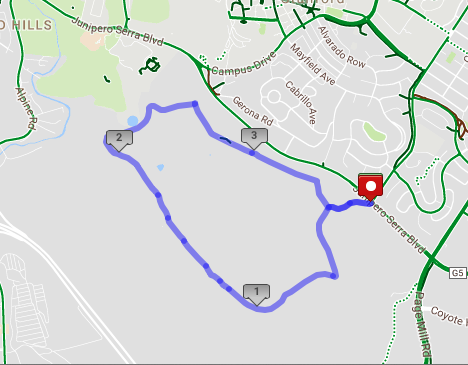 Summary: The end sweat will be a complete loop of the Stanford Dish. Water fountain located on the course, right before mile 3. Walk or run – your choice.
The Finish
12PM – 1PM
Entrance @ Juniperro Serra & Stanford Ave.
Summary: Expect high-fives and free bananas. A thank you goodie bag will also be waiting at the finish line. Celebrations may or may not continue with lunch at Old Pro in downtown Palo Alto.
****
What You Need:
Swimmers
Goggles (FREE cap provided!)
Swimsuit
Towel
Bikers
Bike (beach cruisers welcome!)
Helmut
Walker & Runners
Comfy shoes/running shoes
Need to Rent a Bike?
Menlo Velo Bicycles
433 El Camino Real
Menlo Park
9:30am – 6pm
650.327.5137
*to ensure your bike matches your height please reserve 1 week in advance*
Other Questions? Email Christie --> ccmarie.clark@gmail.com.
---
All funds received go to NAMI.org, the largest grassroots organization which educates, promotes and provides services to aid those affected by mental illness.
Donations are tax-deductible. A receipt of final donation to NAMI will be shared publicly. NAMI is a 501(c)(3) organization and can also be identified for tax purposes with their EIN #43-1201653.