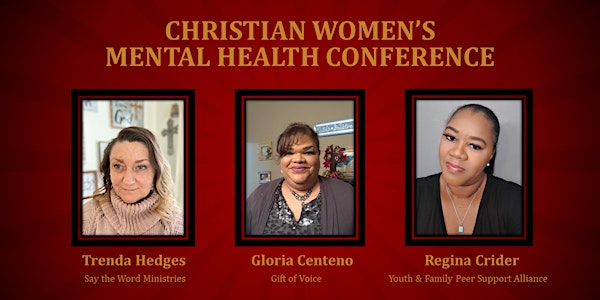 Christian Women's Mental Health Conference
This conference is for women of all ages and makes a great gift for your female Pastor, your Pastor's wife and women's ministry leaders.
When and where
Location
Gift of Voice 903 North Second Street Edwardsville, IL 62025
About this event
Doors open at 9:00am.
Conference begins promptly at 9:30am.
Keynote Speaker:
Trenda Hedges, CRSS, CPRS
Trenda Hedges believes recovery is an opportunity to create the life that gives us meaning and purpose! As an independent consultant and trainer, she delivers recovery education and advocacy support to empower systemic change. Trenda also serves in the role of Wellness and Recovery Program Manager with Beacon Health Options, leading staff and operations of the Illinois Warm Line. Trenda has obtained certification and credentials as a Wellness Recovery Action Plan (WRAP) Facilitator, Certified Recovery Support Specialist (CRSS), and Certified Peer Recovery Specialist (CPRS) and is also a SAMHSA trauma-informed trainer. She has a Bachelor's degree in Criminal Justice with a concentration in Special Populations and has completed all courses in the Master of Arts in Counseling through Lincoln Christian University. Trenda provides biblically based counseling in her community and partners with the Community Alliance for Recovery & Empowerment and is honored to share her experiences to convey a message of hope and healing.
Additional Speakers:
Pastor Regina Crider
Regina Crider, Is the Pastor of Crossroad of Life Community Church in Rantoul, IL which was founded by her late Father, Pastor Raymond Winfrey. At the age of 8, Pastor Crider was baptized and filled with the Holy Spirit. She's a PK (preacher's kid) so, life for her as a pre-teen and teenager was very interesting, to say the least. At the age of 18, she enlisted in the United States Army. Her time away from home made made her realize that she needed to get real and serve the Lord or walk away. She chose to commit herself. Once she returned home from the military she started running for the Lord and she's been running ever since.
God blessed Pastor Crider with the gift of help, mercy, exhortation, administration, teaching, and pastoring. Over the years she has grown and developed in her gifts to the glory of God. It's been quite a spiritual journey. She has had some very difficult trials to endure. One being severe anxiety and depression. During one particular bout, she cried out to God for deliverance and healing. The emotions she was feeling were so overwhelming she became weighed down with suicidal thoughts. The Holy Spirit spoke to her very clearly and said, "God's grace is more than enough during your times of weakness." It was then that she realized that the mental health challenges she had were her thorn in her side from God that keeps her dependent on Him.
Pastor Crider has been married for 21 years to the love of her life and greatest supporter, Damon. She has two children, DeAndre' (26) and DaYanna (21) who also serve faithfully with her in ministry.
Gloria Centeno
Gloria has been a woman of faith since her early years in life. Born and raised in Puerto Rico, she along with her siblings had the blessing of attending an all-English-speaking school whose teachers were missionaries from the Mennonite denomination. She was raised in a Catholic household and, during her adult life, visited many evangelical denomination churches. In 2011, she decided to get baptized and publicly profess her faith to Jesus Christ. During this time of COVID, she has been virtually participating in a small group with a Free Methodist Dinner Church.
She has a bachelor's degree in psychology, which brought her to work in the field of social services. During her professional journey, she was diagnosed with severe depression. She describes this as a turning point in her life; a time where her self-discovery began. Currently she is an active advocate for expansion of mental health services in Chicago, continually active in the Wellness and Recovery Movement. She works as a Recovery Support Specialist in a northern Illinois mental health care center. She also volunteers at San Lucas United Church and feels a privilege and an honor to be able to use her professional skills to provide service to a Spanish Speaking Community.
She has been instrumental with Gift of Voice training teams during events in St. Louis, Missouri, and Hillsboro, IL. Her passion is to mentor, educate, and inspire others to believe in themselves and recognize that their dreams can become a reality. Alongside that passion is her love for Jesus and recognition that her life today is a miracle because she has never been alone. Her favorite verses are "I will never leave you nor forsake you" and "I can do all things through Jesus Christ who strengthens me".
Bishop Geoffrey Dudley
Conference adjourns by 4:30pm.
Doors close at 5:00pm.