Sales Have Ended
Ticket sales have ended
We're sorry, the ticket sales has ended. Please contact us for information at asianmissiology@gmail.com
Sales Have Ended
Ticket sales have ended
We're sorry, the ticket sales has ended. Please contact us for information at asianmissiology@gmail.com
Description
"CHRISTIAN MISSION IN RELIGIOUS PLURALISTIC SOCIETY"
Today, Christian Mission faces challenges from different religions, spiritual and philosophical traditions that deny the absolute Truth. Especially in Asia as the birth place of the four primary world religions, the challenge of Pluralism is apparent in each locality and throughout the continent. We need to understand these phenomena in different contexts in Asia, how Christian workers are struggling and striving with this challenge and explore how Christians should respond to these challenges. Thus, through this forum we would like to (1) better understand the contemporary situation of Christian Mission in pluralistic Asia, (2) reaffirm the local and universal nature of the Christian Gospel in pluralistic societies, and (3) explore effective missional strategies in culturally relevant and sensitive ways.
---
BASIC PROGRAMS

Opening Celebration
Plenary Sessions with Responses,
Group Discussions
Workshops
Evening Events (Mission Night, Bali Special)
---
SCHEDULE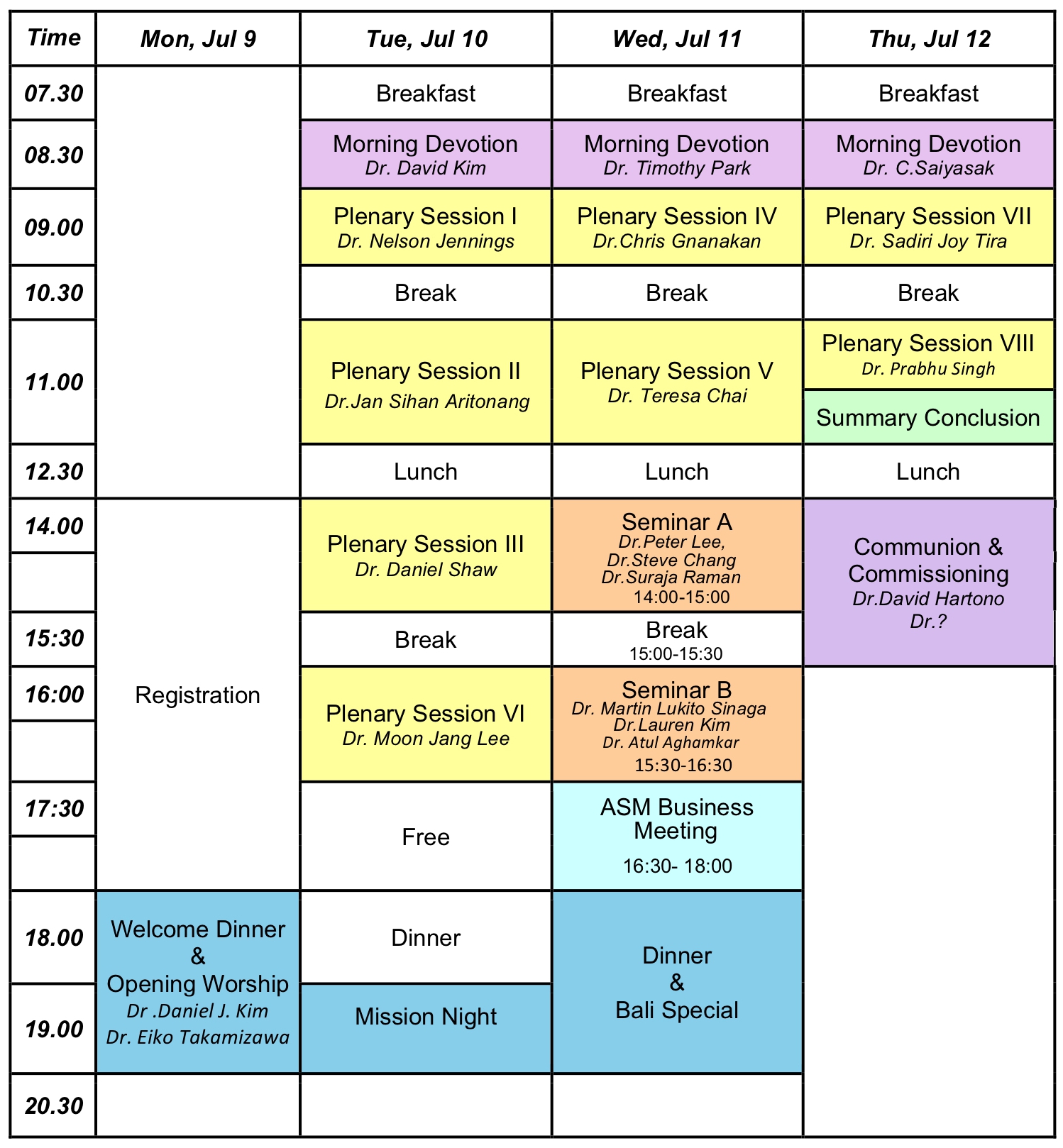 ---
FORUM PRESENTERS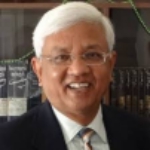 Dr. Atul Y. Aghamkar serves as the Director of National Centre for Urban Transformation, Bangalore, India. He is an ordained minister of the Christian and Missionary Alliance and has served as an urban church planter and pastor before moving into teaching ministry. Having served as professor of Missiology and head of the Missiology department in two prominent seminaries in India, he is now involved in extensive training programs for urban pastors and leaders. He is widely known as the foremost urban Missiologist and is involved with several national and international networks. He is married to Suman who is heading the relief and rehabilitation wing of the Urban Alliance Trust.
Teresa Chai was a missionary to Bangladesh for eight years during which time developed a literacy program using audio-Scriptures for the Bible Society there. She also headed a development project among Bangladeshi youth working in a Danish Mission called a "School for Life" teaching them life skills as well as vocational training in computers and English. She was born on May 3rd 1962. She did her undergraduate studies in the Bible College of Malaysia. She also served with Asian Outreach, a Hong Kong based mission agency for four years. As for her graduate and post-graduate studies she was in Fuller Theological Seminary at two different times 1989-1991 and 1999-2003. She is an ordained minister with the Assemblies of God Malaysia. She has published articles magazines and books. Teresa also serves on a mission organization board as well as involved in some Pentecostal dialogues with other denominations. She was in various leadership positions beginning as a Dean and finishing as the President of Alpha Omega International College, Malaysia, a multi-denominational college 2003-2013. Presently, Teresa is the Academic Dean for Asia Pacific Theological Seminary (2018 - ).

Dr. Chris Gnanakan is Professor of Theology and Global Studies at Liberty University. Director of Training, Outreach To Asia Nationals (OTAN).
J. Nelson Jennings currently serves with Onnuri Church (Seoul) as Mission Pastor, Consultant, and International Liaison, having previously served with his family in Japan for 13 years, 1986-1999. Jennings teaches, preaches, writes, and encourages research, including as editor of Global Missiology-English and with the WEA's Community of Mission Information Workers.

R. Daniel Shaw (Ph.D. Anthropology) conducted field work among the O'otham of southwestern Arizona (1967-68) and the Samo of Papua New Guinea (1969-1981) where he served as a Bible translator with Summer Institute of Linguistics. He is currently Sr. Professor of Anthropology and Translation at the Fuller Graduate School of Intercultural Studies in Pasadena, CA. where he has taught since 1982. His writing ranges from ethnographic to theoretical in translation, anthropology and theology. He is a Fellow of the American Anthropological Association and the Polynesian Society, and a Member of the American Society of Missiology (Board 2013-2014). He is listed in Who's Who in America, the International Who's Who of Professional Educators and the Directory of American Scholars.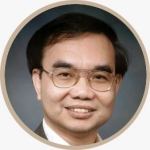 Dr. David Lim is President of Asian School of Development and Cross-cultural Studies (ASDECS), and Executive Chair of Lausanne-Philippines
Dr. David Sangbok Kim serves as Chancellor of Torch Trinity Graduate University, Seoul, South Korea. Pastor Emeritus of Hallelujah Community Church, and Co-chair man of the Korean World Mission Association.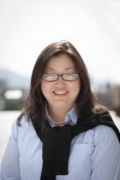 Dr. Lauren J. Kim is an Interim Assistant Professor of History at Providence Christian College.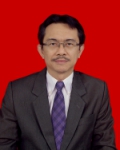 Dr. Martin Lukito Sinaga is an Adjunct Professor at Jakarta Theological Seminary, and Driyarkara School of Philosophy.


Dr. Moon Jang Lee is a Korean Evangelical Theologian.
Dr. Timothy Park is Professor of Asian Mission and Director of Global Connections at Fuller Theological Seminary School of Intercultural Studies. President of East-West Center for Missions Research and Development. Founding President and President Emeritus of Asian Society of Missiology.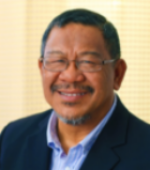 Dr. Sadiri Joy Tira is The Lausanne Movement's Senior Associate for Diasporas.
Dr. Santoso is the founder of Transformation Connection, a Mission Strategic Organization; Indonesian Prayer Network; Advisor for Indonesia Churches Network.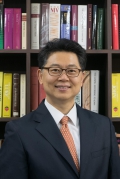 Dr. Steven Chang is a New Testament Professor in Torch Trinity Graduate University, South Korea.
Dr. Prabhu Singh is a trained missiological anthropologist with a PhD in Inter Cultural Studies from Asbury Seminary, Kentucky, USA. With 25 years of ministry experience, at present, he is the Head of the Department of Missiology; Director of the Centre for the Inter Cultural Studies and Principal Designate of South Asia Institute for Advanced Christian Studies [SAIACS], Bangalore, India. At SAIACS, he also leads a major research project, studying the emergence of Christward Movements in Contemporary India.
---
ABOUT THE HOTEL
Discovery Kartika Plaza Hotel Bali Situated right where the stunning surf of the Indian Ocean breaks on the famed South Kuta Beach is the luxurious, five-star Discovery Kartika Plaza Hotel. This coveted beachfront is only minutes from Bali's Ngurah Rai International Airport. Set amidst sprawling serene gardens, this ideal tropical retreat is within easy walking distance of the main Kuta shopping areas and numerous entertainment and dining options. It features 318 modern rooms, suites and villas.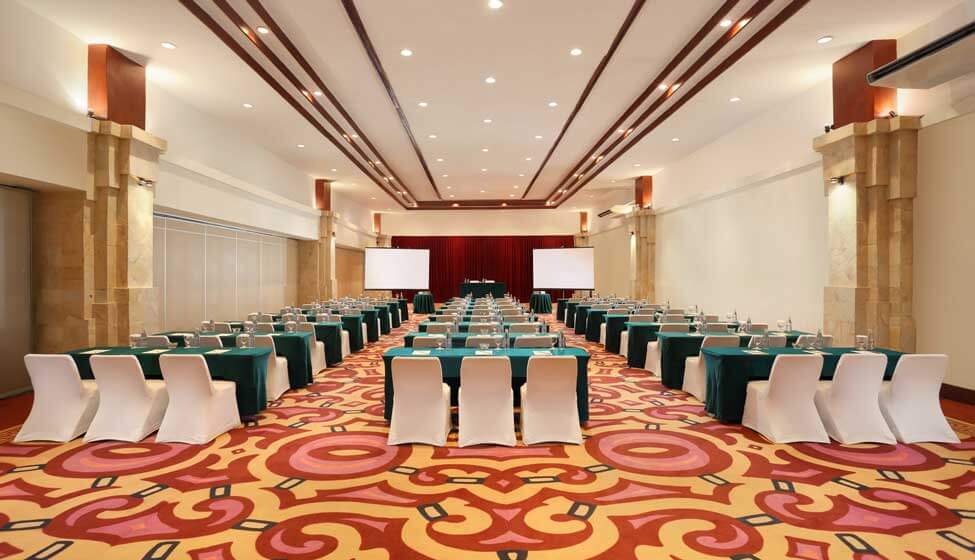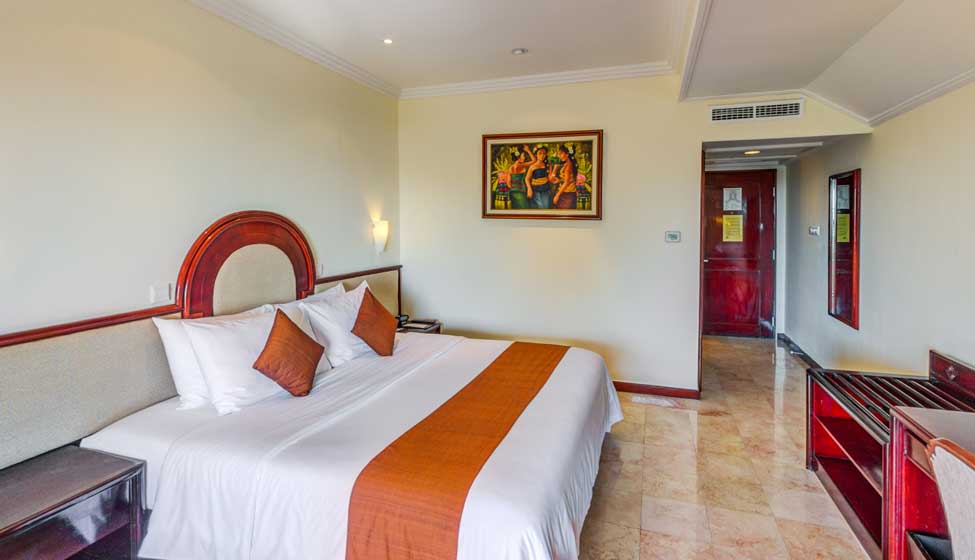 Further information about hotel and venue can be found at:
http://www.discoverykartikaplaza.com
---
*Ticket fees are only for hotel, meals and refreshments. The registration fee is 50 USD for each conference participant, and will be paid on site. No refund policy will be applied in every payment.
**Detailed informations about the tickets are available at the ticket description, please click the "ticket" button, and the ticket description will be displayed.
***For further information and help, please contact us at asianmissiology@gmail.com.
"For those who wants to register on site, please contact Eiko Takamizawa at e.takami@ttgu.ac.kr"