Christian Concert and Fashion Show Special Needs Ministry

Friday, March 30, 2012 from 7:00 PM to 11:00 PM (PDT)
Event Details

A night to uplift, encourage and support our friends with Special Needs as they perform and share their faith and life with the community.

Music performances by:
Stirring Waters Ministries Special Needs Community
DJ Sam Boy
Darwin Williamson
Brother Ig
Jasmine Orozco
Soaring Eagles

Fashion and Fun Wear will be brought to you by local vendors...

Order FREE tickets at http://stirringwaters.eventbrite.com/
Bring ticket with you to the concert to receive your raffle ticket for your chance to win a Special Prize!

Outreach Rides:
Please set your rides to DROP-OFF at location between
6:00pm-6:30pm

Please set your rides to PICK-UP at location between
10:00pm-10:30pm

This FREE event launches our NEW non-profit Stirring Waters Ministries, a Christian Outreach to the Special Needs Community...

The Special Needs Concert and Fashion Show Vision:
To have an event Concert where Special Needs population (persons) has an opportunity to excel at their level and shine with their gifts, while parents, friends and the community encourages and support them.
The Special Needs Concert and Fashion Show Mission:
To network Special Needs families to church families and the community for encouragement plus provide ongoing spiritual, emotional and educational support.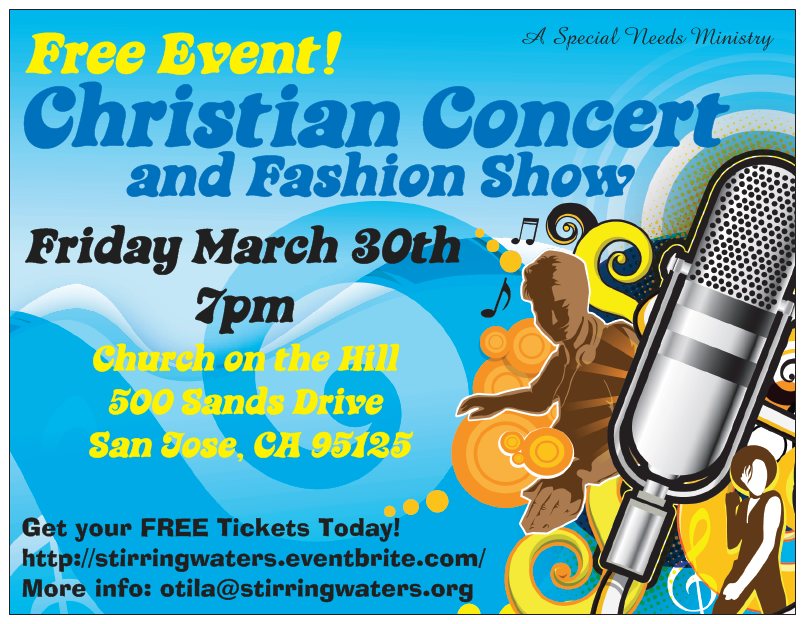 When & Where

Church On the Hill
500 Sands Drive
San Jose, CA 95125


Friday, March 30, 2012 from 7:00 PM to 11:00 PM (PDT)
Add to my calendar
Organizer
Stirring Waters Ministries
Stirring Waters

Ministries is a FREE weekly volunteer-run Sunday Disability Class and monthly time for families priorities include evangelism, discipleship, and genuine Christian fellowship regardless of our participants' ability levels, appearance, or behavior...

1 Samuel 16:7 - "God sees the heart

a 2 hour Sunday drop-in class offering teens and adults with disabilities a once week specialized class that is both interactive and visual to encourage them with peer learning, music, dialogue and personal sharing time

Made 4 a Purpose

is a FREE weekday volunteer-run Disability Day Program four days a week giving individuals with disabilities the opportunity to learn, socialize, develop independent and life skills and increase community involvement. We are geared toward offering a variety of fun and challenging experiences on a daily basis. We focus on the individual while increasing social, group and team participation. We increase our community's ability to accept and include people with simple human differences creating a welcoming environment where all can participate and reach their full potential.

The Pillar Club

is a club that is designed to provide support to teens through encouragement, accountability and high moral standard living. It is open to any teen that would like to join but has predominantly received teens that are completing and/or have completed community service hours via mandated Santa Clara County Juvenile Probation.

 

Teens are placed as buddies to individuals with disabilities and/or are helpers in student teaching, life lessons and more; these lives are being impacted and changed via their service thru an empathy experience They have formed

 

tangible friendships in class and a compassion for the disabled. They also form new perspectives of their own circumstances and life choices. The goal of The Pillar Club is to provide an environment that challenge and support an atmosphere free from drugs, sex, alcohol, wrong music and negative attitude. A huge emphasis has been made to set a standard to return and complete high school (and or attain G.E.D.), attend college, university and/or training programs, attain responsible work and continue to community service. We encourage teens to attempt new things, share and express their experiences and to and pursue any calling they wish. NOTE: Following their mandated community service hours, the ratio of students continuing on and assisting on a weekly basis is 1:5.
Christian Concert and Fashion Show Special Needs Ministry