Join us December 8 at the Buckhead Club to celebrate what God is doing, and has been doing, through CBMC Atlanta!
About this Event
2020!! Whew! COVID-19 has taken its toll on many communities this year; we were in the midst of a twenty city team launch, also the roll out of our highly anticipated Young Professional offering when COVID-19 caused a pause on our plans. But the Gospel is pandemic proof! After seeking the Lord with fasting and prayer, our team regrouped, began to meet the needs of our CBMC community, and ramped up our leadership training and disciple-making initiative. Now we have many wonderful stories to share at our Celebration event.
Our goal is to present CBMC Metro Atlanta 2020 in review with great stories, recognize the outstanding service of our network members, cast our 2021 vision, and allow our partners to invest in the future of CBMC Metro Atlanta.
Note, there is an online option if you want to participate but can not attend in person. (After registering, you will receive the Zoom link in the confirmation email and reminder email).
About Sponsorship Opportunities
Our Corporate Sponsorship Program not only underwrites some of the expenses of this event but it also raisers Start-Up Capital for our Young Professional Program.
Bronze Sponsor 500.00
1 table for 4 guests, 4 Meal tickets, Digital display, 1/2 Vendor table for products and marketing collateral
Silver Sponsor 1500.00
2 tables for 8 guests, 8 Meal tickets, Marketing Collateral in all go packages, Digital display, 1/2 Vendor table for products and marketing collateral, Logo on CBMC Atlanta Website
Gold Sponsor 2500.00
3 tables for 12 guests, 12 Meal tickets, Table Top of your choosing, Marketing Collateral in all go packages, Digital display, Public Spotlight during gathering, 1 full table for products and marketing collateral, Listed in MAI Atlanta Mobile App (name, picture, contact information, video), Logo placement on email campaign
About the Featured Speaker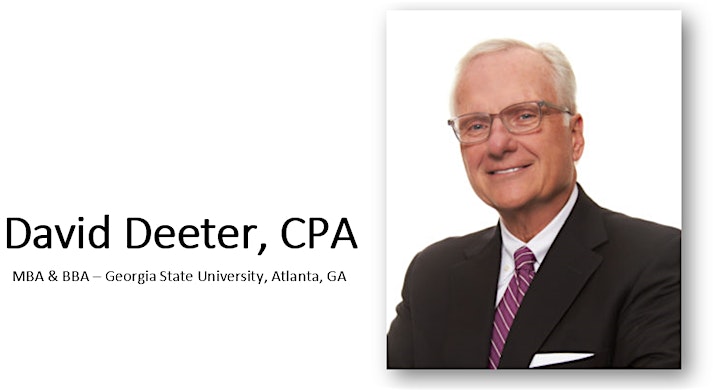 CPA & Founding Partner, Frazier & Deeter
As a co-founder of Frazier & Deeter, David Deeter has a major role in facilitating the growth of the firm. From 2001-2009, during his term as Managing Partner, the firm experienced an average growth of 20% annually and became a Top 100 Firm in the U.S. In a recent survey conducted by Inside Public Accounting, David was recognized by his peers as one of the 5 Most Admired Leaders in U.S. Accounting Firms.
Most of David's work centers around income tax and financial planning. He is an advisor to many of Atlanta's leading families. David has extensive experience with companies in the real estate, entertainment, finance, manufacturing, services and non-profit industries.
Professional & Civic Organizations
Georgia Society of Certified Public Accountants (GSCPA)
American Institute of Certified Public Accountants (AICPA)
Inside Public Accounting 2015, 2010, 2009, 2008:
Named One of Top 5 Most Admired Peers in the CPA profession
CPAmerica International, Past Chairman
Point University, Chairman
Pinewood Atlanta Studios, Board Member
Georgia State University School Foundation, Trustee
Metro Atlanta Chamber of Commerce, Board of Advisors
Georgia State University School of Accountancy,
Distinguished Alumni
Whitefield Academy, Former Trustee
Atlanta Area Football, Past Official