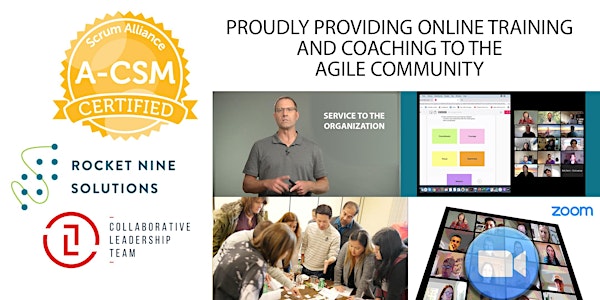 Christian Antoine|Online|Advanced Certified ScrumMaster|A-CSM |October,2022
The next phase of Agile & Scrum Training...Advanced Certified ScrumMaster class.
About this event
ONLINE CERTIFIED ADVANCED SCRUMMASTER
***Guaranteed to Run***
presented by Christian Antoine for Rocket Nine Solutions
ADVANCED CERTIFIED SCRUMMASTER WORKSHOP
Welcome to the next phase of your Agile & Scrum Training. 
Join Christian Antoine, CST for a 2-day experience that will propel you forward as a professional Scrum Master.
In this class you will focus deeply on the following learning objectives and will be able to demonstrate advanced knowledge of:
Lean, Agile, and Scrum
Agile Facilitation
Agile Coaching
Service to the Development Team
Service to the Product Owner
Service to the Organization
Scrum Mastery
To read the Full Learning Objectives Click Here.
Recommended Experience for Participants:
CSM with 1+ years of experience
Certification:
To be eligible for the A-CSM certification you must satisfy the following criteria:
Be an existing CSM in good standing with the Scrum Alliance
Have 12+ months working as a Scrum Master
Be prepared to share your personal experiences
Attend and participate in the 2-day class
Complete Day 1 homework
Taught by Our Valued Partners at Collaborative Leadership Team
Christian Antoine
CST®, CLP, CAL1, PMI-ACP
Certified Scrum Trainer® and Agile Transformation Coach with the Collaborative Leadership Team. Working with Agile since 2008, Christian has 20+ years of diversified experience in the medical device, finance, healthcare, securities, international law, and agricultural industries.
Christian consults, trains, and coaches teams and companies on Agile at all levels of the organization. He enjoys helping others see there is a different way to approach work, at a sustainable pace, and get outcomes to delight customers.
Prior to Collaborative Leadership Team, Christian worked for Medtronic, Hollstadt & Associates, and Computer Science Corporation (CSC). A graduate of St. John's University, Christian resides in Golden Valley, MN with his wife Megan, and children, Madeline, Ellen and Eli.
WHY ROCKET NINE
Experience with BIG Change - Organizations face challenges at all phases of their agile implementations: from team-level execution and delivery, to higher-level strategy, governance, and leadership. We know that for an organization to achieve agility, people at all levels must understand agile principles and be educated about agile processes like Scrum. Our foundational training courses are firmly rooted in the core agile principles and practices you need to achieve success, regardless of your ultimate role in the organization.
Availability and Support - We're available for follow-up with you, your leadership, and teams. Our broader Rocket Nine team of Certified Scrum Professionals also provides remote coaching and support for Kanban, Product Management, Scrum for Marketing, traditional project management, and scaling agility with SAFe, LeSS, Scrum at Scale and much more.
_______________________________________________________
 Rocket Nine Solutions
Other market-leading classes and offers:
About Rosa Media Productions
Rosa Media Productions is the marketing and training logistics management licensee for this Rocket Nine Solutions course. Rosa Media Productions provides video studio consulting, online course creation, and content marketing video production services for the product development corporate training and public education markets.
Cancellation Policy - Reschedule to another Rocket Nine Solutions public classes anytime, or cancel anytime up to 7 days before class for 100% refund. Fewer than 7 days notice will result in a 75% refund to cover hard costs. No-shows or move/cancellation requests on day of class are non-refundable. For minimum learning experience, the course must run with a minimum five registrants. If fewer than five are registered, the class may be cancelled three to seven days in advance, and attendees will be offered seats in the next Rocket Nine Solutions classes in the area or a full refund.
Media Release Policy - Please be aware that Rocket Nine Solutions (Scott Dunn, et al) may choose to record electronic and traditional media (e.g., photographs, video, audio footage, testimonials) at this event and attendees may appear in these recordings. By submitting a registration for yourself or someone else, or by attending this event, you grant permission for Rocket Nine Solutions to store those recordings in a database and to use them in future print, electronic, or other visual media for educational and promotional purposes. If you do not wish to grant permission, please contact the event coordinator listed below prior to attending the event.
Please refer to our FAQs page if you have questions.
If you need assistance, please contact us at course.admin@rocketninesolutions.com  or call Cliff Rosa at 714-699-4679. 
© Copyright Rocket Nine Solutions and Agile Coffee