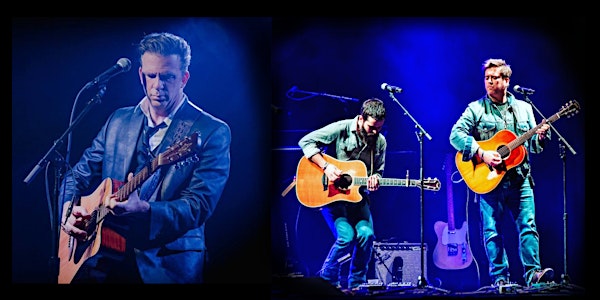 Chris Trapper and Pat McGee
Event Information
Performers
Location
The Evening Muse
3227 N. Davidson Street
Charlotte, NC 28205
Chris Trapper and Pat McGee Co-Bill
About this event
Chris Trapper
Chris Trapper is a storyteller. With his soulful, honeyed tenor, sly humor and an uncanny knack for melody, Chris has traveled the world over, performing to a dedicated and ever growing fan base with nothing but his guitar and his songs. Raised on Prine and Kristofferson, Trapper's first foray in the music industry was as frontman of the critically acclaimed alt-rock band The Push Stars (Capitol Records). Over the past decade, Chris has become a modern day acoustic troubadour, performing over 150 dates a year as a headliner and sharing the stage with the likes of Colin Hay, Martin Sexton and even John Prine himself.
The New York Times has called his work "classic pop perfection."
The new CD SYMPHONIES OF DIRT & DUST is a collection of 12 songs written and performed by Chris Trapper and Produced by Jason Meeker at Silver Top Studios, Boston, MA. Guest musicians include Dan McLoughlin of The Push Stars on bass and NYC singer/songwriter Amy Fairchild on harmonies.
"I have to mention Jason, the producer of Symphonies of Dirt & Dust. He is my old friend, who not only worked the clubs in rock bands but also worked for Geffen records in their heyday, so he has a good sense of the music business as a whole. What I love about Jason is that he is absolutely obsessed with his craft and getting songs right.
Every record tells a story. For me, much more than gimmicks, my albums are like diary entries, or truthful accounts of where I'm at in life. I suppose that might be the same for most songwriters, but in the spectrum of the music business, it's still an animal that's nearly extinct." Chris Trapper
Chris has toured North America and the UK with multi platinum songwriter Colin Hay and Matchbox Twenty's Rob Thomas.
Pat McGee
The Pat McGee Band is what is commonly referred to as a band of journeyman musicians. In the 25 years since their initial formation, they've acquired a fanatical popular following, one that was so determined that it produced sales of over 100,000 copies of their first three albums and eventually caused Warner Bros. Records to take notice and sign the group to an exclusive contract at the end of the '90s. The band's dedication to working the road was so steadfast that at one point in their ten year touring stint, they played a remarkable 98 concerts in a period of 103 days. They shared stages with the Who, the Allman Brothers, James Taylor, and many more, and also achieved the ultimate honors -- performing for president Bill Clinton, touring with the USO and sharing their songs onboard the USS Eisenhower with 5,000 servicemen and servicewomen serving a tour of duty in the Arabian Sea.
"There was no plan B," McGee says in retrospect. "We sold 12,000 copies of our first album out of the trunk of our car. We had a rabid fanbase that supported us every step of the way. We never had that huge pop hit, but in a way that helped assure our success. We never had to count on replaying a single song in order to move forward. It was our diligence and devotion, our steadfast approach to making music that was honest and expressive that became the backbone of our sound."
Sadly, the band's progress came to a tragic end in October 2006 when drummer Chris Williams succumbed to a heart condition. McGee struck out on his own, adding five solo albums to the half dozen efforts recorded under the band's own banner.
It's significant then that the band -- McGee (lead vocals and all guitars) Al Walsh (backing vocals), Jonathan Williams (keys, backing vocals), Chardy McEwan (percussion), John Small (bass), and new drummer Matt Calvarese -- have reconvened and will release their first new effort in 14 years early next year. Dubbed Sugar Packet -- after the nickname affectionately given Williams by his bandmates -- and recorded at 38 North Studio in Falls Church, Virginia with producers Kit Karlson and Chip Johnson, it reunites the original members of the Pat McGee Band and signals a return to the musical bedrock that was their calling card all along. Once again, the emphasis is on melodies that are both memorable and evocative, an upbeat party vibe that weighs heavily on the familiarity factor, three part harmonies, ringing guitars, steadfast rhythms, sparkling keyboards, and a sound that's certain to revive their populist appeal.
"The music and the grooves came quite naturally, and once these songs started coming, I knew that the only musicians that were right to record them were my original PMB bandmates," McGee maintains. "It's also appropriate that the lyrics dig deep into life experiences common to us all, which can only find genuine perspective and reflection at a certain point where maturity replaces adolescence, and adult responsibility takes over the carefree existence we had in our youth. I take pride in the fact that I've been able to do this for 25 years, but that I'm still mature enough to be a good husband and a dad to four kids."
Longevity has always been at the core essence of the band's music from early on. Weaned on the classic influences of such tightly knit ensembles as the Grateful Dead and the Allman Brothers, as well as the Laurel Canyon glow evoked by preeminent '70s singer/songwriters such as James Taylor and Jackson Browne, McGee and his comrades effectively captured their own sense of optimism and exuberance. They reminded listeners why music is both important and inspiring, particularly to those experiencing both the discoveries and disappointments that accompany one's coming of age.
"The new album boasts the vintage approach that the band made its signature sound at the end of the '90s," McGee maintains. "It's got that same earnestness, excitement and spontaneity that were the hallmarks of our music during our peak and prime. When I listen to it, I feel the years melting away, and the time we spent apart filling in behind us. We had an amazingly successful Kickstarter campaign, and that provided proof that our fans are still supporting us all the way."
In the meantime, McGee is remaining as active as ever. His last solo album, an eponymous effort, found him working with such luminaries as Russ Kunkel, Leland Sklar, Waddy Watchel and Danny Kortchmar (better known as The Section), David. Crosby colleague Jeff Pevar, Paul Barrere of Little Feat, John Popper of Blues Traveller, Pat Monahan of Train and Punch Brother Gabe Witcher. If one's reputation is bolstered by the company they keep, then there's no better evidence that McGee has achieved high status indeed.
Of course, that was evident early on given the audience reaction that greeted the band during their frequent tours throughout every region of the country. The gatherings McGee continues to preside over -- "Down the Hatch" and "Ocean State of Mind" -- continue to attract the faithful on an annual basis while reconnecting friends and fans through that common bond that McGee and company have nurtured so successfully over the past 25 years.
Now, with a new album on the horizon, their first quarter century is really only the beginning of their continuing career. Indeed, this welcome return of the Pat McGee Band makes this a reunion to relish.
Performers
Date and time
Location
The Evening Muse
3227 N. Davidson Street
Charlotte, NC 28205
Refund policy