Description
We have moved our available tickets for CHRIS TOMLIN 10/20 to the Tsongas Center website.


---

Chris Tomlin's GOOD GOOD FATHER TOUR with special guest Matt Maher is coming to the Tsongas Center in Lowell, MA on Friday, October 20th!
Doors open at 6:00 PM
Show time: 7:30 PM


TICKET PRICES: (plus handling & processing fees)

P1 - $75 Front Floor Seating

P2 - $45 Middle Floor / Front Side Seating

P3 - $35 Back Floor / Middle Side Seating

P4 - $30 Back Side Seating
There are no group discounts for this show.
VENUE INFORMATION:
(Accessible Seating, What's Allowed, Parking, etc) http://www.tsongascenter.com/building-policies.php
RETURN/EXCHANGE POLICY:
There are absolutely NO RETURNS, REFUNDS, or EXCHANGES for Chris Tomlin tickets on October 20, 2017.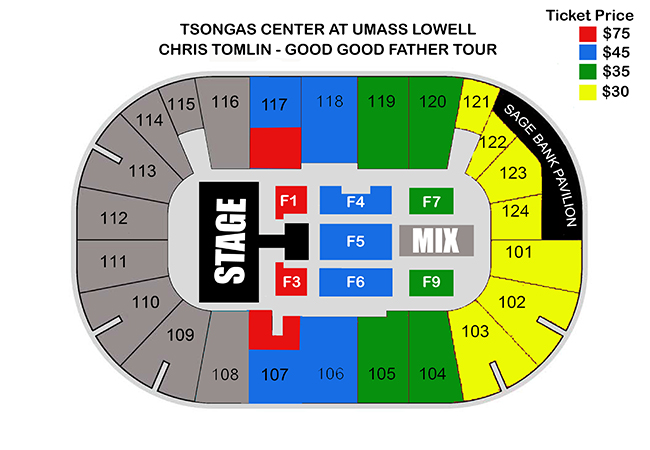 ---
ARTIST BIOS:
Chris Tomlin
Touted by TIME Magazine as "the most often sung artist anywhere," on any given Sunday tens of millions of people in churches across the globe sing songs from Chris' rich, worship-focused catalog. Consistently ranking in the Top 20 of the CCLI Top 100 chart years after initial release, his benchmark anthems include "At the Cross (Love Ran Red)," "Our God" and "How Great is our God" – one of the fastest rising modern day hymns in CCLI chart history. His latest #1 single-turned-corporately sung staple, "Good, Good Father," was RIAA certified Gold after spending 15 weeks atop the Billboard Top Christian Tracks Chart.
Matt Maher
Since his 2008 major label debut, Maher has become a staple in the artistic and songwriting community. A five time-GRAMMY® nominee, he has garnered multiple radio successes writing and recording songs like "Lord, I Need You," "Hold Us Together," "Christ Is Risen," "All The People Said Amen" and "Your Grace Is Enough." Maher has penned songs recorded by Chris Tomlin, Crowder, Third Day, Matt Redman, Hillsong, Passion and Meredith Andrews, among others. Maher continues to perform and speak as a part of global high- profile events, including the upcoming World Meeting of Families, marking Pope Francis' first visit to the US this year.