Chris Pattillo's Genealogy Road trip

Saturday, October 14, 2017 from 1:00 PM to 3:00 PM (PDT)
Event Details
Chris Pattillo's Genealogy Journey
Tips and Stories from a Genealogy Road Trip
 October 14, 2017  (After the CGS Genie Awards)
One month after retiring Chris Pattillo embarked on a 2 ½ month cross-country trip. She drove over 9000 miles through 19 states and did family history research in Texas, Tennessee, South Carolina and Virginia. She visited six county courthouses in four states, sixteen libraries, and made 3390 copies of pages of documents.
During the trip Chris found several people who helped her find family graves and clues to her family history. One encounter led to a small rural burial plot where her 2nd great grandmother is buried. While in Albany, Texas Chris found one small clue that enabled her to break down her tallest brick wall – one she'd been trying to topple for over 15 years.
It was a remarkable trip filled with amusing stories and tales about how dogged determination led to genealogical treasures. Come hear the tales and be inspired to make your own genealogy journey.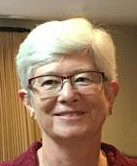 Chris Pattillo first became interested in family history research when she toured the then new Mormon Temple in Oakland in 1963. She started her research while on a family vacation in the late 60s and has continued to work on it in fits and starts ever since. After running her own Landscape Architecture firm for 40 years Chris retired last April and spent two and a half months travelling across the United States, visiting Texas, Virginia, Tennessee and South Carolina where her Pattillo ancestors are from.
 She has self-published four family history books and now writes the Pattillo-Thornally Family History blog. Chris has had a few articles published in the CGS quarterly – The Nugget, and since her trip has had articles published in an Albany, Texas newspaper and the Watauga Association of Genealogists bulletin in Tennessee.
 Chris has been a member of the California Genealogical Society since 2004. She is a past member of the Board of Directors and is currently Chair of the Investment Committee and Chair of the Capital Campaign Committee.
REGISTRATION INFORMATION:
Pre-registration is required. Audience size is limited so register early. 
CGS members enjoy free admission.
Non-member admission fee is $30.00* and can be applied towards a new one year CGS membership the day of the talk.
Non-Members are welcomed FREE in October, Family History Month!
Register early to confirm your seat.
PAYMENT OPTIONS:
Credit card  payments will be processed by Eventbrite.
 *Event fee is non-refundable.
When & Where

California Genealogical Society & Library
2201 Broadway, Suite LL2
Oakland, CA 94612


Saturday, October 14, 2017 from 1:00 PM to 3:00 PM (PDT)
Add to my calendar
Organizer
California Genealogical Society & Library, 2201 Broadway, Suite LL2, Oakland, CA 94612
   Connecting people to their diverse family heritage

Whether you have Gold Rush ancestors or have no family connection to California, you will find extensive support for your genealogy research at the California Genealogical Society (CGS) in Oakland. The society offers research services, online indexes and databases, and a research library housing over 38,000 reference materials from California, the United States, and around the world. CGS is a 501(c)(3) nonprofit corporation. The library is conveniently located in Uptown Oakland, one block north of the Paramount Theatre, at 2201 Broadway, Suite LL2. We are three blocks from the 19th Street BART Station.
Phone: (510) 663-1358

Courtesy Request
In order to maintain a welcoming and healthy environment, please refrain from using scented products at CGS events or in the library.
Photography Notice
California Genealogical Society (CGS) may take photographs, audio recordings, and video footage in our library, classrooms or events for historical records or publicity purposes.  If you do not want to be photographed or filmed, it is the individual's responsibility to 'opt out' by notifying the event leader or photographer at the event.
Chris Pattillo's Genealogy Road trip