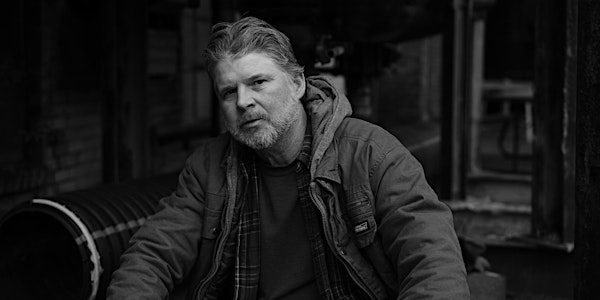 Chris Knight (FULL BAND) w/ Jason Eady
ALL AGES
Presented by The Grey Eagle and Worthwhile Sounds
Chris Knight returns to The Grey Eagle in Asheville NC with his FULL BAND on Friday July 1st at 9pm! Jason Eady opens the ALL AGES show.
When and where
Location
The Grey Eagle 185 Clingman Ave Asheville, NC 28801
Performers
Headliners
More Performers
About this event
"It's hard to know how people are gonna react," Chris Knight says of Almost Daylight, his ninth album and first new recording in over seven years. "I've written songs about a lot of different things going all the way back to my first record, and some folks still think 'somebody kills somebody' is all I write about. Maybe that's why I was bound and determined to get these particular songs on this album. If people like them, then we'll be fine. But I wasn't gonna do it any other way."
For the past 20 years, Chris Knight has only made music his own way. He's released eight acclaimed albums, played thousands of electrifying live shows and built generations of fervent fans from Texas honky-tonks to Manhattan rock clubs. He's been hailed as "the last of a dying breed…a taciturn loner with an acoustic guitar and a college degree" (The New York Times) and "a storyteller in the best traditions of Mellencamp and Springsteen" (USA Today). Bottom line, he's hard-earned his reputation as one of America's most uncompromising and respected singer/songwriters. And now with Almost Daylight, Knight delivers the most powerful – and unexpected – music of his career.
Almost Daylight is very much a Chris Knight album, familiarly featuring vivid pictures of rural characters, desperate men and hardscrabble survivors. At the same time it's unlike anything Knight has done before, with formidable testaments to compassion, redemption and even straight-up love. It's an album both tough and tender, as bare-knuckled as it is open-hearted. "I do think there's a cohesiveness to this album," Knight explains in his thick Kentucky rasp."The title is key, I suppose. Through all these songs, you could find a theme about seeking shelter."
Produced, mixed and mastered by Grammy-winner Ray Kennedy – best-known for his 30+ year creative partnership with Steve Earle as well as producing Chris' Enough Rope (2006),Trailer II (2009) and Little Victories (2012) albums – Almost Daylight also sounds like no other Knight record, with scorching guitars by Georgia Satellites founder and two-time Knight album producer Dan Baird, rich background vocals by Chris Clark, Siobhan Kennedy and Lee Ann Womack, and deeper instrumentation than ever before. "Chris had been playing some of these songs on the road and started developing ideas before we got to the studio," Kennedy says. "He and I talked about keeping the Appalachian factor with banjo, fiddle, harmonica and mandolin where it felt right. It was significant that Dan was involved, as he's the man who can play guitar with the right feeling for Chris. The background vocals really brought the fire, and this lead to ideas for piano, Hammond B-3, accordion and Wurlitzer electric piano. Everything evolved from the performance of each song and I let the songs dictate what they needed in order to evolve into an album."
"I was determined not to do any acoustic songs on this album," Chris explains. "I wanted it all to sound edgy and raw, but to feel big at the same time. We kept trying different approaches until I felt we landed on what worked. The thing is, some of my songs might take a year of writing before I even think they're ready for recording and I fretted about every one of these. I've never put a cover song on any of my records before, but there are two covers on this one. And I think it all fits together pretty good."
The album opens with "I'm William Callahan", a defiant roar fueled by equal parts pride, memories and searing guitar. "Crooked Mile" is classic Knight, a piercing take on outsiders bound by love, while the poignant "Send It On Down" is a plaintive plea for salvation. There are tales of small-town despair ("I Won't Look Back"), ominous rural menace ("Trouble Up Ahead") and melancholic break-ups ("Everybody's Lonely Now"). Chris' cover of Johnny Cash's "Flesh And Blood" – which originally appeared on the Dualtone 2002 tribute albumDressed In Black – is a poignant interpretation of Cash's ode to devotion. The plainspoken positivity of "Go On" is one of Knight's most life-affirming songs, while "The Damn Truth" is a ferociously clear-eyed look at our current cultural divide. The title track might be the most unexpected Knight song of all, an unapologetic paean to the power of love. "That's probably my favorite song on the album," Chris says, "because it's closest to the truth." He then quickly adds with a laugh, "I'm killin' people with love now." The album closes with yet another surprise; a joyfully raucous duet between Knight and longtime fan John Prine on Prine's 1973 classic "Mexican Home". "I love that song, but it took me 15 years to find a way to do it," Knight says. "I kept playing around, changing the vocal key and finally landed on the spot. I've been singing it my kitchen table for the last few years, and when we were down to the last song, I knew this should be it."
With the release of Almost Daylight, this native son of Slaughters, Kentucky (population 238) is eager to get back on the road and perform these songs for the faithful. Meanwhile, the singer/songwriter who was originally inspired by the likes of Prine and Earle now finds himself influencing a new generation of artists who revere Knight's idiosyncratic talent and attitude. "There's all kinds of different ways to make music, but this is the way I chose to do it," Chris says. "If I don't have something worth saying I'm not opening my mouth, which is probably why I took seven years to make this album." And for an artist who has always defied expectations, Chris Knight's next chapter indeed feels like the dawn of a new day. "I haven't suited everybody, but every time I get a new fan it tells me I'm doing something right," he says. "I think my previous records have set a precedent, if only for me at the very least. I just want people to think this one stands up to everything else I've done."
The eighth full-length from singer/songwriter Jason Eady, To The Passage Of Time first took shape in a frenetic burst of creativity back in the doldrums of quarantine. Over the course of a three-day period last August, the Fort Worth, Texas-based musician wrote more than half of the album, locking himself in his bedroom and emerging only when he felt completely burnt out. "I went in thinking I was going to write just one song—but then the songs kept coming, and I didn't want to break the spell," he recalls. "I'd go to sleep with the guitar by the bed, pick it back up when I woke up the next morning, and do it all again. I'd never really experienced anything like that before."
With its nuanced exploration of aging and loss and the fragility of life, To The Passage Of Time arrives as the Mississippi-bred artist's most lyrically complex and compelling work to date. As Eady reveals, the album's understated power stems in part from the intentionality of the recording process, which involved enlisting Band of Heathens' Gordy Quist as producer and gathering many of Eady's favorite musicians he's played with over the years (including Noah Jeffries on mandolin and fiddle, Mark Williams on upright bass and cello, and Geoff Queen on Dobro, pedal steel, and lap steel). "I really love egoless players—people who know how to serve the song," notes Eady, who recorded at The Finishing School in Austin and made ample use of the studio's goldmine of vintage gear. "We started every song with just me on guitar, and if someone felt like they had a part to add, they had to come forward and say what they heard there. Everything was built from the ground up, and because of that there's no filler—nobody playing to show off or take up space."
The follow-up to 2018's I Travel On—an album that "overflows with enough spontaneous energy to power a fleet of Ford pickups," according to NPR's glowing review—To The Passage Of Time shows the full force of that approach on the hard-driving lead single "Back to Normal." Like all of the album, "Back to Normal" was recorded live with no overdubs, bringing gritty guitar work and galloping rhythms to an urgent meditation on the inevitability of change. "I wanted to write about how, when things get disrupted, you can never really return to the way they were before," says Eady. "No matter how big or small that disruption is, you have to accept that change is a fundamental part of life, and just keep moving forward." The result: an immediately catchy track that's pragmatic but hopeful, proving Eady's gift for turning uncomfortable truths into songs with a potent impact.
On the album's exquisite centerpiece "French Summer Sun"—a devastating epic astoundingly captured in the very first take—Eady shares one of his most riveting pieces of storytelling yet. "My grandfather fought at Battle of Anzio in Italy in World War II, and a few years ago on tour I went to visit the beach where the battle took place," says Eady. "I was struck by how small the beach was—I realized that if my grandfather had made one wrong move he would've been killed, and I wouldn't be standing there thinking those thoughts. I ended up writing this song about how when someone dies in war, it isn't just killing that person: it's killing the generations of people who would have come from them." Building to a shattering plot twist in its final moments, "French Summer Sun" drifts between its somberly sung chorus and spoken-word verses, attaining an unlikely transcendence as Eady sheds equally poignant light on the horror of war and the ephemeral beauty of everyday life.
One of the more lighthearted tracks on To The Passage of Time, "Saturday Night" muses on the early days of Eady's career, when he and fellow Texas-based country artist Cody Jinks spent many a night playing sparsely attended gigs at Lil' Red's Longhorn Saloon in Fort Worth. "When you're just getting started as a musician and nobody knows who you are, there's a lot of nights when you're mostly playing to the bar staff," says Eady. "I was trying to set the scene of playing to an empty room, and what that really feels like." Co-written by Eady and his wife Courtney Patton (also a singer/songwriter), "Saturday Night" channels that spirited frustration in moody guitar riffs and soul-stirring vocals, subtly taking on a momentum that's undeniably exhilarating.
In a particularly meaningful turn for Eady, To The Passage Of Time closes out with its confessional title track, a piece he regards as the album's most personal offering. "I turned 40 a few years ago, and this song is me talking directly to time about some of the realizations I've had since then," he says. But while the lyrics to "To The Passage Of Time" reflect a rueful awareness ("I still remember when I thought you were my friend/You made me feel like this never would end/Now I am older and I finally see/That you're a little indifferent to me"), the song's dreamy steel tones and luminous harmonies ultimately summon a certain quiet glory.
A near-lifelong songwriter who names Merle Haggard, Guy Clark, and Willie Nelson among his main inspirations, Eady grew up in Jackson and got his start performing in local bars at age 14, showing his natural grasp of everything from soul and R&B to blues and country. After some time in the Air Force, he moved to Fort Worth and started playing open mic nights, where he quickly built up a devoted following. After independently releasing his debut album From Underneath the Old in 2005, he expanded his touring radius and continued turning out critically praised work, including 2012's AM Country Heaven (a top 40 debut on the Billboard Top Country Albums chart), 2014's Daylight/Dark (an album that "belongs on a shelf next to Dwight Yoakam's Buenos Noches from a Lonely Room, Joe Ely's Letter to Laredo, and yes, even Willie Nelson's Phases and Stages," according to AllMusic), and his self-titled 2017 effort (hailed by Rolling Stone as "eavily steeped in his storyteller lyrical style and cleverly framed by uncluttered, acoustic-rich arrangements"). Through the years, Eady has also made his name as an unforgettable live performer, sharing stages with the likes of Sturgill Simpson, Band of Heathens, and Reckless Kelly.
In creating To The Passage Of Time, Eady incorporated several songs born from a songwriters group that started up during quarantine, including Patton along with artists like Brent Cobb, Adam Hood, and Jamie Lin Wilson (who also joined Patton in contributing harmony vocals to the album). "In the early stages of quarantine we realized that nobody was getting any writing done, even though we all had so much downtime," he says. "We started this group and gave each other prompts to try to turn out a song a week, and it really helped get rid of that paralysis we were all feeling."
Looking back on the making of To The Passage Of Time, Eady points to such unexpected moments as the recording of the album-opening "Nothing On You." "Apart from my guitar, the only two instruments on that song are cello and steel guitar—which is a combination I'd never heard before, and gave it a whole new character that took my breath away," he says. But for the most part, Eady achieved a rare outcome in the album's production: a direct expression of his deep-rooted and highly specific vision. "I write my songs on acoustic guitar, so sometimes in the studio things take different turns and end up not really matching with what you had in your head," says Eady. "But because of the approach we took with this album, there's hardly anything that came out different from what I'd envisioned. This is 100 percent the album I hoped I would make."