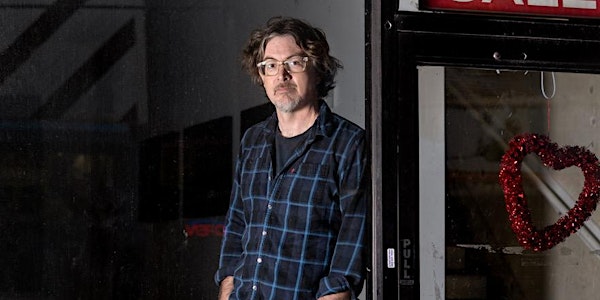 Chris Forsyth, Terry Gross
Ages 21+
Talent Moat Presents
Talent Moat Presents in the Crystal Cavern
When and where
Location
Starline Social Club Crystal Cavern 2236 Martin Luther King Junior Way Oakland, CA 94612
Performers
Headliners
More Performers
About this event
CHRIS FORSYTH
Philadelphia guitarist Chris Forsyth performing live with a full band featuring Doug McCombs (Tortoise), and Ryan Jewell (Ryley Walker)
Over the past decade or so, Chris Forsyth has produced a series of perennially year-end list haunting studio albums of expansive art-rock, from 2013's Solar Motel to 2019's All Time Present. His most recent release is Peoples Motel Band, a live LP with Garcia Peoples released in March 2021.
These critically lauded albums have established Forsyth as one of today's most unique and acclaimed guitar player/composers - a forward thinking classicist synthesizing cinematic expansiveness with a pithy lyricism and rhythmic directness that makes even his 20-minute workouts feel as clear, direct, and memorable as a 4-minute song.
Pitchfork has called his music "a near-perfect balance between 70s rock tradition and present day experimentation," NPR Music named Forsyth "one of rock's most lyrical guitar improvisors," and the New York Times calls him "a scrappy and mystical historian… His music humanizes the element of control in rock classicism (and) turns it into a woolly but disciplined ritual."
WEBLINKS
Chris Forsyth on Spotify: https://open.spotify.com/artist/2WEGGlb0R1izEtTE5YTaTc
Twitter: https://twitter.com/TheChrisForsyth
Instagram: https://www.instagram.com/chrisforsythsolarmotelband/?hl=en
Facebook: https://www.facebook.com/ChrisForsythandTheSolarMotelBand/
YouTube: https://www.youtube.com/channel/UC9fCynh9IeFURBDtVlWl6Hw
TERRY GROSS
Terry Gross (Thrill Jockey) is an engrossing trio composed of guitarist Phil Manley (Trans Am), bassist Donny Newenhouse, and drummer Phil Becker. The trio are also connected as owners and engineers at Bay Area recording spot El Studio, where they began improvising together as a way to test the boundaries and gear of the studio. Their loose, organic chemistry burgeoned into a deep camaraderie and a sound both expansive and exacting. The three experienced musicians crafted their first full-length album through the pure joy of playing together with no expectations. With the tapes rolling on their rehearsals, the band captures the exuberance of live performance and elevates those recordings through a deft use of the studio as their collective instrument. On their debut LP, Soft Opening, Terry Gross channels their cosmic powers and considerable chops into a gleefully mesmerizing odyssey fit for an arena.
Soft Opening took shape over the course of 2016-2019, with Terry Gross writing and refining their songs. "Space Voyage Mission" and "Worm Gear" parallel one another as sinuous jams that pulse with adamantine fervor. Each mountainous epic churns spellbinding repetition and simplicity into dizzying gallops that take hairpin turns into sinewy riffing and elysian vocal melodies. Phil Manley's guitar takes on a constellation of tones across "Space Voyage Mission" with drifting delays soaring over the Newenhouse and Becker's driving rhythm section which all succumb to frothing overdrives that spin the song into entirely new pastures. The hypnotic throb of "Worm Gear" grows all the more enchanting as Newenhouse and Becker add subtle shifts to the single-chord barrage. "Specificity (Or What Have You)" contrasts these two in its more traditionally pop-oriented structure while retaining its predecessors wide-eyed energy and delves further into the album's lighthearted-yet-earnest take on sci-fi tropes from space and time travel to the singularity.
As Terry Gross, Phil Manley, Donny Newenhouse, and Phil Becker are sonic scientists traversing the borderlands of rock. Soft Opening captures the simple joy of a no-holds-barred trio in stunning detail, transporting the listener into the splendor and freedom of rock.
https://terrygrossband.bandcamp.com/album/soft-opening
http://www.thrilljockey.com/artists/terry-gross
https://www.facebook.com/grossterry/
https://www.instagram.com/terrygrossband