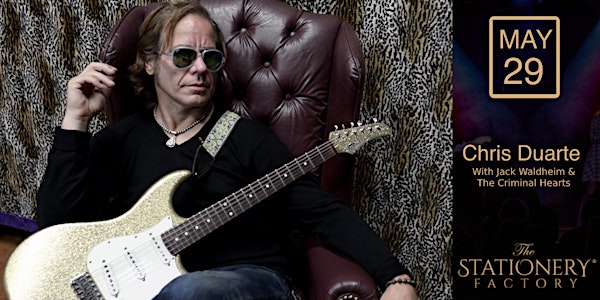 Chris Duarte Group w/ Jack Waldheim & the Criminal Hearts
Performers
Chris Duarte
jack waldheim
Location
The Stationery Factory
63 Flansburg Avenue
Dalton, MA 01226
Experience Chris Duarte's Blistering Blues at The Stationery Factory Supported by Berkshire favorites Jack Waldheim & The Criminal Hearts
About this event
Chris Duarte has been described as "a master at channeling the spirits and sounds of great musicians of our past," with many drawing comparisons in style to the late and great Stevie Ray Vaughan. But to classify him as a mere copy would not do the whole man justice - In his own words, "Ferocious blues" or "punk blues" aptly describe his captivating and lively style of guitar wizardry.
Duarte is a road warrior playing more than 150 dates a year, headlining major festivals and clubs throughout the US, Canada and Europe.
We're excited to welcome Chris Duarte and his trio to The Stationery Factory on May 29th. This date is exactly two years out from when he was originally slated to play in Dalton before live events shut down altogether. This show falls in the middle of our Spring Concert Series, along with a healthy picking of other music acts as we aim to celebrate the venue's reopening after a rough few years with the pandemic.
Chris will be supported by Jack Waldheim & The Criminal Hearts - a high energy folk rock group from here in the Berkshires.