Description
Next Brazilian Productions
Presents
15 years of Choro das 3 USA Tour - Houston
"Brazilian Instrumental Music"
Studio 809 (2nd floor from Henke & Pillot)
809, Congress Ave
Houston - Texas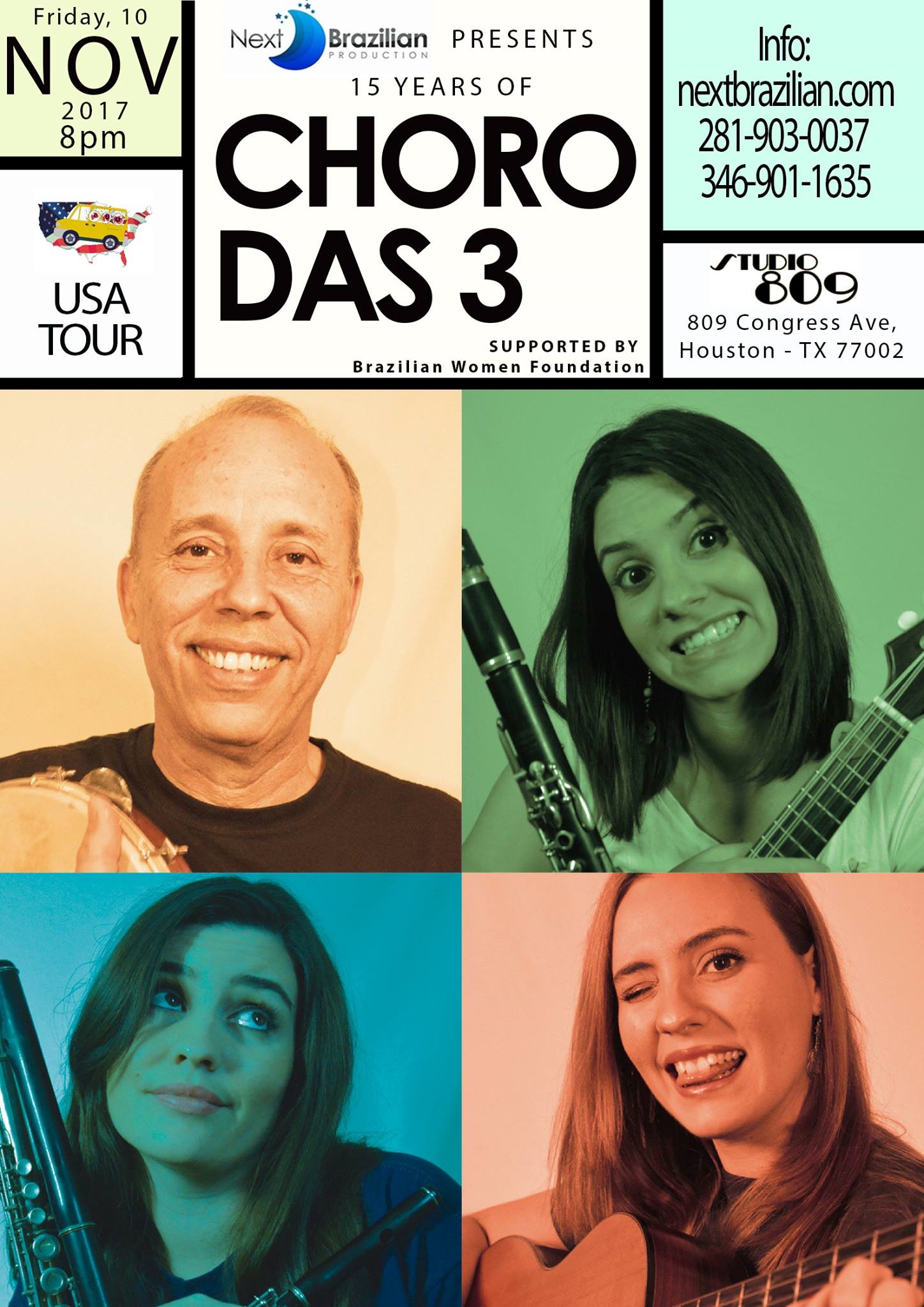 Join us for the best Brazilian Instrumental Music as they stop in Houston.
Choro das 3 is a Brazilian instrumental music band of three sisters and their father. Corina plays flute and piccolo, Lia plays acoustic 7 string guitar, Elisa plays mandolin, clarinet, banjo and piano and Eduardo plays pandeiro (the Brazilian tambourine).
The band plays Brazilian instrumental music, and their main style is Choro, an instrumental music genre that emerged in Brazil on the 19th century. The band has performed in concerts and workshops all over Brazil, USA, Mexico and France.
The music they play is called Choro which is a form of urban jazz native to Brazil that shares a similar feel with New Orleans jazz or ragtime or bluegrass. Choro das 3's mission is to revive the Choro tradition in Brazil, where they join several other young people in rediscovering this music, and to sp

read Choro around the world.

Listen to Choro das 3 here:


https://www.youtube.com/

watch?v=HeqVtn_7ru0


https://www.youtube.com/

watch?v=CAKSsG6c85I


https://www.youtube.com/

watch?v=HoOQ_Gr_tO8


https://www.youtube.com/

watch?v=OqNEMR4-NyU




In Brazil Choro das 3 has played for presidents and for huge audiences such as São Paulo's New Year's Eve Party (2 million people). It has been on national TV many times, including the Jo Soares show (the Brazilian version of "The Tonight Show").
For the last four years Choro das 3 has played in the USA to reviews with words like, "superbly talented," "cohesive," and "beguiling."


Their appearances at Mike Marshall and David Grisman's Mandolin Symposium led Marshall to say that Choro das 3 plays ". . . some of the most inspired and inspiring music . . . the highest level of musicianship and presentation . . . the highest quality of Brazilian Choro music that can be heard any place today.


They've played over 100 concerts at halls, festivals, clubs and schools from Massachusetts to California and from Seattle to Texas.
Choro das 3 has released 8 CDs since 2008 including a solo CD of Elisa playing her original works on piano. Five others feature original works by the sisters and their musical friends rendered in traditional Brazilian acoustic styles.


Venue: Studio 809
Historic event space in the heart of Downtown Houston
Built in 1857, a private upstairs ballroom. Stunning views of downtown Houston, historic charm, ideal location, and wonderful staff are just a few of the marvelous amenities at Studio 809.
With Market Square as our front yard and Henke & Pillot Downtown Lounge just below us, it's the ideal location for a night of great Brazilian Music, Brazilian appetizers and drinks.


Vallet Parking and Garage Parking cross street will be available for a fee.
21+ I.D. required.
This event is supported by: Brazilian Women Foundation and Adonai Mas Publicidad.
281-903-0037 /
346-901-1635
Date and Time
Location
Refund Policy