Description
Join Chopsticks Alley, Billy DeFrank LGBTQ Community Center, & Southbay Queer Asians
for a FREE Community Event
A Taste of Asian Food, Art & Culture
LGBTQ+YOU Potluck
Parking Lot available on 6th and Taylor.
Bring an Asian inspired dish to share with everyone.
This is an LGBTQ+ family-friendly event.
We encourage everyone to dress up creatively but appropriately.
Special Performance by Keri Hanna
Mixed Media Workshop with Trinh Mai
Harvest: Collecting Narratives of Past through Art

Advanced registration for art class is required.
Class is from 3-5pm.
Bring a family photo to class. You will use it to make your masterpiece!
Space is limited.

Art supplies fee $25
Sponsorship opportunities:
If you'd like to sponsor our event send an email to chopsticksalleyart@gmail.com
www.Chopsticksalleyart.org
www.sbqa.com
www.DeFrank.org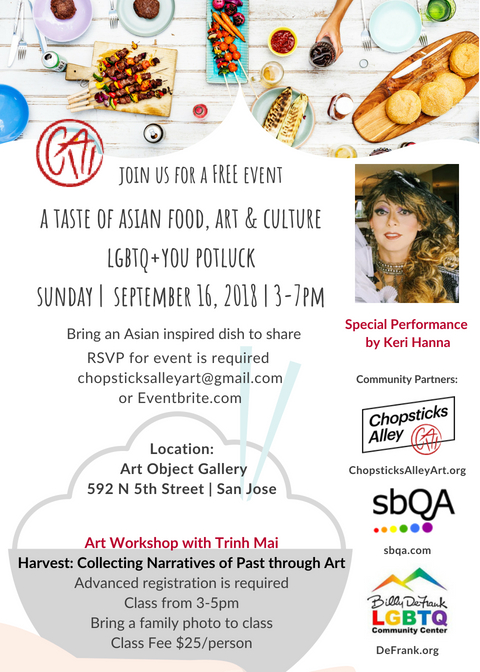 Organizer of Chopsticks Alley LGBTQ+YOU Potluck and Art Class
Chopsticks Alley Art promotes Southeast Asian cultural heritage through the creative shared expression of art by underserved Asian artists to foster greater understanding, support, and celebration among individuals with differing abilities, the LGBTQ community, and youth. 
We celebrate the uniqueness and cultural diversity of Southeast Asian contemporary art and provide promotional support to artists in an impactful and sustainable way.