Chopsticks Alley Art - Salt Stained: Home - Exhibit Opening Party at San Jo...
Description
Salt Stained Exhibit Preview
​Chopsticks Alley Art presents Salt Stained in cooperation with the San José Museum of Art's Vietnamese Community Outreach Initiative
RSVP required

Date: January 25, 2019
Time: 5:30pm-7:30pm
Location: San Jose City Hall Rotunda
​200 E Santa Clara Street, San Jose, CA
*Parking at City Hall will be validated - Please note, the underground City Hall parking lot will be closed after 6pm. Cars will be allowed to leave the lot but not enter it after 6pm.
We will only validate if you park in this lot, not other city lots. Bring your parking stub up to the event with you to get it validated. You'll need it to exit the parking lot.
Light snacks and refreshments will be provided.
Dress: We encourage you to proudly wear your cultural heritage clothes.
About the Exhibit
In Vietnamese, the word nước translates to water, nhà translates to home, and both words translate to country. When you remove nước from the Southeast Asian body, what's left is our salt stained skin—a reminder that we've crossed oceans to leave the nước that nourished us, the nước that was our livelihood, and the nước nhà we once called home. Home is the place we come back to, the place we miss when we leave, and the place we return to for comfort.
Salt Stained: HOME is a showcase for communal storytelling through works of art by four Southeast Asian artists whose stories challenge dominant narratives, whose salt-stained bodies stayed afloat as we cast out our ropes and held onto one another, leaving behind a legacy of ripples.

Artists featured:

Performances:
Vietnamese Folk Opera Performance with "

Tiếng Vọng Quê Hương - The Echo of the Homeland"

Brandon Luu, Poet

Kristina Robertson, Poet
Salt Stained is part of New Terrains: Mobility and Migration, a series of cross-disciplinary exhibitions and programs that explore how bodies move through social and political spaces in Silicon Valley beginning in the spring of 2018 and continuing into 2019. The project addresses timely topics such as bicycle transportation and urban planning, navigation and orientation, public protest, immigration, and migration. Details are online at www.newterrains.org.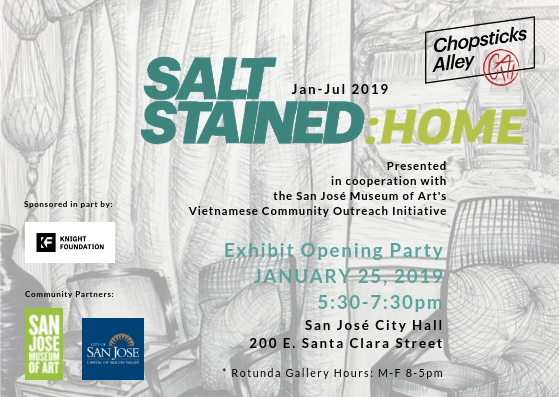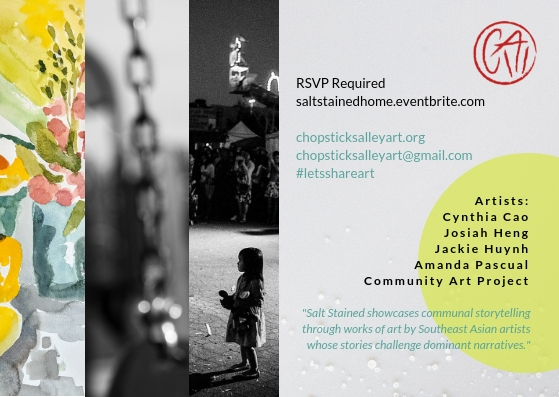 Organizer of Chopsticks Alley Art - Salt Stained: Home - Exhibit Opening Party at San Jose City Hall
Chopsticks Alley Art promotes Southeast Asian cultural heritage through the creative shared expression of art by underserved Asian artists to foster greater understanding, support, and celebration among individuals with differing abilities, the LGBTQ community, and youth. 
We celebrate the uniqueness and cultural diversity of Southeast Asian contemporary art and provide promotional support to artists in an impactful and sustainable way.