Description
Chopsticks Alley Presents
SALT STAINED ART EXHIBIT PREVIEW
In cooperation with the San José Museum of Art's
Vietnamese Community Outreach Initiative
New Terrains: Mobility and Migration

You've been invited to the opening of the first Chopsticks Alley Art Exhibit.
RSVP is required.
Parking: Street Parking (Free after 6pm) or Large Parking Lot on 6th and Jackson.

Featuring Southeast Asian Artists:

Binh Danh
Lola x Kenneth Collaborative
Trinh Mai
Tuan Tran
Truong Thi Thinh
Performance by Vanessa Vo, Emmy Winning Musician & Composer
Hors d'oeuvres from Top Chef Tu David Phu
Specialty coffee by Academic Coffee
Famous Lao Papaya Sausages
In Vietnamese, the word nước translates to both water and country. When you remove nước from the Southeast Asian body, what's left is our salt stained skin—a bitter reminder that we crossed oceans to leave the nước that nourished us, the nước that was our livelihood, and the nước we now call our homeland.

Salt Stained showcases communal storytelling through works of art that challenges dominant narratives. The exhibit features Southeast Asian artists from underserved communities who remind us that anyone with a story to tell is an artist. These works demonstrate our resiliency as people whose salt stained bodies stayed afloat by casting out our ropes and holding onto one another, leaving a legacy of ripples behind.
New Terrains: Mobility and Migration
South Bay arts organizations band together to present a series of cross-disciplinary exhibitions, programs and experiences that explore how bodies move through spaces—social, political, literal, and figurative. Collaboratively presented through spring of 2019.
TITLE SPONSOR: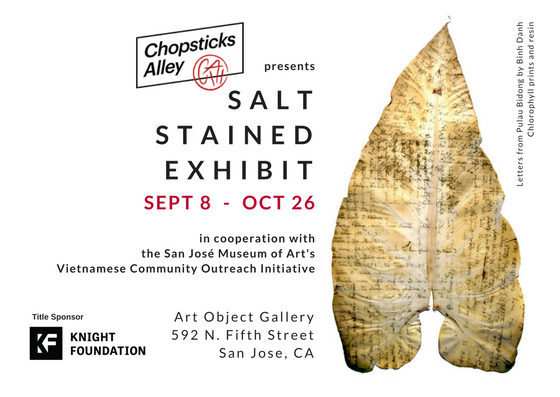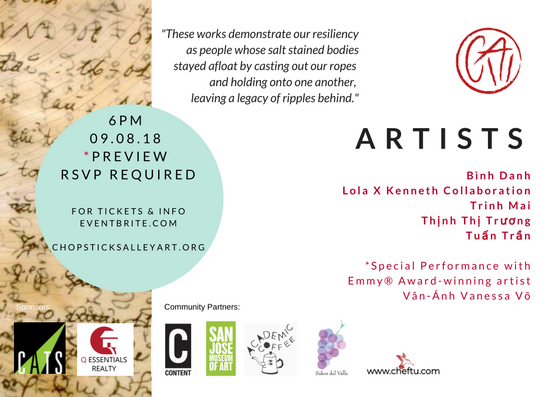 Organizer of CHOPSTICKS ALLEY ART - SALT STAINED EXHIBIT OPENING