Description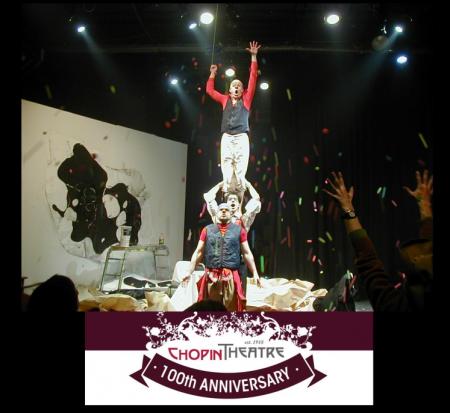 CHOPIN THEATRE CELEBRATES CENTENNIAL
Celebration Includes Artist Talk, Dance Party and
Conversations with Former/Current Wicker Park Arts Organizational Leaders
Plus Jazz Performance Nov. 5 and Book Release Nov. 24
CHICAGO - Chopin Theatre, the multidisciplinary arts center in the heart of Wicker Park, 1543 W. Division, turns 100 in 2018. To mark the centennial anniversary, owners Lela Headd Dyrkacz and Zygmunt Dyrkacz are hosting a celebration on Oct 29 from 5 p.m. to Midnight, providing a sneak peek of the forthcoming book on Nov. 5 during the "All Souls Jazz Festival" and releasing the book "Around Chopin Theatre: A Century in Pictures & Stories"on Nov. 24. The Oct. 29 celebration is free for past artists associated with Chopin Theatre and general admission tickets are $30. For more information and to RSVP visit www.ChopinTheatre.com

"We are excited to celebrate 100 years of the Chopin Theatre in the neighborhood," said Zygmunt. "We believe in transformative abilities of art and how art influences the environment through civility and experiences. Chopin Theatre is a platform from which others can tell their stories and the Centennial celebration is a time to share the stories of Wicker Park's transformative years."

"We are so proud of being a part of Wicker Park during such an important time in Chicago's history," said Lela. "This 100-year celebration shows the power one building can have in keeping a community feeling like a community. We want to make sure we have that space for people to come together and connect in a real way."
Monday, October 29
The centennial celebration fills the Chopin Theatre with activities from the downstairs Pregnant Buffalo Lounge and studio theater to the upstairs Main Stage. The event, described as an Art & Environment Get Together, includes, a panel discussion with leaders from former prominent Wicker Park arts organizations such as Michael Warr (Guild Complex), Kate Smith (Bop Shop), Edward Torres (Chicago Latino Theatre), Elizabeth Burke-Dain (Around the Coyote) and current owner of Chopin Theatre. Award-winning German artist and architect Daniel Theiler presents his recent work. There is also a complimentary reception, dinner and dance party.


Schedule of Events:
Chopin Studio/Pregnant Buffalo Lounge
5 p.m. - Complimentary reception
6 p.m. - Daniel Theiler, award-winning German architect, will discuss his fictitious luxury golf club in the large socialist housing complex in East Berlin.
6:45p.m.-8p.m. - "Made in Wicker Park" - Leaders of Around the Coyote, Bop Shop, Chicago Latino Theater and Guild Complex come back to Chicago with reflections of their former venues in Wicker Park. What would it take for them to stay in Chicago.
Chopin Theatre Main Stage
7 p.m. - Reception for all the artists, technicians and supporters of Chopin Theatre with visuals from anniversary photo album,"Around Chopin Theatre: A Century in Pictures & Stories"
9 p.m. to midnight - 100th anniversary Champagne Toast and Dance party with Live bands and DJ