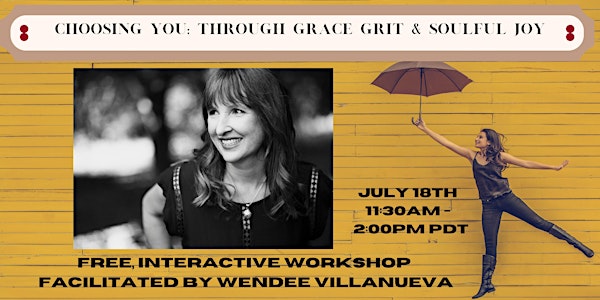 Choosing You: Through Grace Grit & Soulful Joy
Imagine a life where you choose JOY everyday.
About this event
Imagine what life would look like if you chose YOU!
A few years ago before my mom passed away, amidst some really challenging times, she chose herself. In her choosing herself, she poured love into us and illustrated what a loving choice it is.
On Sunday, we will be creating a fun, safe space to explore how choosing yourself is a loving and generous choice. When you pour into you, an abundance of joy will be felt by you and those you love.
We will explore where you may be holding back and how to look within for the courage to find joy. When we are running through life without refueling, it is easy to lose sight of ourselves. When we are in tune with our own heart, we are more aware of others.
It is my intention to create an in person experience on zoom. With this, I ask that you attend and participate on camera in order to create a connected experience.
As this is near lunchtime, please feel free to bring food and you are welcome to take a break. Bring a paper and a pen/pencil.