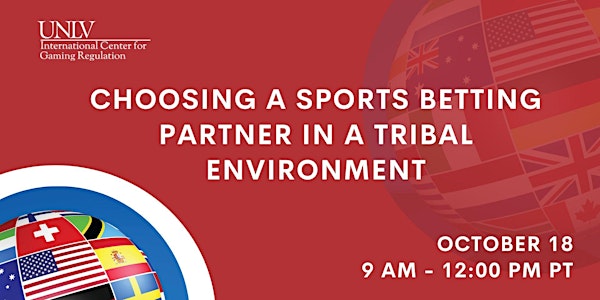 Choosing a Sports Betting Partner in a Tribal Environment
This intensive program focuses on issues specifically related to sports betting in tribal jurisdictions.
About this event
Let the experts at the UNLV International Center for Gaming Regulation empower your tribal jurisdiction with the information and tools to successfully launch sports betting.
This intensive program focuses on issues specifically related to sports betting in tribal jurisdictions. Because of the requirements of the federal Indian Gaming Regulatory Act (IGRA), the National Indian Gaming Commission (NIGC), and, in many areas, pre-existing tribal-state compacts, tribal jurisdictions face important additional legal, regulatory, and operational considerations.
The International Center for Gaming Regulation provides this online intensive program with experts on Indian gaming focusing on key issues, requirements, and emerging practices specifically related to sports betting in tribal jurisdictions. This seminar falls under the ICGR's Sports Betting and Tribal tracks of executive education.
Course Content Includes: Key Issues, Requirements, and Emerging Practices for Tribal Sports Books
Overview: Business Considerations & Case Studies
IGRA & Core Legal Issues
Compact Requirements & Provisions
Management Contracts & the NIGC
Operational Models & Examples
Case Studies & Key Takeaways from Operational Tribal Sports Books
This is a live online presentation. For best results and engagement, please use a computer with a camera, headphones, and microphone.
Although the curriculum of the program is primarily designed for gaming regulators tribal jurisdictions, including gaming agency staff, Board or Commission members, legislators, or policy makers, it is open to anyone  with an interest in the impact of legalized tribal sports betting.  
Educational Partners:
Kathryn Rand and Steven Light are Distinguished Senior Fellows for Tribal Gaming at the ICGR, as well as Co-Directors of the Institute for the Study of Tribal Gaming Law and Policy at the University of North Dakota (UND). Kathryn is a Professor of Law and Steve is a Professor of Political Science and Public Administration at UND. They are widely recognized as among the nation's leading experts on Indian gaming, federal Indian law, and tribal-state-federal intergovernmental relations. Together, they have published more than 50 articles and co-authored three books on tribal gaming, including Indian Gaming Law and Policy.
Quinton Singleton is a lecturer at the ICGR. Quinton is widely recognized as an industry leader in tribal and commercial land-based and digital gaming operations and technology. With over 15 years of experience as an executive, entrepreneur and investor, he has been involved with launching numerous gaming and technology companies, including launching the first tribal-owned and -operated sports and igaming operation in the U.S. and founder of Bet.Works.
1. In the event a course is canceled, registrants will be notified as soon as possible and receive a full refund of their registration fee. 
2. A service fee of Twenty Percent (20%) will apply to all participant initiated cancellations received three or less days prior to the event.
3.  All cancellations and refund requests must be made in writing. Refunds granted for credit card charges will be credited to the original account charged. No refunds will be given in the event of "No Shows." Refunds may take up to 3 weeks for processing.
4. Check and electronic transfers (ACH or wire) can be accepted for payment. If you're interested in a check or ACH/wire payment, please email at icgr@unlv.edu with your Eventbrite order number and program name, number of participants and invoicee name and email address (if different from participant) and we will generate and issue an invoice within 1-3 business days. Once the invoice is approved and issued, please make your check payable to "Board of Regents" and mail it to "UNLV International Center for Gaming Regulation, C/O Sara Phillips, 4505 South Maryland Parkway, Box 456041, Las Vegas, NV 89154-6041. Payment is due 30 days upon receipt of invoice."
For additional questions, please contact the ICGR at icgr@unlv.edu.