Sales Have Ended
Ticket sales have ended
Jade Entertainment is not currently offering online ticket sales for this event. NEED HELP? Jade Entertainment (626) 964-4747 news@jadeticket.com
Sales Have Ended
Ticket sales have ended
Jade Entertainment is not currently offering online ticket sales for this event. NEED HELP? Jade Entertainment (626) 964-4747 news@jadeticket.com
朱咪咪 "虎年虎歡喜" 演唱會演唱會 嘉賓尹鶴天 CHOO MIMI NEW YEAR CELEBRATION CONCERT 2022
About this event
CHOO MIMI NEW YEAR CELEBRATION CONCERT 2022朱咪咪 "虎年虎歡喜演唱會" "演唱會 嘉賓尹鶴天Saturday, 1/15/2022 8PMTickets $138/$108/$88/$68Pechanga Resort CasinoPechanga Theatre45000 Pechanga ParkwayTemecula, CA 92592
Consistent with the State of California's requirements for indoor gatherings of 1,000 or more people, Pechanga requires all concert attendees to show proof of vaccination or a negative COVID-19 test. COVID tests must be taken within 24 hours of the event for Rapid Antigen Tests, or within 48 hours of the event time/date for PCR tests. A matching photo ID is required. Concert guests must also wear masks during Pechanga shows, except while eating or drinking.
根據加利福尼亞州對 1,000 人以上的室內聚會的要求,Pechanga 要求所有音樂會參加者出示疫苗接種證明或 COVID-19 測試呈陰性。 必須在演出 24 小時內進行 COVID 測試以進行快速抗原測試,或在演出時間/日期 48 小時內進行 PCR 測試。 需要匹配的照片 ID。 演唱會嘉賓在 Pechanga 表演期間也必須戴口罩,吃飯或喝水時除外
遵守加州對 1,000 人以上室內聚會的要求,Pechanga 新規定—演唱會觀眾們請出示疫苗接種證明或 陰性COVID-19 測試。該測試以24 小時內的快速抗原測試,或48 小時內進行 PCR 測試為有效期。並請出示照片證件核對。
Pechanga 賭場內請隨時戴口罩(餐飲時除外)謝謝合作!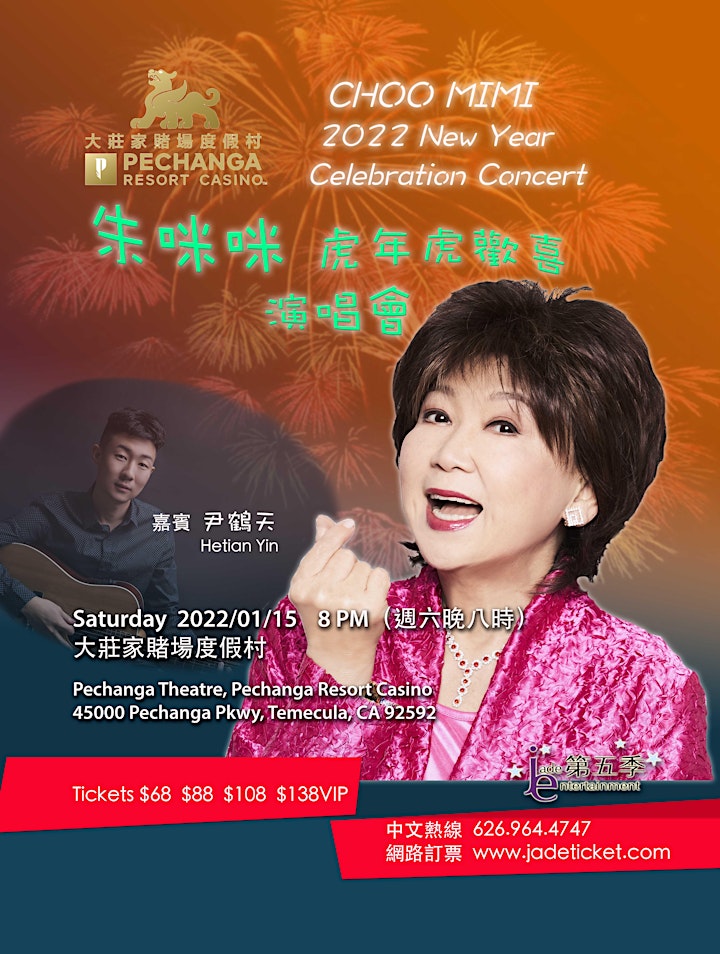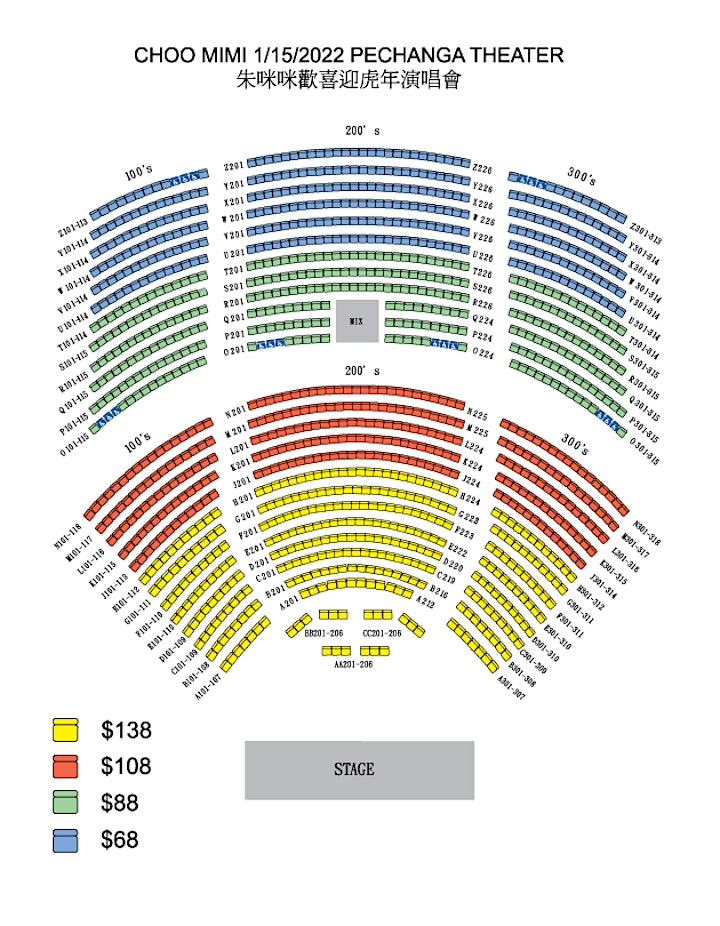 Organizer of 朱咪咪 "歡喜迎虎年"演唱會 嘉賓尹鶴天 CHOO MIMI NEW YEAR CELEBRATION CONCERT 2022
JADE ENTERTAINMENT (JJD Live Inc.) is a promotion, production, and marketing company based in Los Angeles. For over 25 years, it has brought together the cultural diversities of Asia and the US through an entertainment medium by introducing to America to popular music artists from Asia. The company is well known in the Asian entertainment and music industry as a producer and promoter of major concerts and events in the United States.
第五季國際娛樂公司是專業且經驗豐富的演唱會統籌製作、活動策劃、廣告宣傳公司,將中港台一流的歌手與表演藝術活動引進美國、加拿大。廿五年的豐富經驗,我們成功的舉辦了超過三百場的演唱會。演出遍及美國拉斯維加斯、雷諾、洛杉磯、舊金山、大西洋城以及加拿大多倫多等城市。