Sales Have Ended
Ticket sales have ended
Thank you for supporting KAMA DC! We look forward to having you at our event!
Event Information
Refund Policy
Contact the organizer to request a refund.
Eventbrite's fee is nonrefundable.
Sales Have Ended
Ticket sales have ended
Thank you for supporting KAMA DC! We look forward to having you at our event!
Join KAMA DC and Yao Zhao, Co-Founder of 50Hertz Sichuan Oil, and learn how to make Chongqing Noodles via Zoom!
About this Event
About Yao
Yao founded 50Hertz Sichuan Pepper on a simple belief that Sichuan pepper represents a culinary trend that will strike a chord with food lovers everywhere. He wants to champion this unsung spice and its unique tingling sensation into world cuisines. Born and raised in Chongqing China, his background lies in clean energy development and has worked in China, India, the Middle East and now in Washington DC. Yao has a masters' degree in Economics from Johns Hopkins University School of Advanced International Studies (SAIS). When Yao is not trekking through the Pantanal in Brazil or backroads in India, his main hobby is scuba diving – Zanzibar,Okinawa, Strait of Hormuz, the Maldives and Raja Ampat are many of his favorite spots.
Yao's Thoughts On Chongqing Noodles
"Fiercely spicy, tingling and aromatic, Chongqing noodles are one of the most popular street foods of China. I eat ramen for its rich broth, pho for its refreshing broth, pasta for its texture, but nothing beats the flavor explosion in a bowl of Chongqing noodles for me. It's been there as my celebration of a promotion and as my comfort of a breakup. Watch the video below talking about our story of 50Hertz and cooking this recipe. In recent years, Chongqing "small" noodles have become popular not only all over China but also in big cities overseas. In Chongqing, customers are usually just busy slurping on the sidewalks on makeshift tables or simply plastic stools."
About 50Hertz Sichuan Pepper
50Hertz was founded on a simple belief that Sichuan pepper and its unique tingling sensation will be the flavor in global cuisines. Since its founding in April 2020, 50Hertz has been featured twice in the New York Times and received numerous shoutouts from famous chefs and customers alike. Our name 50Hertz derives from a scientific publication from University College London, concluding that "the frequency of the tingling induced by Sichuan Pepper was consistently at around 50 Hertz".
Website: https://50hertzfoods.com/
Instagram: @50hertzfoods
Tickets
KAMA DC is a volunteer-run non-profit and relies solely on individual donations. We have made three levels of tickets available - $5, $10, and $20. Please choose whichever you are able to donate and thank you in advance.
Please note that If you can not make a donation to KAMA for this event but still want to attend, contact us at info@kamadc.org and we will be happy to give you a complimentary ticket.
About KAMA DC
KAMA DC is a volunteer-run non-profit that seeks to build community through immigrant-led cultural experiences. We provide a platform for immigrants to share their skills and stories with the DC community. Learn more at kamadc.org or @kama.dc.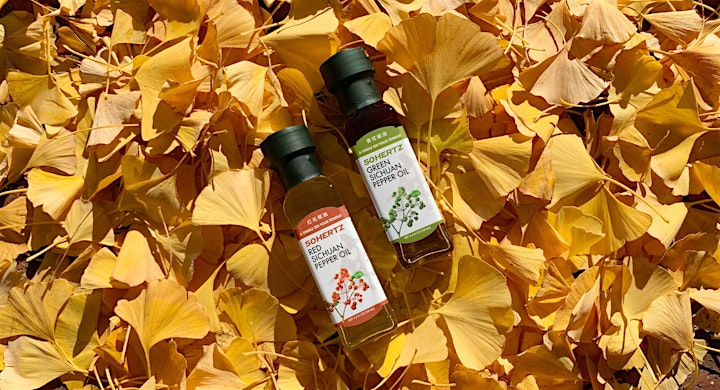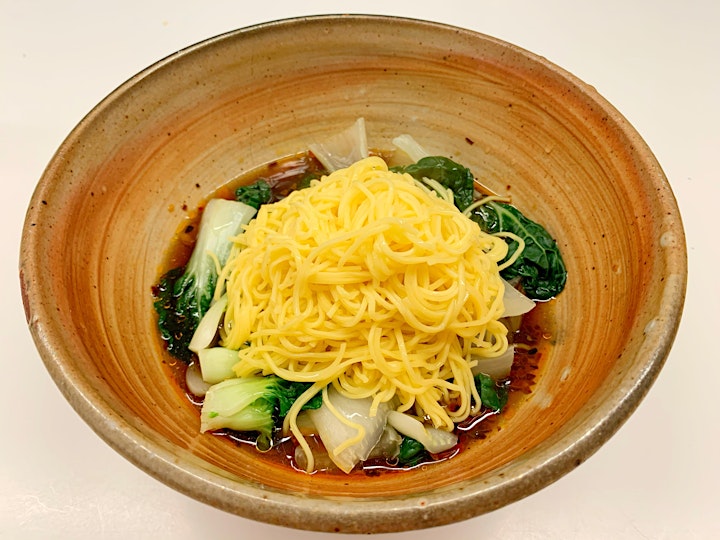 Ingredients for Chongqing "Small" Noodles (重庆小面)
Makes 2 servings
200g (7 oz) dried wheat-flour noodles (such as udon or lo mein; a thick spaghetti will work as well)
Several large handfuls of green vegetables (try bok choy, snow pea shoots, water spinach, and / or snow peas)
1 scallion
1 garlic clove
1 inch ginger, peeled
1/2 cup boiling water
1 tablespoon chili oil or Lao Gan Ma
1 teaspoon Red Sichuan Pepper Oil (optional)*
1 teaspoon Green Sichuan Pepper Oil (optional)*
2 tablespoons light soy sauce (ideally light soy sauce)
2 tablespoons black vinegar (or red wine vinegar)
1 teaspoon toasted sesame oil
Pickled vegetables of your choice (optional)
Sprinkle of peanuts (to garnish)
*Where to buy 50hertz (DC and around the US)
Equipment: chef's knife and cutting board, large pot, kettle (or your preferred way of bringing water to a boil), small whisk, large bowl, whisk, slotted spoon, tongs, serving platter
You should do the following steps ahead of time: Set out your ingredients and the equipment you'll need. Bring a large pot of salted water (2-3 quarts) to a simmer
Date and Time
Location
Refund Policy
Contact the organizer to request a refund.
Eventbrite's fee is nonrefundable.