Chocolate World Expo NYC 2012

Sunday, December 16, 2012 from 10:00 AM to 7:00 PM (EST)
Event Details
CHOCOLATE WORLD EXPO COMES TO NYC!
Chocolate World Expo, the New York area's largest chocolate-themed event, comes to Manhattan for the first-time on Sunday, December 16th, 10am-7pm, bringing its own unique combination of chocolate, food and fun to the city... just in time for the holidays! 
Chocolate World Expo NYC, also known as CWE NYC, will take place at the Lexington Armory (home of the Victoria's Secret Fashion Show), 68 Lexington Avenue, between East 25th and 26th Streets.  The Lexington Armory is easily reached by mass transit (buses/subways/trains), taxis and cars.  Parking garages are also available in the area.
Chocolate World Expo NYC will offer tastings & sales of chocolates, baked goods, specialty foods, gelato, wines, craft beers and much more, plus we'll be having Ob-La-Di, one of the very best-sounding Beatles tribute bands, performing two live 50-minute sets at 1:30 and 4:30pm, respectively.
Besides the bon bons, brownies, and chocolate-dipped strawberries (as seen in the Chocolate World Expo logo), you can expect to find a "world of chocolate" possibilities at CWE NYC.  For instance, you'll get to indulge in items such as Dutch-style chocolate tarts, dark and white chocolate peanut butters, ornately-crafted chocolate covered fruits, chocolate-covered bacon, chocolate-flavored swirly buns, designer chocolate-covered pretzels, chocolate maple candies, chocolate truffle pops, super-creamy chocolate milk made by local farmers, chocolate rum cakes, chocolate wines, chocolate whiskey gelato, authentic Belgian-style waffles covered in chocolate, fudge in many flavors and even chocolate-covered pickles!  
A limited number of kosher, sugar-free, gluten-free, vegan, organic and fair-trade options will be also available.  Be sure to look at the Vendor page on our website for more information about these products and be sure to contact vendors (in advance of the show), if you need more details about items that they'll be presenting to meet special dietary needs.
Chocolate World Expo is unlike any other chocolate event in the area.  Even though we always welcome international companies to participate, our focus is on "local."  Most of the 50-70 participating vendors at each of our five New York-area shows are locally and/or regionally-based. In many cases, you'll get to meet the owners of these companies to hear personally about the products they make.  Chocolate World Expo is even designated a "farmers market" by the State of New York because of our extensive outreach efforts to farms and our encouragement of vendors to use local ingredients, whenever reasonably possible.  We're proud to be a member of Pride of New York, as well as of the New York Farm Bureau. 
Chocolate and food/wine/beer gifts are great to give for the holidays, so definitely consider doing some of your holiday shopping at CWE NYC.  When you buy from our local vendors, you're helping New York area small businesses recover from the significant impacts of Hurricane Sandy.  That's something we can all feel good about!
Additional Chocolate World Expo shows will take place on Sunday, January 27th, at the Maritime Aquarium in Norwalk, CT, and on Sunday, March 3rd, at the Cradle of Aviation Museum in Garden City, NY (Long Island).  We hope to also announce a date for Chocolate World Expo NJ in the not-too-distant future.  Along with CWE NYC and CWE Westchester, these shows each offer a truly unique and fun experience for attendees. 
Note:  Tickets purchased for Chocolate World Expo NYC via this website will be sent to you electronically in a PDF file (attached to an order confirmation email), which should arrive seconds after you place your order.  If you don't see it right away in your Inbox, it might have been put in a junk email folder by your mail server, so be sure to check there, as well, if you don't get your tickets immediately.
For more information and a list of vendors at each CWE event, please visit www.ChocolateWorldExpo.com. 
We look forward to seeing everyone at Chocolate World Expo NYC!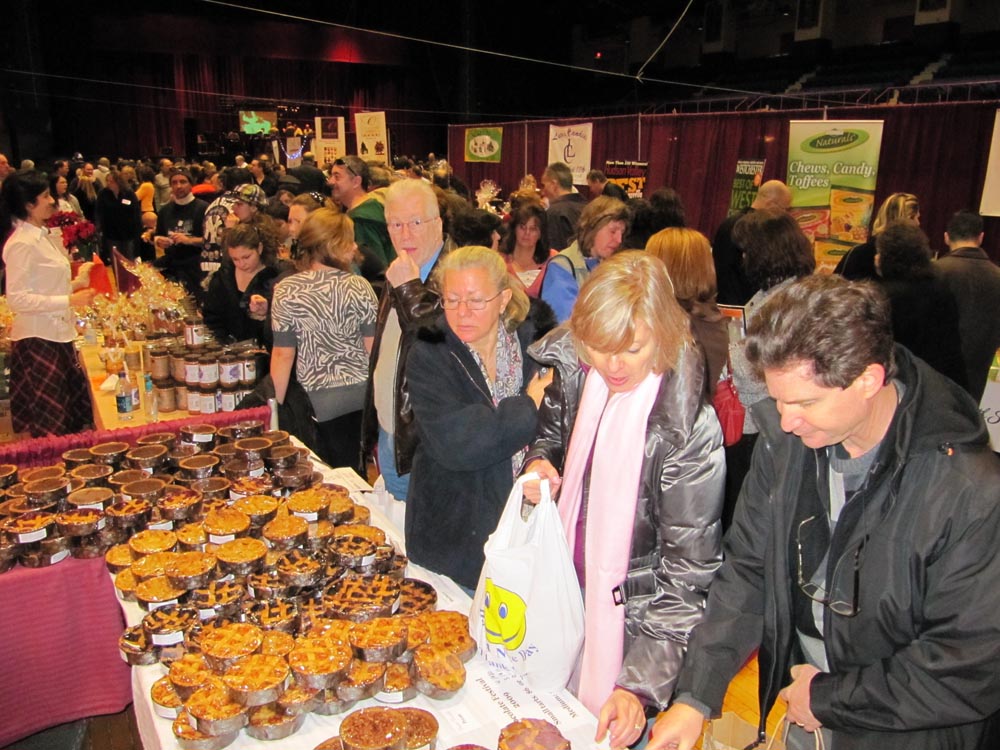 When & Where

69th Regiment Armory (Lexington Armory at 26th Street)
68 Lexington Ave
New York, NY 10010


Sunday, December 16, 2012 from 10:00 AM to 7:00 PM (EST)
Add to my calendar
Chocolate World Expo NYC 2012