Description
You taste. I sing. Singing Chef Jackie Gordon combines a cabaret show and a chocolate tasting—gives you an "eater-tainment" show in NYC.

I'm Jackie Gordon and I'm a singing chef and chocolate maker. In Chocabaret, I'll lead you through a one-of-a-kind chocolate tasting experience— with songs, humor, facts and interactive fun.
DATE: Sunday, October 20th, 2013
TIMES: 4pm
PLACE: Metropolitan Room, 34 West 22nd St., NYC
LISTEN, LEARN & LAUGH ABOUT CHOCOLATE
Come on a tasting tour of chocolates where I pair chocolate bon-bons and bars made by New York's finest chocolate makers (including me!) with a songs, accompanied by my band, The Tempered Souls.

Here's how Chocabaret works:
1. You'll sit down to a platter of locally made chocolate bon-bons and chocolate bars, cacao beans and nibbling chocolate, plus everything you need to taste like an expert: a flavor wheel, score sheet, rating scale, palate cleansers and more!

2. I'll share the story behind each chocolate and sing a song that matches some characteristic of the chocolate.
3. As the chocolate melts in your mouth, you'll explore the flavor notes and feelings the chocolate and the music inspire.
4. For each taste and tune, we'll chat about each chocolate and you'll get to rate and score the chocolate according to your five senses.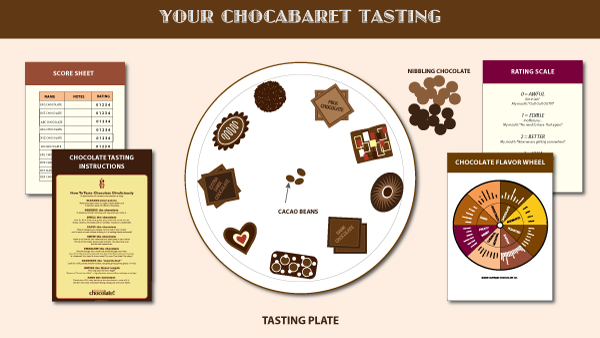 The New York artisan chocolate makers featured in Chocabaret are:
Roni-Sue Chocolates

Fruition Chocolate

Fika Choklad

Bond Street Chocolate

Fine & Raw Chocolate

Oliver Kita Chocolates

Lagusta's Luscious

Raaka Chocolate

Hudson Chocolates

Divalicious Chocolate (that's me)
Chocabaret is entertainment with a fun education spin to it. 
You'll learn:
How chocolate is made from bean to bar
How to taste chocolate like a pro
How to pick a great chocolate
About the chocolate makers
Some of the history of chocolate and maybe a lil' of my "her-story" with chocolate (read: Learn how chocolate made me cry…)
Tickets
$60.00

FYI: Your ticket includes a platter of nine chocolate bon-bons and bars samples, cacao bean, nibbling chocolate, plus flavor wheel, score sheet, rating scale, palate cleansers, a bottled water, etc. A one drink minimum and gratuity is not included.
Organizer of Chocabaret: A Chocolate Tasting Set To Music | NYC
I LOVE FOOD so much I sing about it!
I'm a singing chef. I write love songs about food and create live "eatertainment" shows where you get to enjoy food, music and humor together. You taste as I sing. 
I own Divalicious Chocolate Events in New York City.
TWITTER-INSTAGRAM: @divathatateny
GOOGLE+: Jackie Gordon Singing Chef
BLOG:
WEBSITES:
Sign uo for my mailing list!