CHMS/The Top 10 Things Every Middle School Parent Should Know About Plannin...
Description
Parents and students are invited to attend the Top 10 Things Every Middle School Parent Should Know About Planning for College presented by Oakbrook Terrace based Partners for Achievement. The presentation will be held on Wednesday, April 10th at 1:30 p.m. at Clarendon Hills Middle School.
The presentation will cover the following topics:
College Admission Planning
How have things changed since you went to college?

When is the right time to get your student engaged?

What do highly selective colleges look for?

How to begin building a good high school resume: academics, activities, leadership and community service;

Discuss weighted versus unweighted GPA and how this can affect your decisions when it comes to registering your child for honors and AP classes in high school.
Standardized Testing
Discuss PSAT and timing;

What is the difference between ACT and SAT test?

Which test do colleges prefer?

What timing do you recommend for taking the first standardized test?

Do you recommend test prep?
Paying For College
How do private schools differ from public schools in cost?

Are college tuition and fees negotiable?

FAFSA - What is it and which assets count?

What is the difference between financial aid and merit aid?

Discuss preferential packaging and how to maximize your merit aid;

Need Based Aid - Who will likely qualify?

Private Scholarships - Where are they and how can students increase their odds of success?
We look forward to sharing these tips and strategies to help you do all you can to position your child for a successful high school and college experience.
Here's an InfoGraphic detailing some of the benefits to high school families who have used the 3 Steps to College Planning and Career Success program.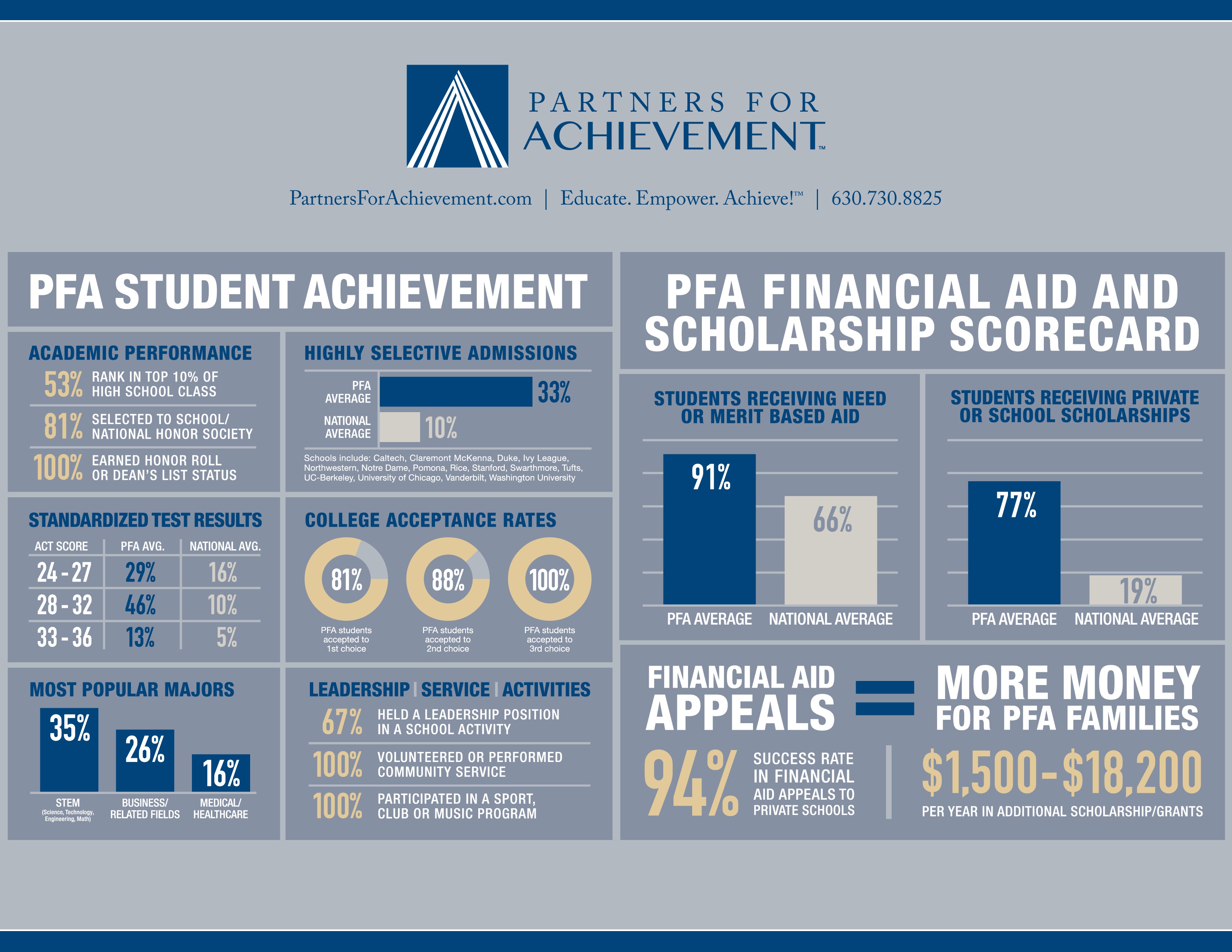 For more information or to schedule a visit to our headquarters in Oakbrook Terrace please contact us at 630.730.8825.
2 Mid America Plaza #1010
Oakbrook Terrace, IL 60181