Are you an organisation looking to gain CMI accreditation for your in-house management consultant development programme?
About this event
The Chartered Management Consultant Award (ChMC) was developed for the purpose of setting and maintaining the highest standards in the management consulting profession. Central to this is the Award's Competency Framework. The Framework is the central reference point around which the Award's pathways and methods of assessment are based. It is the document against which individual consultants and firms can compare their own development and capabilities to establish the degree to which they match the criteria set for the Award and to determine what they still must do to meet the standards set.
Join us for the ChMC Programme Accreditation Masterclass as we walk through the process for an organisation to gain CMI accreditation for its in-house management consultant development programme. Emma Jones, ChMC Project Manager, will be joined by Dr Ann Bicknell from Ove Arup and Partners Ltd and Mark Keen from IODPARC to share their experience of the process and the benefits of accreditation. Register now and submit your questions.
Our Speakers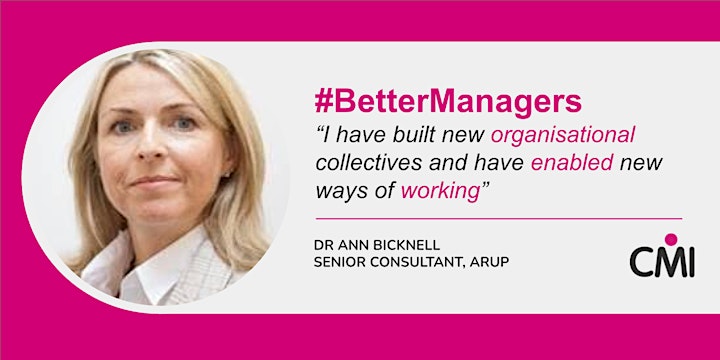 Dr Ann Bicknell
Senior Consultant, ARUP
Ann is a Senior Consultant in ARUP Operations Advisory at ARUP. Ann is a double Chartered Organisational Psychologist and People Manager with a varied Client background which includes projects in Transformation, Strategic Organisation Design Thinking, Leadership Acceleration, Training and Learning, Culture and Change, Embedded and Executive Coaching. A Queen's Award recognised Ann's performance in driving change through robust insights using structured methodologies and she publishes regularly on measuring the impact and value of change programmes.
Ann has built new organisational collectives and enabled new ways of working in the public and private sectors to deliver operating model shifts as well as facilitated complex culture and behavioural change programmes over 2-7 year time-periods with large infrastructure Clients, corporates and community partners. This has involved interventions at individual, group and organisational performance levels. Ann works on nationally and globally significant Collaborations to align sustainable and resilient 'people systems architecture' to drive the right behaviours and to be very deliberate about influencing outcomes.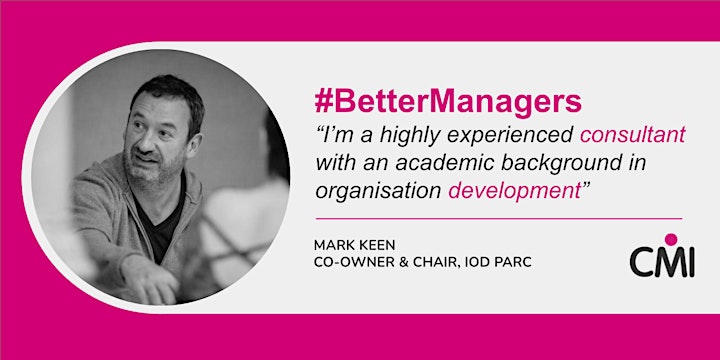 Mark Keen
Co-Owner and Chair of IOD PARC
Mark is a highly experienced consultant with an academic background in organisation development. He is co-owner and Chair of IOD PARC and was Managing Director from 2002-2019. Mark works primarily in the international development arena and has over 25 years team leader experience facilitating and managing large-scale change processes, complex evaluations, and strategic reviews. He has worked in over 40 countries in a wide range of thematic areas and institutional contexts. Mark is passionate about learning and about understanding the dynamics of effective consultancy relationships. Mark is a member of the UK Institute of Directors and a Chartered Management Consultant.
Our Host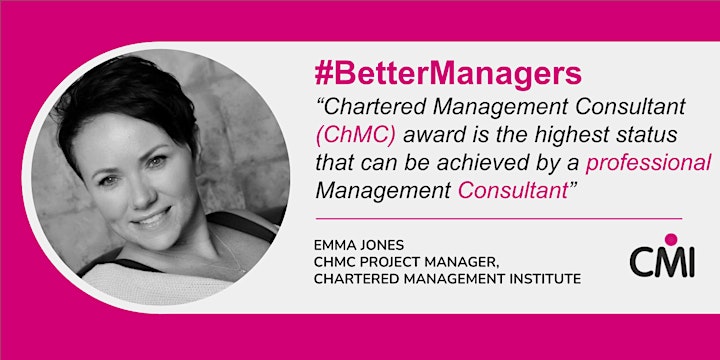 Emma Jones
CHMC Project Manager, Chartered Management Institute
Emma is a professional project manager with experience in both the public and private sector. After founding Mindscope in 1998, a training and consultancy organization specializing in project, programme and portfolio management, she conducted assignments in many industry sectors. Major clients included the Royal Mail, Cable & Wireless, the NHS, Computacenter, Anglian Water, Carillion, AMEX Global Business Travel, and several Local Councils.
Emma was the Chief Examiner for PRINCE2® with the APM Group Ltd, from 2008 to 2013, and has since been involved in the design and development of professional assessments such as Portfolio, Programme and Project Offices (P3O®), Earned Value (EVM), Management of Value (MoV), PMD Professional (PMDPro), Project Management for Sustainable Development (PM4SD™), Application Services Library (ASL®), Business Information Services Library (BiSL®), Better Business Cases™ (BBC) with HM Treasury, APMG CP3P Certified Public Private Partnerships Professional with World Bank, Professional Services (PS) Professional®, Stakeholder Engagement, Facilitation, Business Relationship Management (BRM), ITWNET Digital Transformation, APMP® Bid and Proposal Management, and most recently the Praxis Framework™.
Emma was co-author of the 'Think PRINCE2®' and the 'Project Management for Sustainable Development (PM4SD™)' publications, and a reviewer of 'Passing the PRINCE2® Exams". Emma has now authored the 'Praxis Framework Pocket Guide'. She has been a speaker at conferences such as Best Practice Showcase, Project Challenge, and Best Practice User Groups.
Emma is now project managing the development and launch of the Chartered Management Consultant (ChMC) award, the highest status that can be achieved by a professional Management Consultant, which is supported and managed by both CMI and MCA ensuring its relevance to both the individual and industry. The Award has been developed for the purposes of setting and maintaining the highest standards in the management consulting profession, and recognises consistent and high levels of professional development and achievement.
Organizations of all sizes have been involved in the pilot project, including IBM, PwC, BAE Systems Applied Intelligence, EY, KPMG, PPL, Arcadis, Mott MacDonald, Atkins, and Gobeyond Partners. They are joined in the second phase of the pilot by Moorhouse Consulting, North of England Commissioning Support Unit (NECS), Arup and Akeso.
Can't wait?
Find out more about how you can register your organisation for Programme Accreditation on our website and hear from senior consultants about their experience with the accreditation process for their organisations.
In the meantime…
If you're a member of CMI, or subscribe to our content, don't forget you can find thousands of exclusive, practical development resources in ManagementDirect. Log in here and search for a topic to get started.
Not yet subscribed?
From free newsletters packed with the latest trends, insights and tips for managers and leaders, to the full suite of invaluable tools and benefits that come with being a CMI member, we've got something for everyone. Visit our website to find out more.