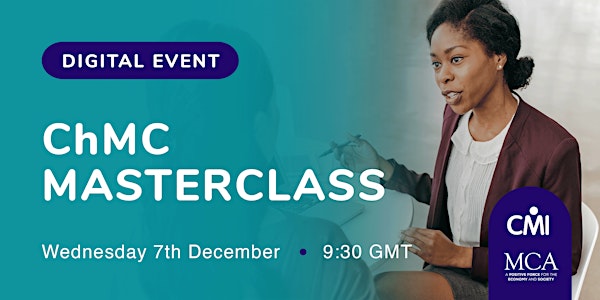 ChMC Masterclass
Learn about the process to Chartered Management Consultant (ChMC) status, as well as the benefits of this Award for your career progression.
About this event
Are you a Management Consultant looking to bolster your credibility and grow your network within the industry? Look no further!
The Chartered Management Consultant Award (ChMC) has been established as the highest status of achievement you can achieve in the management consulting profession. In joint partnership, CMI, the Management Consultancies Association and the trade association for the UK's leading consulting firms, have designed this initiative as a professional standard of career excellence for you to aspire towards.
Join David McLaughlin, ChMC Assessment Manager, for this practical workshop on Wednesday 7th December to learn more about becoming a Chartered Management Consultant.
In this insightful session, David explains the value of ChMC status to recognise your professional competency and enhance your industry reputation. Guest ChMC speakers will add to this discussion with advice and tips on how to excel in the ChMC application process and make the most of the Award.
To gain further insight into the importance of the ChMC Award for the industry, you can watch the launch video here.
By attending this event you will learn:
Develop a deeper understanding of what Chartered Management Status means for you, your industry and your clients
Gain practical insights on the ChMC application process and eligibility requirements, including what is being assessed and how
Hear from the lived experiences of MCMI ChMC guest speakers on how to effectively utilise the status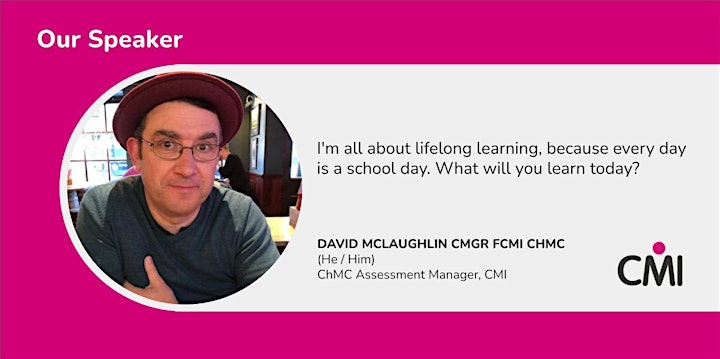 Click here to find out more about our expert speaker
The event includes
Interactive Q&A
Access to content post-event

Get the professional recognition you deserve! Find out if you are eligible for our exclusive Chartered Manager award.

What are you waiting for? CMI Membership gives you instant access to countless management resources