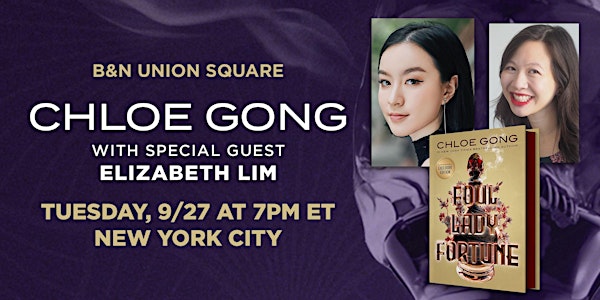 Chloe Gong launches FOUL LADY FORTUNE at Barnes & Noble - Union Square
Barnes & Noble Union Square welcomes Chloe Gong for an event to celebrate FOUL LADY FORTUNE on Tuesday, September 27, 2022 at 7 PM ET!
When and where
Location
Barnes & Noble 33 East 17th Street New York, NY 10003
Refund Policy
Refunds up to 1 day before event
About this event
Not in New York, but want to join virtually? Click here to purchase tickets to the livestream!
**PLEASE BE AWARE THAT THESE GUIDELINES ARE SUBJECT TO CHANGE DUE TO CHANGING COVID-19 REQUIREMENTS**
Join Barnes & Noble - Union Square on September 27, 2022, as we welcome the #1 New York Times bestselling author of the These Violent Delights series, Chloe Gong, for a discussion and signing to celebrate the release of FOUL LADY FORTUNE, the first book in a captivating new duology following an ill-matched pair of spies posing as a married couple to investigate a series of brutal murders in 1930s Shanghai.
She will be in conversation with internationally bestselling Elizabeth Lim, author of Spin the Dawn, Six Crimson Cranes and her newest, The Dragon's Promise.
**BONUS!: Your ticket includes a signed copy of the B&N Exclusive Edition of FOUL LADY FORTUNE which has a special cover and sprayed edges, as well as brand-new prequel story set six years before the events of FOUL LADY FORTUNE, following Orion's sister, Phoebe, and his best friend, Silas!
....................................................................................................................
**Due to Covid-19, masks are highly recommended.**
To make this event safe and enjoyable for all attendees, please read the below guidelines ahead of buying a ticket, so you know what to expect on the day. To avoid disappointment, we must stress that there will be no access to the event for non-ticketholders.
Barnes & Noble reserves the right to make new rules and orders in its sole discretion with regard to COVID-19 at any time and any person not abiding by the Barnes & Noble directives will be refused entrance or directed to leave the premises.
TICKETING INFORMATION
B&N Exclusive Book Admission - $23.94 (Admission + one B&N Exclusive Edition of FOUL LADY FORTUNE): **LIMITED QUANTITY AVAILABLE**: A ticket PER PERSON includes:
Due to Covid-19, masks are highly recommended.
Socially distanced photos with Chloe will be allowed at the event.
Any gifts for the author will be collected prior to the signing line.
Other books by Chloe will be available for purchase at Barnes & Noble Union Square.
Due to health and safety and space limitations, those without a ticket will not be permitted into the event space.
Please arrive by 7 PM in order to secure your seat in the event space. Late arrivals may only have access to standing room and may not have the opportunity to meet the author.
GUIDELINES
No memorabilia will be signed at the event.
No large bags will be permitted into the event.
Ticket holders will be admitted into the event beginning at 6:30 PM the day of the event. Please have a copy of your ticket available (either printed out or on your phone) for check in.
In order to attend this event, ticket holders should:
Have not had any contact in the last 14 days with a confirmed COVID- 19 patient.

Not be subject to a quarantine order.

Not traveled in the past 14 days to any state or country that New York has designated as an area requiring isolation upon returning to the state.

At the time of the event, have not experienced in the last 72 hours any body temperature above 100 degrees Fahrenheit or any new symptoms associated with COVID-19. People with COVID-19 have had a wide range of symptoms reported – ranging from mild symptoms to severe illness. Symptoms may appear 2-14 days after exposure to the virus. People with these symptoms may have COVID-19: fever or chills; cough; shortness of breath or difficulty breathing; fatigue; muscle or body aches; headache; new loss of taste or smell; sore throat; congestion or runny nose; nausea or vomiting; and/or diarrhea..
Due to health and safety and space limitations, those without a ticket will not be permitted into the event space.
All event guidelines are subject to change.
If you have any additional questions, please call the store directly at: 212-253-0810.
Please note that Eventbrite is the only authorized dealer for this event. Each person must have a ticket to enter.
REFUNDS
Attendees can receive refunds up to 1 day before your event start date.
If you are unable to attend the event, Barnes & Noble - Union Square will hold your book for seven days after the event. Please contact the store to arrange your pickup.
Should this event be canceled due to changing COVID-19 concerns, all customers will be refunded their ticket price to the original method of payment per Eventbrite's refund policy.
Event guidelines are subject to change.
_______________________________________________________________________________________
ABOUT FOUL LADY FORTUNE:
It's 1931 in Shanghai, and the stage is set for a new decade of intrigue.
Four years ago, Rosalind Lang was brought back from the brink of death, but the strange experiment that saved her also stopped her from sleeping and aging—and allows her to heal from any wound. In short, Rosalind cannot die. Now, desperate for redemption for her traitorous past, she uses her abilities as an assassin for her country.
Code name: Fortune.
But when the Japanese Imperial Army begins its invasion march, Rosalind's mission pivots. A series of murders is causing unrest in Shanghai, and the Japanese are under suspicion. Rosalind's new orders are to infiltrate foreign society and identify the culprits behind the terror plot before more of her people are killed.
To reduce suspicion, however, she must pose as the wife of another Nationalist spy, Orion Hong, and though Rosalind finds Orion's cavalier attitude and playboy demeanor infuriating, she is willing to work with him for the greater good. But Orion has an agenda of his own, and Rosalind has secrets that she wants to keep buried. As they both attempt to unravel the conspiracy, the two spies soon find that there are deeper and more horrifying layers to this mystery than they ever imagined.