About this Event
Doesn't it seem like everyone's freaking out lately? !!! know the feeling well. The NYC dance-punk lifers have been chronicling the perpetual meltdown that is American society for nearly 20 years now, from the clattering full-band thrust of their instantly iconic 2003 single "Me and Giuliani Down by the Schoolyard (A True Story)" to the dark disco of 2017's wonderfully eclectic Shake the Shudder.
Their eighth full-length, Wallop, follows in the band's grand tradition of plugging straight into our collective nervous system and sending funky, rubbery shock waves through the body politic. If you've found yourself rubbing your temples while contemplating the collapse of everything around us? Well, !!! are bringing the soundtrack to your next nervous breakdown.
Like an apocalyptic jukebox, Wallop is jam-packed with various sounds and styles from dance music's rich history—from the pie-eyed psychedelia of Madchester-era English dance-rock to tunnel-vision techno and the flashy, bomb-dropping sound of UK grime. The candy-coated sounds of '90s rave loom large in Wallop's playful darkness, a callback to another era when everything felt like it was just about ready to fall apart. Diving into '90s retro nostalgia is good for us," frontman Nic Offer explains while discussing the sonic rediscovery at the beating heart of Wallop. "I know all the '80s stuff already, so it's like, 'What did happen in the '90s?' Because in the '90s, we were just listening to James Brown."
Wallop was recorded over the past year in Offer's Brooklyn apartment—a first for the band, as !!!'s latest was rife with experimentation throughout the creative gestation: "Our process was to get loose and get into uncharted territory," he puts it succinctly. This meant messing around with gear they didn't quite understand, conjuring new sounds and bringing in familiar friends to contribute vocals—including Liars frontman Angus Andrew, Maria Uzor of British dance aesthetes Sink Ya Teeth, and Glasser's synth-pop wizard Cameron Mesirow, who all join Offer and !!! co-vocalist Meah Pace on this barn-burning party of a record.
"We were sitting on these instrumentals that we liked, so we started sending them around to random people," Offer states while discussing the collaborative process streaked across Wallop. "We overwrite and overrecord, and send them out to our friends to vote. We don't know what we're making until it's done. This record could've been completely dark or completely pop."
"We're not the kind of band that sits down and says, 'Let's make a record now,'" producer and multi-instrumentalist Rafael Cohen continues. "We just keep going, which is good because it leads to less of a narrative for each album." With an array of producers lending a hand—including Cole M.G.N. (Ariel Pink's Haunted Graffiti, Julia Holter), Graham Walsh (Holy Fuck), and longtime collaborator Patrick Ford—Wallop was eventually stitched together to reflect the colorful, body-moving tapestry that its end result represents.
Work on Wallop took place in understandably different sociopolitical circumstances than what surrounded Shake the Shudder—but addressing those circumstances head-on was initially harder than Offer and Cohen thought. "Every political song we wrote kind of sucked," the former admits, while explaining that the wide-eyed societal paranoia embedded within the record was naturally occuring. "When we stepped away from politics, it seeped its way back into the music."
Indeed, Wallop chronicles these strange times through !!!'s personal lens, capturing the mere act of existing amidst so many shifting paradigms; the skipping IDM of "Domino" zooms in on the conflicting emotions that come with experiencing gentrification first-hand, while
"UR Paranoid" throbs with the type of intensity reserved for existential spiraling and late-night k-holes alike—an urgency that also speaks to !!!'s admiration for club music. "We're always trying to make pure club stuff—that's where we get our sonics," Cohen states, while Offer elaborates, "We're very much classic songwriters, but the music that turns it on is club music. It's always moving, and it's a good well for us."
Meanwhile, "Off the Grid" ripples and pulses in a way not unlike XTRMNTR-era Primal Scream, "Slow Motion" dives headlong into the ecstatic energy of 1990s UK trip-hop and beat-driven rock, "This Is the Door" radiates crisp and effervescent disco, and "Couldn't Have Known" is pure urban clatter topped off by Cohen's soothed-out vocals. The splashy beat of "Serbia Drums" in particular comes from a surprising source: an iPhone recording that drummer Chris Egan captured while the band was touring in Serbia. "Chris is from D.C. and so am I, and that groove is so go-go," Cohen marvels on the song's propulsive sound.
Overall, Wallop is a testament not only to the rocky, worldly times it reflects, but !!!'s artistic lifeblood—a constantly-creating ethos that's kept the band going for so long and enables them to constantly innovate their sound. "We just work really hard and try to make the best records we can," Offer proclaims. "We have a strict policy of challenging ourselves—'What haven't we done?'" And if that sense of self-discovery resulted in Wallop's jam-packed, kaleidoscope world of sound, let's hope !!! never stop challenging themselves.
Larry Fitzmaurice
June 2019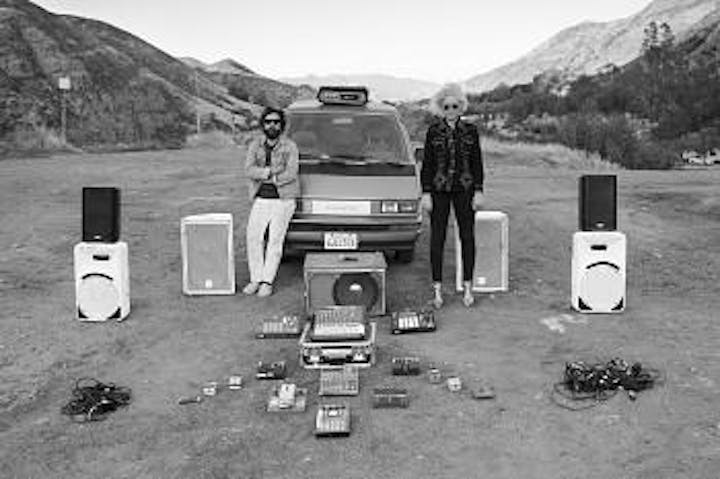 Warm Drag are a musical two piece. A two-sided conversation. Two devils on your shoulders, one of them telling you to take that drug, sleep with that person and steal that car. The other devil is whispering that you should hit the reverb pedal and turn the volume alllll the way up.
Warm Drag listen to both devils. And they are bringing their samplers-and-switchblade post-noir noise disco to you this summer, with their self-titled debut on In The Red.
The two people in Warm Drag do specific things. Vashti Windish sings, the way Siouxsie sang power, the way Nico sang allure, the way Patti sang sex. Paul Quattrone makes the noise with two Akai MPC 1000 samplers. Beats that pummel or seduce, usually simultaneously, synths that soar like Morricone or pump like DAF, and gloriously twangy guitars that clang and echo like Duane Eddy spiraling down a k-hole.
Windish and Quattrone have history. They've lived and they've been in bands. Quattrone is a drummer in the current powerhouse Oh Sees lineup, which should be enough of a recommendation for anyone, but hey, this guy's also been in !!! and Modey Lemon too. Windish cut her teeth in bands including the K-Holes and Golden Triangle, back in her native New York.
A chance reunion in Los Angeles led Quattrone and Windish to attempt the outlandish ambition of marrying her love for the genre-defying genius of Blondie's Parallel Lines (the first cassette she ever owned) to Quattrone's love of Bomb Squad's production styles.
"I loved Parallel Lines when I was five," Windish recalls. "Warm Drag is my first band that has the ability to blend genres up into a musical milkshake that remains uniform despite all of its parts. I can scream, dance, cry, rage and seduce, all in a single show."
"I basically wanna make Bomb Squad versions of rock n roll songs," Quattrone says. "It sounds weird but I can hear a common ground where girl groups, dub, harsh noise, minimal synth, repetitious industrial, voodoo percussion, power electronics, black leather jacket rock n roll and DJ Screw-inspired slowing down/pitching down of samples all meet."
Lyrically, Warm Drag dive head-first into right now, careening from love to the end times, broken hearts to rotting bodies, devastation and lies and emotional self-defense. They have something to say, but they'd never be so gauche as to over-explain. Listen closely.
They've been winning over notoriously-inert Los Angeles audiences for a year now. An early show caught he eye of Ian Svenonius. "Their cut-up collage of electronic stomp-music embodied everything people were searching for that summer," he remembers. "There were just two of them but the sound was magnificent. Vashti was a revelation and Paul looked tough and cool and preoccupied in just the right way. Let's hope they achieve the success they deserve."
Warm Drag are the soundtrack to the best night of your life. It probably hasn't happened yet, or maybe it happened in Berlin, in 1980. You won't remember much, but you still have this record, and a few bruises, to jolt your memory. Sangfroid has never been sexier.