| | |
| --- | --- |
| Chitty Chitty Bang Bang! Live! Bay Area Stage - at the Campbell Theater! | |
Event Details
CHITTY CHITTY BANG BANG!
Live on stage at-
The Campbell Theater
636 Ward St., Martinez, California 
CALL (707) 649-1053 to reach BAS. 

From the company that brought you The Addams Family Musical, 
Bay Area Stage Productions!
Visit us online: www.bayareastage.org

Show Dates: 
June 5: 8 pm
June 6: 8 pm
June 7: 2 pm
June 12: 8 pm
June 13: 8 pm
June 14: 2 pm (closing day) 
Everyone's favorite flying car comes to life in the musical adaptation of the beloved family film!





Take a fantastic musical adventure with an out-of-this-world car that flies through the air and sails the seas. Based on the beloved 1968 film version of Ian Fleming's children's book, and featuring an unforgettable score by the Sherman Brothers (Mary Poppins), Chitty Chitty Bang Bang is one family-friendly blockbuster that audiences will find "Truly Scrumptious".





An eccentric inventor, Caractacus Potts sets about restoring an old race car from a scrap heap with the help of his children Jeremy and Jemima. They soon discover the car has magical properties including the ability to float and take flight. Trouble occurs when the evil Baron Bomburst desires the magic car for himself. The family joins forces with Truly Scrumptious and batty Grandpa to save the day!
To see our amazing flying car under construction
by Obtainium Works on Youtube, 
Click Here: https://youtu.be/ybVouy0GvLQ


The Cast of Chitty Chitty Bang Bang!:
Caractacus Potts – Michael Doppe
Truly Scrumptious – Nicole Thordsen
Baron/Lord Scrumptious – Scott Slagle
Baroness - Susan George
Jeremy - Travis Ross
Jemima - Molly Stats
Grandpa Potts – Jeff Lowe
Boris - Kenn Stevens
Goran - Dalyn Barnes
Childcatcher/Junkman - Remington Stone
Toymaker - Keith Thompson
Coggins/Sid – Jimmy Adams
Miss Phillips - Heather Lee
Violet: Jene Bombardier
Captain of the Guard: Matthew VanMaren
Soldiers: Jimmy Adams & Nicholas Rogoff
Inventors: Karyssa Zaldivar, Maria Stats, Matthew Van Maren, Nicholas Rogoff, Jene Bombardier, Heather Lee, Caleb Gonsalves
Ensemble – Madison Lindke, Zachary Bagos, Jene Bombardier, Tuolumne Bunter, Caleb Gonsalves, Damaris Gonsalves, Abby Hartlove, Nicholas Rogoff, Timber Ross, Maria Stats, Rachel VanMaren, Karyssa Zaldivar, Matthew VanMaren.
Director: Jeff Lowe & Matt Goff
Choreographer: Chelsea Bardellini
Costume Design: Stacey Loew
Set Design: Jeff Lowe & Joseph Siino, Jr.
Lighting Design: Jeff Lowe & Robert Tidd
Sound Design: Jeff Lowe & "Skip" Sitkin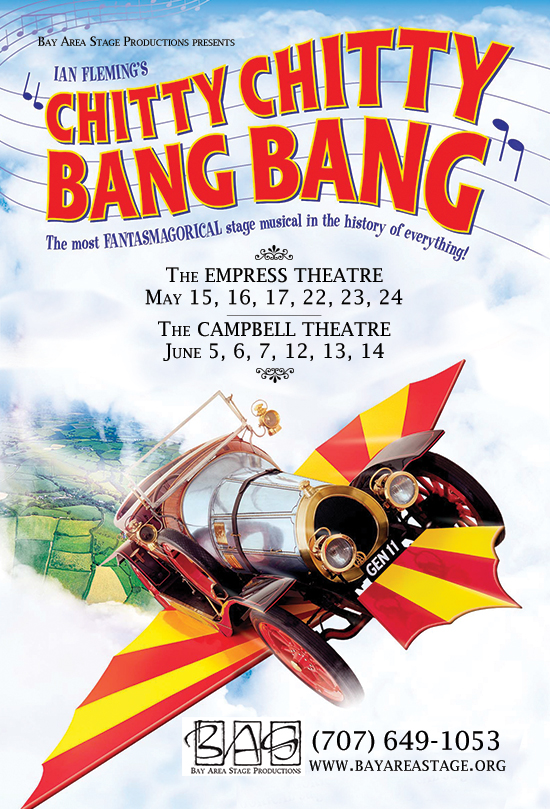 When & Where

Martinez Campbell Theater
636 Ward St
Martinez, CA 94553


Organizer
Bay Area Stage Productions celebrates the essential power of the theatre to illuminate our common humanity. We entertain, educate and enrich the culture of our diverse community, train and support the next generation of theatre artists, and provide arts education to inspire life-long learning.