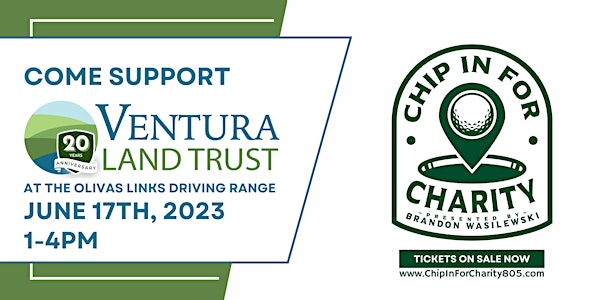 Chip In For Charity
Chip in for Charity is a non-competitive golf event where participants "chip" at sponsored targets to raise money for the Ventura Land Trust
Date and time
Saturday, June 17 · 1 - 4pm PDT
Location
Olivas Links 3750 Olivas Park Drive Ventura, CA 93001
About this event
How our event works:
Chip in for Charity is designed to be a non-competitive golf event where participants chip golf balls towards sponsored targets located at the driving range. With each target being sponsored through a financial contribution by a local business, participants and local businesses collectively "CHIP IN" to raise money for our local non-profit beneficiary.
This year we are proud to name Ventura Land Trust as our 2023 non-profit beneficiary.
To learn more about Ventura Land Trust and their local impact, Visit their website
History:
In 2018, Brandon Wasilewski, a resident and business owner from Ventura, came up with the idea of organizing a family-friendly event called Chip In For Charity as a way to support local businesses and non-profit organizations in his community. With a background in real estate sales, B2B consulting, and local philanthropy, Brandon was eager to use his skills to give back to his community. During his first ever visit to Top-Golf, an idea struck him: to create an annual charity event that emulated the fun and excitement of Top-Golf, but raised money for local charities. That same night, he began formulating the concept for Chip In For Charity, defining its mission and objectives.
Chip In For Charity has been highly successful in achieving its mission and key objectives. In the first year, over $6,000 was raised for Clean International, which helped provide clean water and sanitation solutions to more than 1,100 families in underserved communities. In the second year, nearly $7,000 was raised for Pier Into The Future, an organization dedicated to preserving the Historic Ventura Pier. This event has attracted more than 150 participants of all ages and abilities, making it a truly inclusive and community-driven initiative.
Mission:
To support local non-profit organizations and their initiatives.
Key Objectives:
Raise money for local non-profit efforts.
Provide greater exposure to local Business partners
Host a family friendly golfing event where you don't need to be a "golfer" to participate.
How to get involved:
Event Sponsorships available to local businesses based in Ventura County.
Prize Donation Donate a prize and be a part of our event
Food & Drink Sponsorship be named as our official food or drink sponsor.
Monetary donations are welcomed before, during and 1 week after the event.
Attend 100% of proceeds go to our beneficiary. Join Us and invite all your friends!
Promote the event and tag us to get a shout out on our social media page.
Volunteer We NEED your help with setup/teardown/clean up for the event
TO BECOME A SPONSOR - COMPLETE THIS FORM
TO BECOME A VOLUNTEER - COMPLETE THIS FOR
To learn more about Chip In For Charity, VISIT OUR WEBSITE
Questions, comments or concerns?
Contact Brandon Wasilewski, our Founder and organizer at 805-856-8773 or email ChipInForCharity805@gmail.com