Join CHSA and Oliver Chin for Year of the Ox, a storytelling program for children!
About this Event
Join CHSA and author Oliver Chin for a children's program focusing on Chinese New Year. Participants will hear a reading of The Year of the Ox: Tales from the Chinese Zodiac, written by Oliver Chin and illustrated by Jeremiah Alcorn. This popular annual children's book series features the twelve charming animals that embody the Chinese New Year.
This program is recommended for elementary-aged children, but all are welcome to join! Those joining will be entertained by Oliver's introduction to Chinese New Year and a reading of The Year of the Ox and will get a chance to ask Oliver questions. Download coloring pages for your students before the program!
Choose between a free ticket or provide a donation to support the mission of the Chinese Historical Society of America. There is a suggested donation of $10.
We will be hosting Chinese New Year programs throughout February-visit our website to learn more.
About the book. The redesigned The Year of the Ox features a new bilingual translation in simplified Chinese, as well the fun-loving calf Olivia. Olivia befriends the girl Mei, and the two become inseparable soul sisters. But pulling her weight on the farm is no easy task for the young ox. Suddenly, when her buddy and village are in trouble, can Olivia show her best qualities? This calf of gold character will appeal to fans of the classic children's tale Ferdinand. Olivia's rollercoaster journey to appreciate her true nature will delight children and adults alike. Bright and dynamic illustrations will appeal to new parents, those interested in Asian culture, and, of course, animal lovers.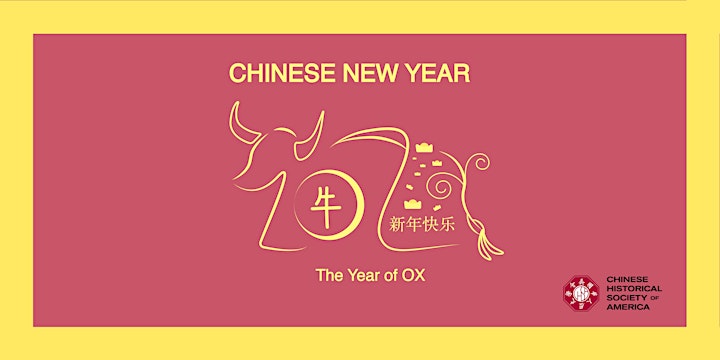 Registration Information. While this event is free for the public, a $10 donation is suggested. If you are sharing the screen with a friend or and family member, please consider purchasing one ticket for your family and offering a small donation to CHSA instead of reserving multiple tickets. This will allow more community members the opportunity to view the program.
If you are reserving tickets for multiple viewers in different locations, please register your friend or family member's email address so that the ticket is sent to them for the program. Please contact CHSA if you have any difficulties registering your friend/family member before the start of the event.
Accessing the Event. A reminder email that includes online event access, as well as additional information about the program will be sent 24 hours before the start of the event. A final reminder will be sent out 30 minutes prior to the start of the program.
We also recommend that you keep your confirmation email, as this will also provide you with access to the program.
Support your local Chinatowns! Chinese and Asian American restaurants have been especially hit by the Covid-19 pandemic. Learn how you can support your local Chinatown.
Connect with CHSA! Those who sign-up for this program will automatically be registered for the CHSA newsletter for information about future CHSA programs and museum content. We hope you will join us for all of our Chinese New Year programs!